Whew!  Where have the past 12 weeks gone? Preparing for a Bucket List trip is hard work. But as we know from past adventures, it makes the difference between really enjoying ourselves and barely limping through — plus missing so much we wanted to see & do.  So onward!
Last week,  the heat index was 108 and humidity level at 7 AM is 85%.  Not conducive for training to hike in Alaska where the elevation gains in a mile are more than the entire state of Illinois combined.  But we've upped the training schedule a bit anyway and luckily, this week is down to mid-70's and almost early fall like evenings.
One thing to be careful of is "overtraining".  If you study about marathoners and even 5K training, the premise is usually, train hard up until a few days before the event, then slow down.   Most published training schedules mix things up – mostly shorter duration runs, sometimes mixing in "sprints" and adding in a "long run" each week until just before the event.  Since training for a bucket list adventure isn't quite as intense as a marathon, we'll taper off by six days prior to leaving on a jet plane.   No need to hurt ourselves or be so worn out from getting ready that we don't enjoy the trip.   Here's our current "plan":
1.  In addition to always wearing our hiking boots and other shoes we intend to take, we're wearing our smartwool hiking socks (despite the heat).
2.  We've upped the walking schedule from 3 miles 5 times a week, to approximately 4 miles 5 times a week.   Plus added one walk a week that's 8 1/2 miles plus (killer in the heat!).   Another advantage of the long walk, is we notice right away if we're going to have blisters or other feet issues, so we can correct now, rather than suffer in paradise.   Somewhere between 25-30 miles a week has been our goal for the last 3-4 weeks.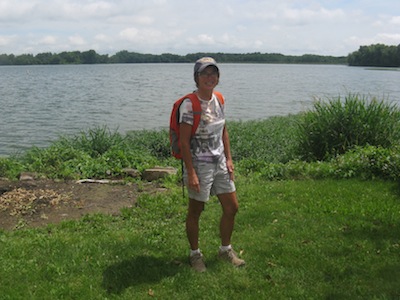 3.  Adding a couple bike rides a week (8-10 miles) uses muscles we didn't realize we were missing!
4. We're also jogging up the minor hills by the dam, then walking back down and jogging up again.   And the local high school football stadium has lots of stairs in the bleachers — up & down, up & down.
5.  I'm also ALWAYS wearing my camera backpack loaded with both zoom lenses and all the extras.  David's wearing his North Face daypack.  loaded with water and a 5# weight.  Friends that are already hiking daily in Glacier National Park reminded us to add the backpacks – she says her shoulder's are very sore from the daypack.   Dressing the way we'll be hiking hopefully makes a big difference.   I checked after our 8 1/2 mile walk yesterday & my camera backpack currently weighs 13 pounds, and that's without snacks & a rain jacket.  Probably doesn't seem like much to most people, but I can vouch for the fact that my shoulders are tired.  Plus I get to know that the backpack fits right.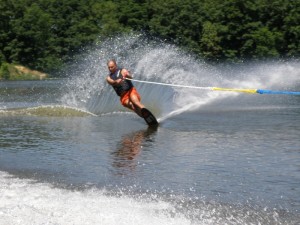 6.  And since the heat wave just won't quit, instead of slalom skiing once a day, we'll go for twice a day!  More leg muscles we apparently aren't using in any other workouts since when I climb back in the boat, I have jelly legs!
Beyond all this, we're keeping our fingers crossed that we'll be able to ascend the 1700 feet elevation in 2 miles on the Harding Icefield trail and also the 1000 feet for every mile on the Mt Healy Overlook trail in Denali.   In the past, the most we've ever done is the 15 miles across the Highland Trail up to Swiftcurrent Pass and down which was "only" 2200 feet elevation gain.
So excited to experience another major event on our Bucket List!   Alaska, here we come!  Do you have suggestions for future "training" — or better yet — staying in shape for the next Bucket List adventure?  Please leave comments and share!  Cheers!  Jan