HAPPY NEW YEAR!
Thanks to all of you, it's been an amazing year for David & me,  Commuter Cruiser and The Boat Galley Cookbook.  Publishing my first book with Carolyn, establishing a blog that's growing every day, plus cruising, racing our Y Flyer, and family including not one, but TWO new grandchildren, has all been WOW!
THANKS for reading!   Hopefully you've enjoyed a cruising story or found a tip or two that's enhanced your commuter cruising lifestyle!  As we look forward to 2013, commuterCRUISER will share more experiences as well as tips & techniques as we learn them!  In the meantime, since we just had a brand new grandbaby three days ago, I'm busy spoiling the grandkids!  It's a perk of being a commuter cruiser! If you're wondering how to balance family, grandkids and cruising, we can strongly recommend commuter cruising!   And now, here's 2012, the recap in pictures….
January 2012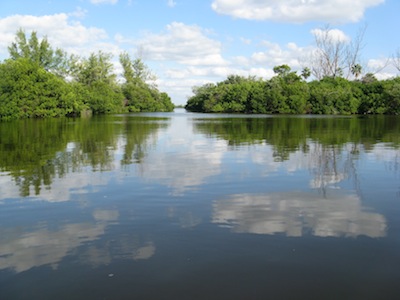 My favorite manatee lagoon on a placid afternoon ….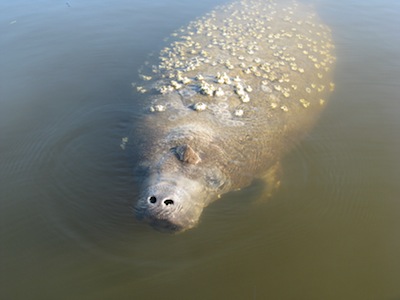 Apparently this manatee was almost more curious about our dinghy floating around propelled by the oars only in deference to the population of manatees … and one alligator, but he was conspicuously missing this particular afternoon.
February 2012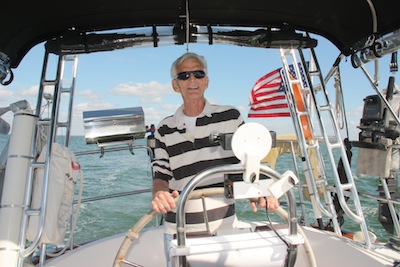 February highlights included friends from Illinois visiting and sailing with us – this is Lightning Slim, a Y Flyer racer and dear friend. It's always exciting to be able to share our "other" sailing adventures with our one design racing buddies!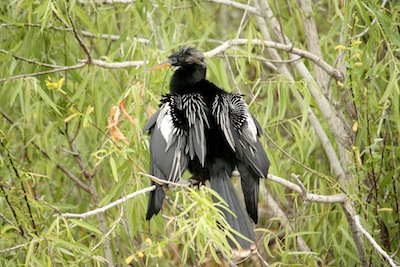 We explored the Anhinga Trail in Everglades National Park, while we also checked out marinas in the Miami/Ft Lauderdale/Upper Keys as staging possibilities in case we have to wait for weather to cross the gulf stream.  There are very few protected anchorages in the upper Keys to wait for weather for a crossing to the Bahamas.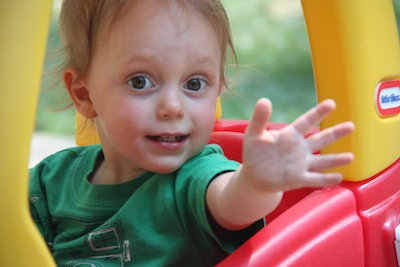 Late February, we exercised our commuter cruiser privileges and spent a week babysitting for grandson, Rowan in Atlanta while his parents enjoyed a big ship cruise.
March 2012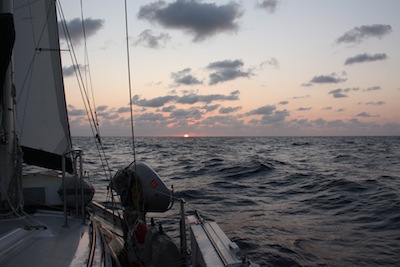 Starting in early March, we starting puddle jumping south to the Keys and then waiting for a weather window to cross the gulf stream.  After overnighting at Rodriguez Key, we got a glorious before sunrise start to cross from Rodriguez Key to Bimini (or wherever we ended up….).  Forecast called for 12-15, we started in 20+ but as the sun came up, the wind calmed just enough to make it the perfect and FAST sail across the gulf stream, entering Bimini at early mid afternoon.   If you want to follow our Bahamas adventures in more detail with lots of photos, click here for a recap post containing links to all the posts detailing our Exumas adventures, including the one with all our waypoints and crossing strategy.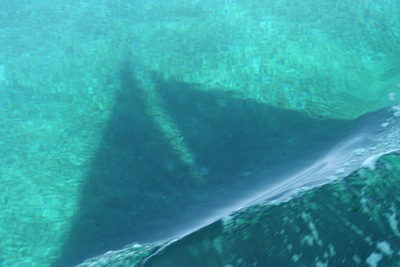 Crossing the Great Bahamas Banks was picture perfect … well, perhaps we could have used a bit more wind, but overall, the perfect sail.  We also had the perfect sail from West End Providence Island, to Highbourne Caye in the northern Exumas.  These are days we dream of as cruisers…. sailing fast enough to get there, but slow enough to watch the starfish on the bottom of the 15′ gin clear water…  amazing…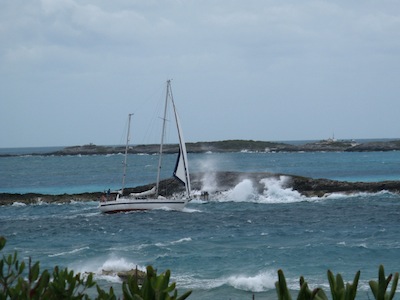 We arrived at Highbourne Caye just in time to hide from a major wind event coming through that lasted for several days.  You can see this Polish boat — with lots of people and even a couple of little kids, surfing in the pass from outside to make it to calm water and a place to regroup.  We were lucky enough to already be in protected water and watched tensely as they made it safely in through a treacherously narrow pass.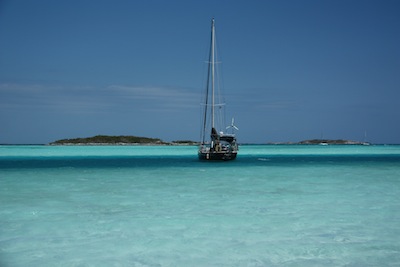 April – May 2012
After the norther at Highbourne Cay, we were excited to get two days perfect sail to make it to the Exumas Land & Sea Park headquarters at Warderick Wells.  Since there was an even worse norther forecast, we figured a mooring in the protected area of the land & sea park would provide a safe place where we could get off the boat and enjoy when the weather was only windy and not horrid.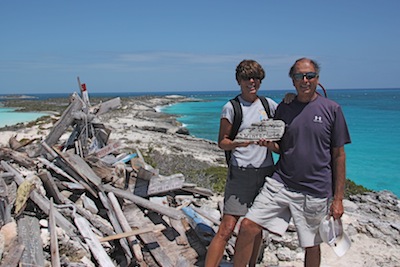 We spent several idyllic days hiking literally around the entire island, left our Winterlude mark at BooBoo Hill, attended various get togethers on the beach, dinghied all over the area marvelling at the watercolors, snorkeled outside when the weather was calm and 10 days later decided it was time to make the jump south to Staniel Caye.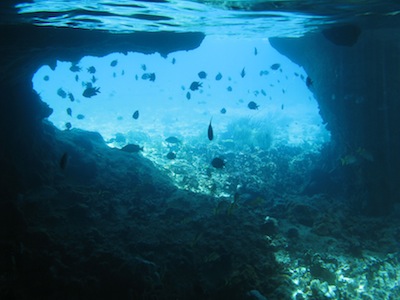 Although a tourist attraction which we normally avoid, snorkeling Thunderball Cave, the 007 James Bond movie set, was a highlight.   Then we hiked the entire island, explored the settlement, hung out at the Staniel Cay Yacht Club bar, and rode out the worst yet of the northers securely anchored behind Big Majors Cay with some unbelievable mega-yachts and the swimming pigs … yes, it's true, they definitely swim from the beach out to the visiting yachts and any dinghies or tour boats that go up to investigate.
All too soon, our time was gone and it was time to start working our way back to SW Florida, one island at a time.  Here we're exploring Shroud Caye, still in the Exumas Land & Sea Park.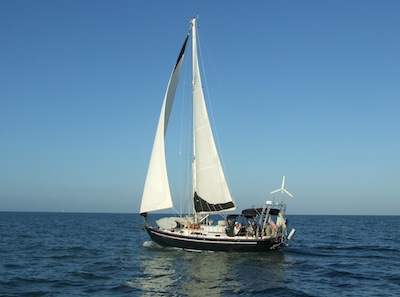 And then we sailed back up the west coast of Florida toward Indian Key, Marco Island and under the Sanibel Island Causeway back into the ICW and up to Charlotte Harbor and home to Burnt Store Marina where we prepared and left the boat and headed back to Central Illinois for one design racing, spending time with family and friends and enjoying our summer!
June 2012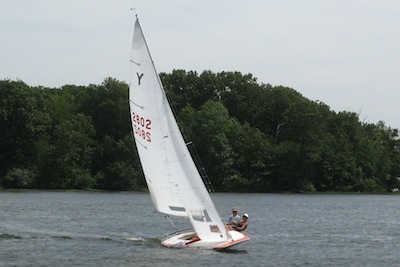 First, the annual Y Flyer regatta at our lake is in late June.   Then a week later, it's 4th of July weekend at the lake and Rowan's 2nd birthday party!
July – August 2012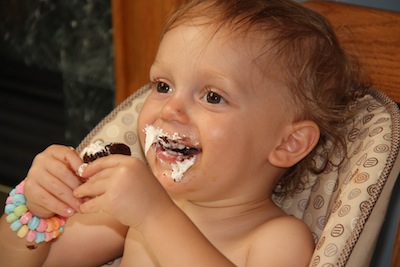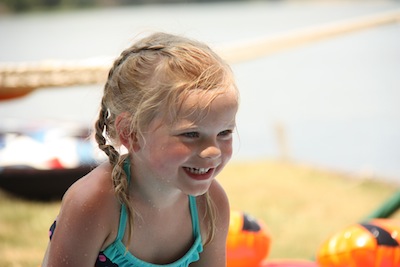 Gilly and Rowan enjoy weekends at the lake …. as do we … skiing, tubing, playing in the water, racing Y Flyers and generally living the mud-puddle lake lifestyle we love so much.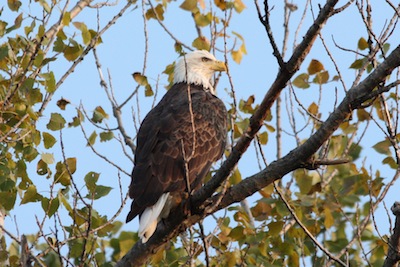 We did a few lake nature tours on friends' pontoon boats specifically photographing wildlife.  Here's one of our resident bald eagles, yes, our little mud-puddle lake has 4 resident bald eagles!   In fact, we see all kinds of wildlife, huge blue herons, white egrets, white pelicans (they're NOT supposed to stop by here!), cormorants, all sorts of ducks & geese, plus deer, hawks, owls, even mink — yes, I said MINK and I have photos to prove they run along our seawall regularly!
October 2012
OMGoodness!  The culmination of YEARS of work finally pays off and International Marine/McGraw Hill releases our newly published The Boat Galley Cookbook!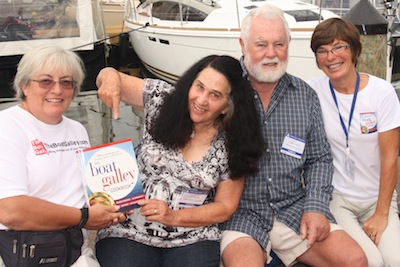 Here Lin & Larry Pardey enjoy the cookbook festivities with Carolyn and Jan at the Annapolis Sailboat Show!  What an incredible experience, meeting friends that follow The Boat Galley or Commuter Cruiser.coms … or both …  and cruisers that bought The Boat Galley Cookbook!    Plus Lin and Beth Leonard both had nice things to say about the cookbook!  Does it get any better than this???    🙂
Then we spent another 3 weeks visiting son Billy in Washington DC – he's lived there for awhile and we've not had a chance to visit, so it was special!   Aly, Dan & Rowan got to join us for several days and we also shared some very special time with family, Ronnie & Connie.  Lifetime memories are made from adventures like this!  I loved every minute!  Although I must confess to sleeping in the day after my buddy Rowan, (who's 2 1/2 and a bundle of energy starting before dawn!) had to go back to Atlanta with his Mommy & Daddy!   🙂
November 2012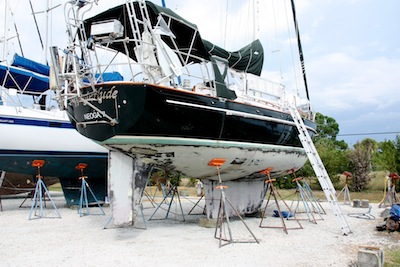 Back to reality, hauling out Winterlude for simple bottom paint turned into a blistered nightmare.  A week to ten day stay in the boatyard turned into never-ending … all 10 feet straight up in the air.   As of December 31, the boat's still in the boatyard, although hopefully the bottom paint is finally done and ready to splash when we return in early January.  I need some anchored out time aboard!!!
December 2012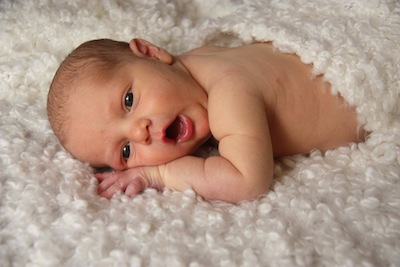 And then along comes December with not one but TWO new grandbabies … just the thing to put the world back in perspective after the frustration of boat blisters!  Here's Chase Emmett, born in Atlanta, December 3, 2012.
And meet Dane Douglas, born in Champaign, IL on December 28, 2012!  Since Dane & Mommy don't come home from the hospital until New Year's Eve, I haven't had a chance to do a photo shoot with him … stay tuned!   🙂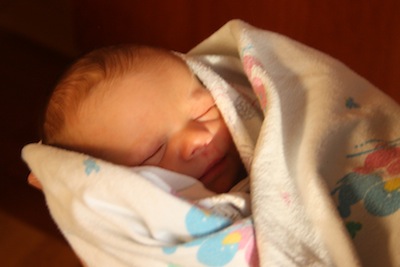 So as the sun sets over the lake one last time for 2012, we're looking forward to many new adventures & fun as commuter cruisers in 2013!  Stay tuned!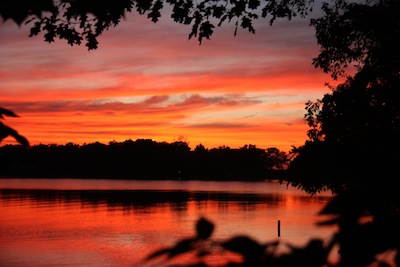 Cheers & HAPPY NEW YEAR TO ALL!!!   Jan & David