After a delightful 3 hours sail from Highbourne Cay (17 miles), we picked up our first mooring ball in the Exumas Land & Sea Park at Shroud Cay, the northernmost of the national park islands.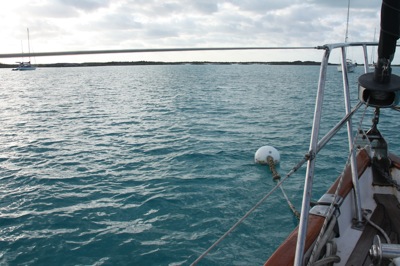 One of the attractions of Shroud Cay are the mazes of creeks that riddle the island.  In order to protect the fragile vegetation, wildlife and sealife, the Park has wisely decided close all but one of the creeks to dinghy exploration.  You can explore the others, you just cannot use any type of motorized craft – so it's OK to tilt up your outboard and use your oars, but beware the current!  A better bet would be our kayaks, too bad we didn't have time to stay here for a week to explore all the little creeks.
And don't forget to relax and enjoy the beautiful beaches of the Exuma Land & Sea Park.  Pack a picnic and some drinks and just hang out enjoying the beach where your footprints may be the only ones on the beach!  Wow!