Wasn't there a movie entitled "Planes, Trains & Automobiles"?  Our Alaska bucket list adventure needs to be titled "Ferries, Trains & RV's".   The second phase of the trip was logistically the most difficult to plan.  We prefer to travel on our own, but that entails investing hours & hours of time up front to work out at least a bare outline on what we want to do.
Some travelers – most of our cruiser friends included – select a destination, book a night or two hotel and then decide where they want to go when they arrive based on input from folks they meet in coffee shops and elsewhere.  Last year for Nepal, Doug & Rayene landed in Katmandu and figured out their next four months from there.  We like a bit more structure, although we also like to leave options open to check out things recommended locally.
Planning an "individual" trip — i.e. no tour operators, travel agencies — takes forever to do the research, figure out what we want to do and actually make reservations.  David's always asking "how can you POSSIBLY spend that much time on the computer for a trip?" But he enjoys the end result, so he puts up with me.  🙂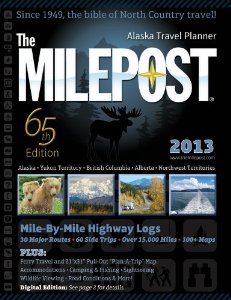 For the Alaska trip, we started reading all the Alaska travel sights — google is a wonderful research tool and makes planning self-guided trips so much more fun than in the past.  After Googling, we bought the recommended Alaska travel guide:  Milepost, available here at Amazon if you're interested in planning your own Alaska adventure.
After perusing Milepost for a few days – quite honestly, this book would be a must have if you're driving to Alaska and want to plan your trip mile by mile, but for what I was doing, it was a bit overwhelming.   Mile by mile by mile.  Nonetheless, it helped us isolate our primary areas of interest:  the Inside Passage; Wrangell and the Anan Bear Observatory;  Seward and Kenai Fjords National Park; and Denali National Park.  Plus whatever else we could add in between.  We also knew we wanted to travel by Alaska Ferry for the Inside Passage, take the Alaska Railroad somewhere and camp at Teklanika Campground in Denali National Park – the campground farthest in and not open to personal vehicles unless camping there.  So that was our starting point.
Now we switched to Trip Advisor.  If you haven't used Trip Advisor, it's a wonderful resource for the 2nd steps planning an adventure.  Take all the reviews with a dose of skepticism, but if something has a BUNCH of positive reviews and sounds like you might be interested, it warrants more research.  That's how we got to the Anan Bear Observatory and stopping in Wrangell.
Which brings us to Phase II of our Alaska Adventure.  Now we wanted to get from Wrangell to Anchorage as quickly as possible.  Enter Priceline (or Expedia if you prefer).  Shop around, sometimes you can find significant price differences.  But getting from Wrangell to Anchorage, pricing was all the same, and overall, I prefer Priceline because if I choose, I can use the "Name Your Own Price" option – this involves giving up a bit of control but it can result in significant savings.   This works perfectly for rental cars, hotels if I just want a general area and even airline flights if I'm not picky about when we leave or arrive.  Since we're retired and supposedly have lots of TIME and a fixed income, Name Your Own Price works for us.  Other times we'll deliberately select something we want to do or someplace to stay because we're willing to invest the $ it takes to stay or do.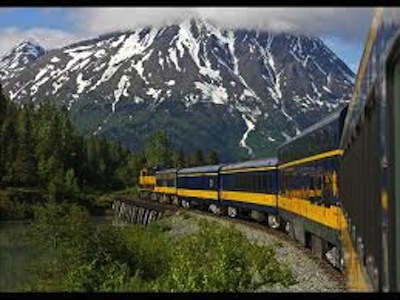 Bottom line, we're flying from Wrangell to Anchorage on Alaska Airlines.  THEN we're taking the Alaska Railroad from Anchorage to Seward.    The Coastal Classic train "winds through the stretch of wilderness between Anchorage and Seward. A string of massive glaciers visible from the track enriches the journey. This train travels to the shores of Resurrection Bay for convenient connection to Kenai Fjords National Park, whale watching, sea kayaking, tidewater glacier viewing, fishing, and dog sled rides."   And we "sprung" for the Goldstar package so we could sit up in the dome care for the best views.
See – saving 40% on Name Your Own Price, and giving up a bit of control allows us to do other cool stuff!
Then, just for the record, the next phase is the most outrageous expense of the trip, staying at the Kenai Fjords Wilderness Lodge on Fox Island for a night.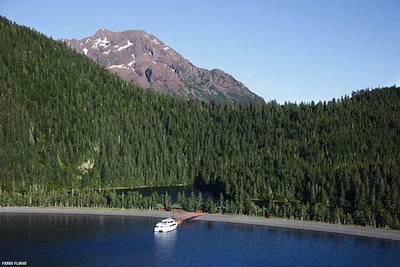 Kenai Fjords Wilderness Lodge is located on the beautiful and remote Fox Island. Your adventure begins in Seward when you step aboard a Kenai Fjords Tours wildlife and glacier cruise…
Arrive on the island and indulge in gourmet meals prepared by your island chef. Awake to morning coffee and watch Kenai Fjords National Park come alive from the comfort of your cabin. Get out your camera or sketchbook and capture the natural beauty of your surroundings. Treat yourself to hiking and various evening programs offered by our resident naturalist.  To travel deep into Kenai Fjords National Park, upgrade to the 6-hour National Park Tour, or the premium full-day Northwestern Fjord Tour as the grand finale of your adventure to Fox Island.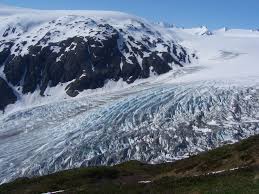 A day in Seward hopefully will give us the opportunity to either do a glacier hike with Exit Glacier Guides … or hike the Harding Icefield Trail – ranked #1 on Trip Advisor as things to do in Kenai Fjords National Park.  Problem is, it's supposedly an 8 hour hike and we have to be back at the train station at 5 PM.   Hmmm… we'll figure this one out on the fly.   But it WILL be an adventure, nonetheless!

Back to Anchorage and meeting our friends, Joe & Neydie, for our Denali National Park RV camping adventure.  I've often wondered what it would be like to travel and camp in a "land yacht" and we're going to find out!  Again, we did online research and found that a locally based RV company, Great Alaskan Holidays, seems to get the best traveler ratings.

On to Denali National Park, where we'll camp the first nights at Riley Creek Campground and the entrance and then move into the park for Teklanika Campground.   Adventures await & we can't wait!!!
More information on how you like to plan "solo" adventures?  Please leave a comment and share!  Cheers!  Jan