Years in the dreaming and planning, finally the Geezerheiken crew experiences Alaska.  If you're planning a bucket list trip to the vastness that is Alaska, join us — maybe you'll get an idea of what you want to do … or not .. from our trip experiences.  All the adventures, all right here!  Click on the post's title to link to the entire photo essay.  Enjoy!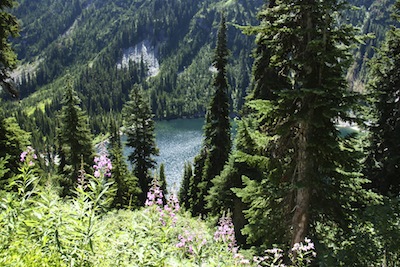 What Goes Up, Must Come Down!  A warm-up for Alaska, the North Cascades National Park, close to Bellingham WA, where we'll catch the Alaska Ferry in a few days.   Our first day and first hike our friends picked one of the most beautiful trails, the Maple Loop Trail at Rainy Pass, no not the wheelchair access trail, the 7.5 mile loop featuring 2,185 feet ascent and 2,185 descent.  The ascent had our hearts pumping, especially since there's not as much oxygen up there, but the descent portion almost killed us – tough on the knees!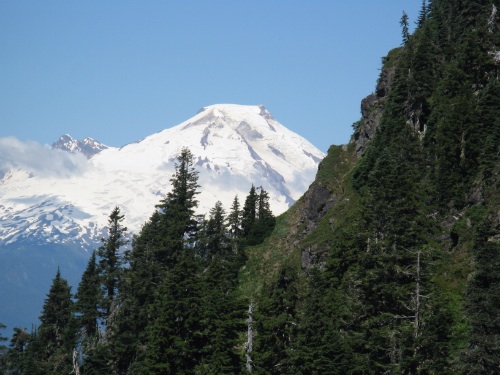 Geezerheiken is Not a Brew Pub!  Otherwise known as "geezer hiking"! None of us are exactly sure how we can be old enough to qualify for a National Parks Senior Pass, but when we drove up the 8 mile twisty loose gravel road to the Sauk Mountain Trailhead, we were sure the park ranger had led us astray. After our "moderately strenuous" 7.5 mile hike the day before, all of us were ready for a half day "moderate" hike.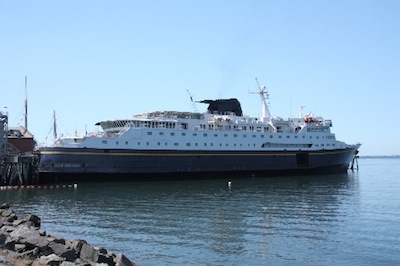 Ultimate People Watching:  The Alaska Ferry  Double bonus!  Both ultimate people watching AND the legendary Alaska Inside Passage scenery too!  No shortage of entertainment!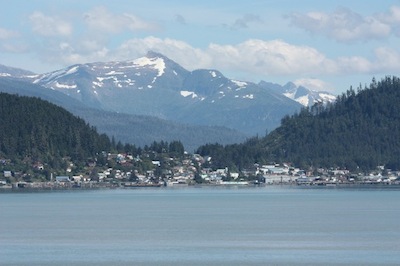 Where Is Wrangell, AK?  Nestled between the Alaskan mainland, the Stikine River and Alaska's Inside Passage,  Wrangell, at plus or minus 10 feet elevation is an island rich in native history.  It's also a throwback in time.  Sidewalks here are rolled up all day on Sunday and every night after about 7 pm!  Don't get off the ferry on a Sunday afternoon expecting to find anything open except maybe your bed & breakfast!  Do expect the "garnet kids" to be waiting at the corner hoping to sell you a garnet gemstone that they found in the Stikine River.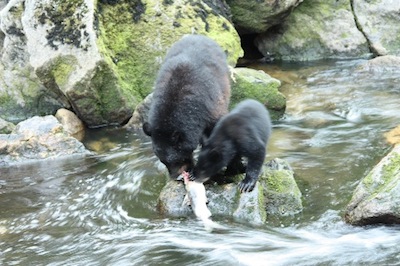 Bears, Guns & Bear Spray  Everyone wants to see bears!  But seeing bears is not easy in the wild.   AnAn Bear Observatory, operated by the US Forest Service, provided us with a close-up encounter with lots of bears.  And I'll guarantee that my heart wasn't the only one in overdrive as we watched the grizzly bear charge directly toward the deck viewing platform.  Luckily he was only on his way downstream where I can only guess that the salmon fishing was better.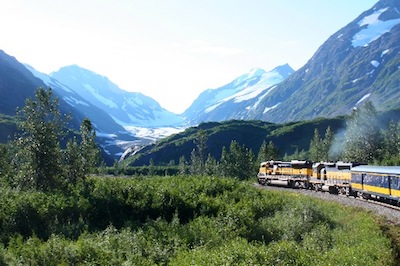 All Aboard the Alaska Railroad!   Whoo Whoo!  The whistle blows and the train rumbles out of the station in Anchorage, bound for the Coastal Classic to Seward and Kenai National Park.  The most scenic of all the Alaska train routes, join us!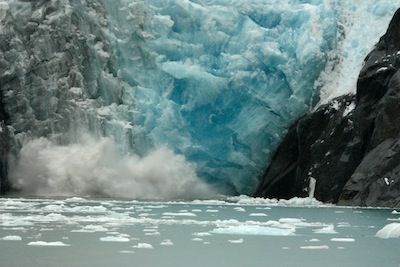 Snap, Crackle, BANG!  Glaciers!  Undoubtedly the highlight of our Alaska Adventures.  A photo essay filled with wildlife and calving glaciers.  Amazing!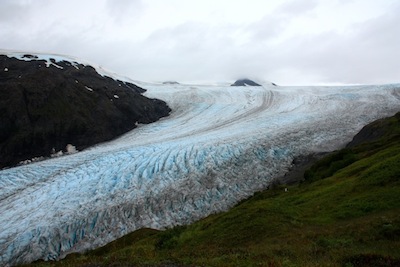 Climbing the Strenuous Harding Icefield Trail  A hike to the top of the Harding Icefield Trail in Kenai Fjords National Park, Alaska, gives a sense of what much of Alaska was like during the ice age.  The Harding Icefield seems to go on forever, currently covering more than 700 square miles of Alaska's Kenai Mountains in ice.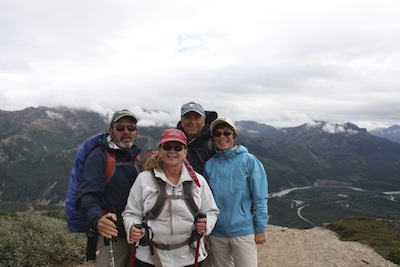 Geezerheiken Mt Healy Overlook Trail, Denali National Park  After joining up with friends, Joe & Neydie, and renting an RV for base camp in Denali National Park, we chose the Mount Healy Overlook Trail for our first day as an introduction to the fabled park.  The entrance area trail is a strenuous hike for geezerheikers:  4.5 miles round trip, with 1,700 feet of elevation change and up to a 25 percent grade.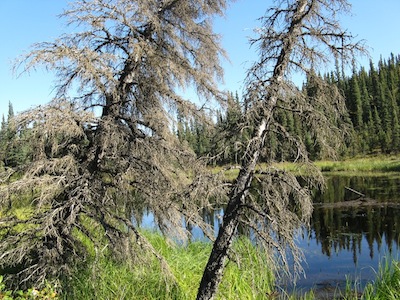 Drunken TREES at Camp Teklanika  Leave it to the "geezerheiken" crew to camp next to a drunken forest, on the edge of the Teklanika River.  I didn't know there was such a thing as a "drunken" forest!
Cruising Denali Park Road …
Yes, you can "go cruising" on Denali Park Road!  Because the park is so vast, we had no idea that unlike several national parks in the "lower 48", here if you want to see wildlife, there are two choices, take the bus (an old schoolbus painted green) or pick a spot and wait for the wildlife to pass by you.  We opted for the bus for an overview of the entire park.  Later we would pick our spots and wander on our own.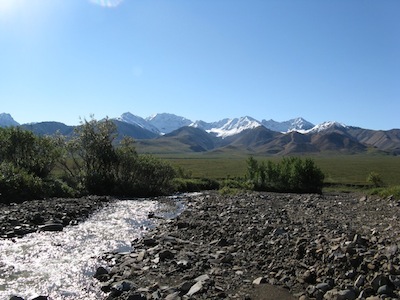 No Hiking Trails? Geezerheiken in Denali National Park  We quickly learned that you don't just go hiking in Denali National Park.  Once you are inside the entrance area, except at Eilson Visitor Center at mm 62 and Wonder Lake, almost the end of the road, there are no trails!  WHAT?  No trails?  How are the geezerheikens supposed to find their way?  Get on the bus and get off whenever it looks like hiking?  Yep!
If You Go … Or Maybe "WHEN" You Go!  Planning a Bucket List Adventure..  Planning a bucket list adventure on your own, without a tour organizer, requires lots of hours up front of planning and research.  Here's how we went about planning this trip and also links to the major resources we used.  ENJOY YOUR TRIP!!!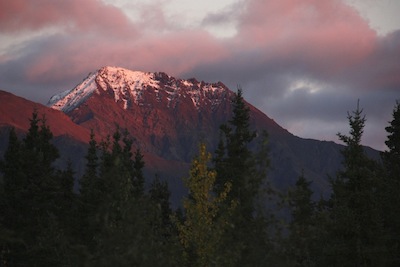 Alpenglow … the rosy light of the setting or rising sun seen on high mountains … or in my mind "purple mountains majesties"   from the song "America the Beautiful"  which makes me want to see more of our National Parks.  Good thing commuter cruisers have "away time"!
O beautiful for spacious skies,
For amber waves of

grain

,
For purple mountain majesties
Above the fruited plain!
America! America!
God shed His grace on thee,
And crown thy good with brotherhood
From sea to shining sea!