I hate snakes.  They're unpredictable and lightning fast which makes for very scary when we're hiking.  Especially when they're calmly sunning themselves by the side of the path. While we were trying to decide if we should walk by, all of a sudden the snake made us both jump but slithered off the other side of the path into the jungle.  Thank goodness!
We've been "stuck in the muck" in Charlotte Harbor, Florida off & on for the last 3 years. And as much as we love to hike and I love to take photos, we've never stopped at the Alligator River, Charlotte Harbor Preserve State Park until this afternoon.  But if you go, make sure to look down occasionally and take your bug spray.
Several ponds provided amazing reflective images.  I love dark still waters like these … well, except for the snakes…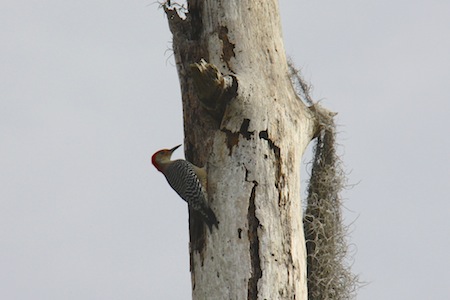 Will someone please tell me why this red-headed woodpecker is officially called a"red bellied woodpecker"?   There's no red on his belly that I can see, just his HEAD!  But a read-headed woodpecker is a different bird.  Go figure.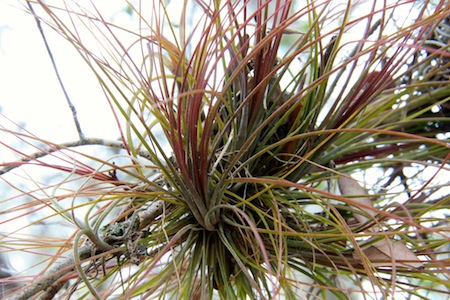 Airplants are everywhere and some of them are very pretty.  Unlike this guy hiding beneath…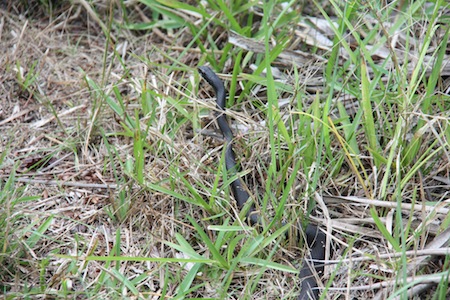 Did I mention the snakes?  Luckily they're not colorful and pretty, which is a very general indication that they're not poisonous.  But it does make them difficult to see, especially when I'd rather be looking around soaking up the beauty and the birds, not watching my feet on the trail every minute.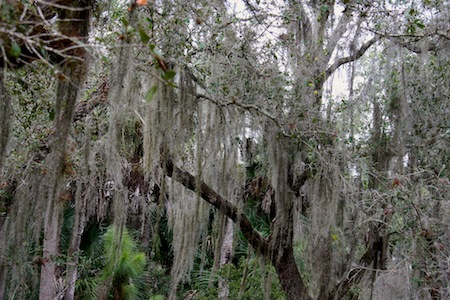 Live oaks filled with moss draped the trails … it's not hard to imagine these parts of the trail as a scary halloween haunted hike.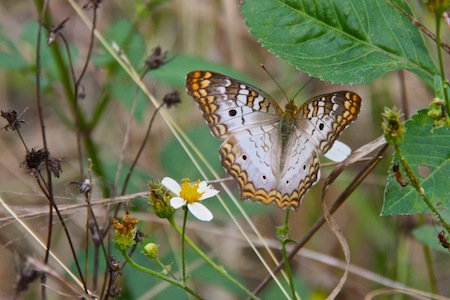 A white peacock butterfly – frequenting flowers close to marshes and water.  In the winter months, the Florida Bird book (yeah, I know….) tells me they're only found in South Florida.
Alligator River turned out to be a great place to hike for somewhere between 3 and 4 miles.  Sure beats walking around the marina subdivisions, although those can be interesting as well.  Especially when the baby great horned owl is born (mama's sitting on the eggs right now!). Or when the armadillo decides to take a stroll over the bridge by the Platinum Point Yacht Club.  Of course we have the daily manatee and dolphin parades.  Routine.  Isn't it amazing how when you get used to seeing somewhat endangered creatures daily, you don't think of them as special anymore?   I have to keep reminding myself, especially about the manatees and the white pelicans.
Anyone familiar with more don't miss hikes in south Florida?  Please leave a comment and share.  As long as we're here, we might as well find every treasure we can!