Lucky Duck is one of our favorite wines – particularly the Malbec.    With a weather forecast for some serious thunderstorms and squalls, lucky duck also describes perfectly our sail from Little Shark River to Indian Key … or more precisely, Russell Bay in the 10,000 Islands.  By May Little Shark is infested with bugs — after all it is a river in the Everglades.  But the mosquitos can terrorize any boats brave enough to stop there on the way home from the Keys.
How often do cruisers really get to sail?  Not as often as we would hope — usually the wind is either too light, too strong or from the direction we want to go — either on the nose or directly astern.  When we can't make the course to our destination, even if we're not on a schedule, often we end up motorsailing or even worse, motoring.  🙁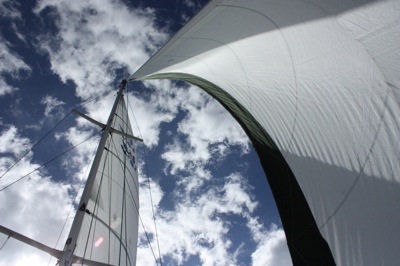 But this sail must have been on our lucky day, although it didn't have a promising beginning.  We awoke in Little Shark River to no wind and the high pitched ZZZzzzzzzzz of literally millions of mosquitoes.  Luckily our screens and new cockpit enclosure made an effective barricade, but someone still had to go outside to get the anchor up.  After slathering himself with deet, David took a deep breath and headed to the bow.
By the time we motored out the short channel and pointed the bow toward the Indian Key outer marker, the wind was at the forecast 10-15 and building.  Since it was from the EAST and we were parallelling the 10,000 Islands, we had almost no fetch, just wind and Winterlude was sluicing through almost flat seas.  When the wind piped up to 16-20 knots, we were SAILING … or was it FLYING?   🙂
Riding along, we watched as a local fisherman sets out his maze of crabpots just behind us, luckily it's one minefield that won't affect us this time, but it will be a problem for anyone following in our wake.  We still have to be vigilant because there are random crab pots but so far Bo (Monitor Windvane) has steered easily past them and David doesn't have to intervene.  The wind is gusting well over 20 by now, which translates to over 7 knots with only an occasional errant wave splashing over the bow.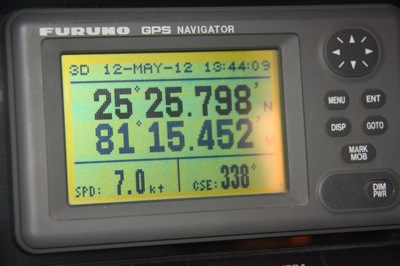 Did you ever notice how seagulls dive ending in a graceful dance settling on the water to catch their dinner while pelicans go kamikaze in a wild uncontrolled dive that somehow ends without them breaking their necks.  Then they settle in the water, toss back their heads and gulp their fish.  Sometimes the seagulls land on the pelicans backs harrassing them to no end.  Pretty funny drama at sea!
All around us flying fish — I call them "Jesus fish" because they start their take off by waltzing on their tails for long stretches, much like a 747 take off pattern!  When they gain enough momentum to actually take off, they fly just above the surface of the water until a out of sequence wave dashes their flight plan and sweeps them back under the surface.
There are also BIG dolphins swimming alongside for parts of the sail, but everytime I go for my camera, they disappear.   Smart dolphins, I guess they don't want to be featured on Commuter Cruiser!  🙂  A few hours later, we're dropping the sails and motoring into the evening's anchorage.
The Indian Key/Russell Bay anchorage is close enough to the Everglades City National Park visitor center, that anchored boats are part of the National Park Service boat tour.  I guess we make good scenery … or maybe it's all the dolphins and birds around the anchorage that attracts the park service tour.  Regardless, it's a great place to be anchored.  Totally protected from weather and great holding.
Great day, great sail, great fun!  These are the days that make you want more and more cruising experiences!
Cheers!  Jan & David, sv Winterlude