Flavorful with added peppers, onions and spices, Bahamian Mac n Cheese is unlike any macaroni & cheese I had experienced before cruising to the Abacos.   And the splash of hot sauce made it even better.   I can't remember which island or restaurant, but I fell in love with this heavy, dense, cake-like consistency mac n cheese.  My kids, on the other hand, swear this isn't mac n cheese at all!  Whatever.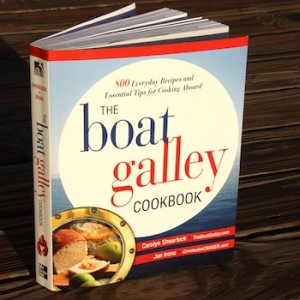 We also eat this as a meatless main dish and I even made it fat free with fat free cheese and skim milk.   The recipe is in the Beans, Rice & Pasta chapter of The Boat Galley Cookbook.
Don't have The Boat Galley Cookbook yet?  Click here for a free sample or to buy your copy, print, Kindle, Nook or IPad!
I usually like to use the oven when a cold front makes the day after chillier than normal — 60's — warm up the boat and enjoy some comfort food.   Here's the recipe:
Bahamian Mac and Cheese
Total Time: 1 hour, including 10 minutes to stand before serving
Prep Time: 20 minutes (including boiling the pasta)
Cook Time: 30 minutes
Serves: 4 as a main dish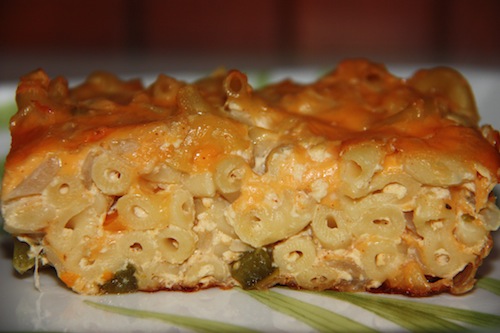 INGREDIENTS
2 cups uncooked elbow macaroni OR other medium-sized pasta
1 small onion, minced
1 green pepper, minced (if you want it spicier, feel free to include a variety of peppers to your heat level – the more the better in my estimation – the version I made for the photos probably could have used ALOT more peppers!)
1 clove garlic, minced OR ¼ teaspoon garlic powder
1 1/2 cups shredded cheddar cheese OR similar cheese (I used fat free:   it didn't melt as well throughout but it was tasty AND fat free!)
2 eggs (I used fat free egg-beaters)
hot sauce, to taste
salt and pepper
1 teaspoon paprika
1 1/2 cups evaporated milk (I didn't have evaporated milk, so I substituted skim milk & it worked fine)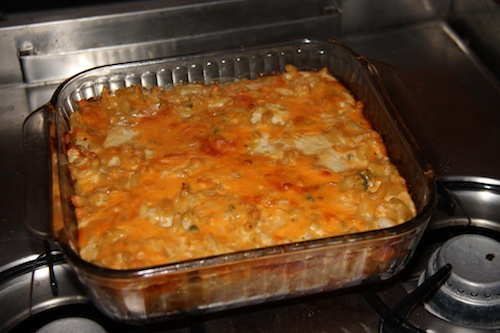 Preheat oven to 350° F.
Cook the macaroni according to package instructions, and when it is al dente, add onion, pepper and garlic – cook for a minute or so until veggies are softened. Drain macaroni and return to pot. Add half the cheese and stir until melted.
Beat the eggs with hot sauce, salt, pepper and paprika. Stir eggs and milk into the mac and cheese.
Spoon the mixture into a well-greased baking dish (about 8" square or a loaf pan) and sprinkle remaining cheese on top.
Bake, uncovered, at 350° F. for about 30 minutes until bubbling and brown around edges.
Remove and let sit for 10 minutes, then cut into squares and serve.