LEAVE!!!   Today started out bright sunshine, a crisp fall day with many brightly colored leaves swirling around in the wind.  But then it turned ugly, the wind switched to the north and the sudden change of temperature created FOG and gray ugly.  When beautiful fall mornings turn to chilly days where David has trouble wearing his shorts, it's time to return to Winterlude!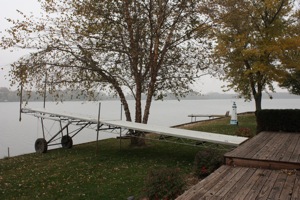 The last few days has been a jumble of last minute chores mixed with a healthy dose of socializing with friends and family.  Now the house is winterized, everything's as ready as it can be for the "gypsies in the palace" to throw their annual winter bash – that would be the ladybugs.  I have no clue how zillions of ladybugs know to find out house for the party or die while they're there!   Every spring we're amazed all over again!
Final touches at the house never go according to plan, this year it was the refrigerator that decided to be contrary.  After I cleaned it out and washed it down with bleach water, it was all set for the winter.  David pulled it out to disconnect the electricity.  When we tried to push it back into place, the wheel fell off the back starboard side!  What was this all about?  I guess it decided that being a 13 year old refrigerator it should be allowed some contrary moments!
Saying goodbye to all our family and friends is always hard, but the great thing about commuter cruising is we'll be BACK when the weather gets warm, spring leaves fill out the trees and my orioles and hummingbirds return.  Just in time to give granddaughter Gilly a hug, start slalom skiing and racing the Y Flyer another year.
David's final appointment with the cardiologist went fine.  He doesn't have another stress test until June — woohoo!  We figured out how to deal with the meds and insurance and still go cruising (keep your fingers crossed it works as it was explained to us!).  Packed the stairstepper so we have our daily exercise aboard if we're not anchored somewhere to walk.  I'm always amazed how little exercise we get sometimes living aboard out at anchor.   I miss our long daily walks when we're cruising.  I guess it depends where you're cruising, but the mangrove islands of Belize weren't conducive to 4 mile daily walks.  We did swim/snorkel daily (well, most days unless the weather interfered) but my doc even had the audacity to wonder aloud if all the swimming might actually reverse the weight bearing exercise I did the rest of the year … I THINK she was kidding!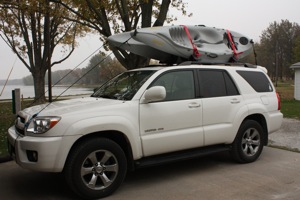 But we're finally on our way … meandering south, stopping for a few days to visit with my brother & sister-in-law at their Gulf Shores condo, then a nice visit with my Dad as we pass close to Lakeland, FL and then WOOHOO — on to Winterlude, who hopefully has been patiently awaiting our return.  At least today even Hurricane Rina seems to be weakening and hopefully will just collapse completely.    Ironically David's mom is named Rena – with an "e" instead of an "i" – but we told her it wasn't that we didn't want her to visit, but STAY AWAY!!!)
So the kayaks are tied securely (we hope) to the top of the truck and we're driving in the cold pouring rain toward sunshine, warmer days and a winter of fun aboard Winterlude!   Everyone enjoy your day!