Every year migrating birds make our marina lives infinitely more difficult than usual.  The usual suspects including opreys, cormorants and seagulls are bad enough, but when the black bird invasion begins, it's impossible to leave anything on deck without it being spattered with berry crap.  Literally we sit inside the boat and hear the deck being pelted – we run out and slap the halyard against the mast which drives them away … for as long as it takes for us to go back below.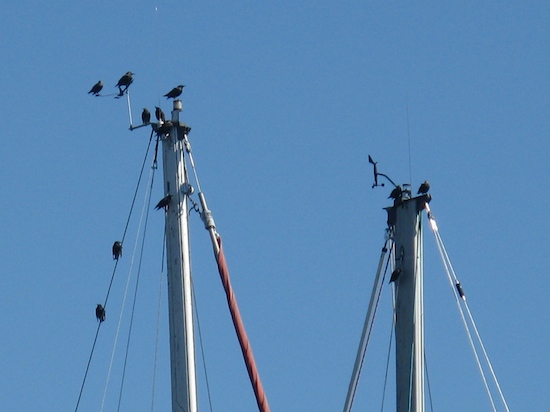 The worst part is they always break stuff at the top of the mast.  Last year they broke our windicator and dang, if it's not broken again.  We're running out of spares!
Every year, different boats try different solutions.  Not sure if there is any good solution, but it's not for lack of trying.  Last year some boats tried putting computer ties with the long ends waving up from whatever they could fasten them to on top the mast.  Some boats have those wire lightning protectors – but as you can see in the photo below, the birds just sit on them.
Here are some of this year's local options: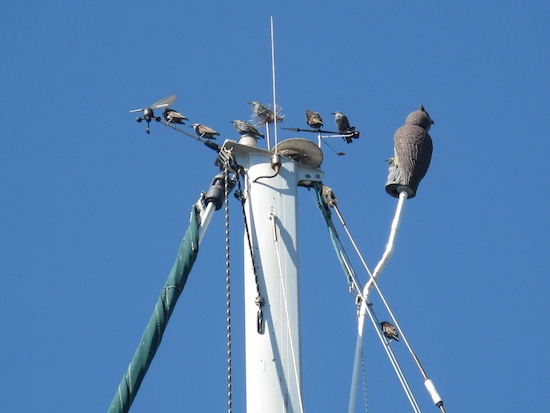 The bobblehead owl option — worked great for a few days until the birds realized it's not real despite the bouncing head and now they sit on the owl as well as the other masthead stuff (sorry Alan & Bill!)
Nick may have the best current option … last year he tried the ultrasonic sound deterrent and aside from pissing off all the neighbors because it did make noise despite it being ultrasonic, worse, it did nothing to deter the birds.  This year he has a new solution, that seems to be working well, at least for Day 1…  but it's windy today, so this solution may not work as well in days to come.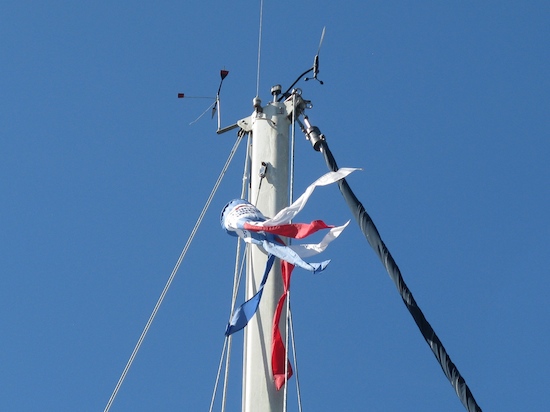 Our friends Rich & Carla (sorry Rich) have a different solution for the osprey at their masthead.  As I write this, their cleaning person is busy with the pressure washer and the boat looks great … but we'll check it again tomorrow…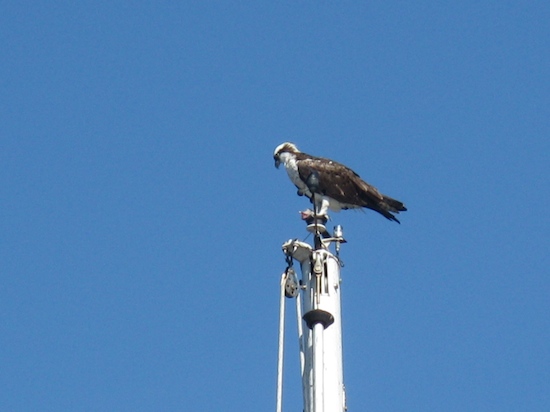 As for us … we've resigned ourselves to washing the boat at least once, sometimes twice a day and hoping the dang birds migrate on their way soon!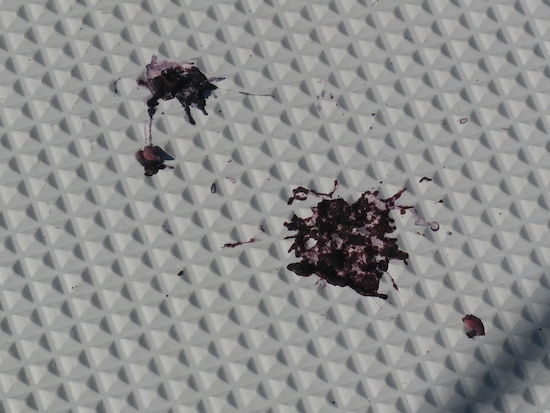 Can't leave this stuff on deck, the stains are almost impossible to get out.   🙁  Gotta go, it's time to wash the boat …. again.  Sigh….