Every once in a while I read a book worth sharing.    "Blue Highways A Journey Into America" is one of those books.  Written in 1982 with 42 weeks on the NY Times Best Seller list, I have no idea why this book has never been on my radar before, except to say that in 1982 my oldest daughter, Aly, joined us in the world so maybe I was sleep-deprived and more than a little preoccupied.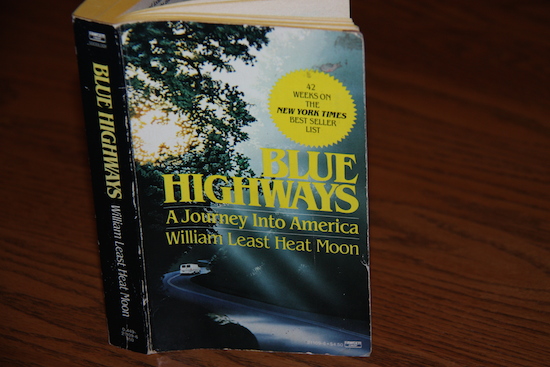 As we're getting ready to depart on our first extended trailer camping adventure — from East Central Illinois east to the Outer Banks National Seashore then south through the North Georgia mountains, following the fall colors south, all the way to the boat — a friend recommended I read William Least Heat Moon's "Blue Highways".
Another travelogue had some appeal since over the next year we hope to travel almost 10,000 miles cross country pulling our little 20′ travel trailer – before and after our winter cruising on the boat.
It's rare to read a book and wish it was longer.   After losing his job and his wife in one day, Least Heat Moon (the name the Sioux give to the midsummer moon), took Ghost Dancing, his Ford Econoline van and started driving …
"A man who couldn't make things go right could at least go. He could quit trying to get out of the way of life. Chuck routine. Live the real jeopardy of circumstance. It was a question of dignity."       … Blue Highways, William Least Heat Moon
Avoiding cities entirely, he wandered from interesting sounding place to the next two lane road town cafe – highlighting such towns as Nameless, Tennessee; Ninety-Six, South Carolina and Dime Box, Texas.   By eating locally and being genuinely interested in local culture and history, he highlights a USA that is off the news media's radar — thank goodness!
"What you've done becomes the judge of what you're going to do – especially in other people's minds. When you're traveling, you are what you are right there and then. People don't have your past to hold against you. No yesterdays on the road."                                                                …   Blue Highways, William Least Heat Moon
I was lucky to find an original 1982 version in a used book store.   This little book is going with us on the road while we travel.  Maybe we'll be lucky enough to find some Blue Highways of our own!