Before we went cruising and had Winterlude fixed up like we thought we wanted, we would spend hours drooling up & down the aisles and boat shows.  Now we're done with the refit and on a fixed income from being retired so somehow the magic isn't quite the same, but it didn't keep us from jumping in the truck and driving 2 hours north yesterday to visit the St Petersburg, FL Boat Show.  Our first observation was that Gill and other clothing booths were doing a brisk business due to the chill from the first night dipping into the 40's here in sunny warm SW Florida!  Good prices too, too bad we didn't need new foul weather gear or just nice warm jackets/pullovers.
A fair amount of people were milling about, looking about on boats and enjoying the live afternoon music with a cold beer. In the past,  I remember going to these shows and literally loving every minute — we were living the dream, the romance, intrigue, beckoning adventure – everything all rolled up into one.  So why is it this year, the only thing we spent (much) money on was new anchor chain?  How romantic is that?  Ugh!
I hate just replacing stuff that's worn out over the past 10 years.  I guess 10 years IS a lot of time, but still.  Anchor chain?  I could have found more interesting things to spend that money on than anchor chain.  I'll appreciate it though when the wind pipes up and we don't have to worry about whether our 10 year old rusty chain is up to the task.  Or has just one weak link…..
The anchor chain was over $1 less expensive a foot than anywhere else I've found it.  AND they volunteered to bring it out to the truck so we didn't have to pay for shipping — shipping chain is not a fun thing — especially the part that says there must be a forklift to meet the truck line when it arrives.  So it was a good practical investment … but I can still think of other things I could have done with that money!!! 🙂
Wandering among the boats, I was drooling with envy over the large SQUARE level bottom refrigeration spaces in most of the new/newer boats – is it just MY boat that has the bottomless pit?   There was even a really really cool freezer drawer under the refrigerator space in one of the Island Packets.  I want one and I'm sure I can make just the right space for it.  But David said no.  Oh well, think of the money I saved!
Maybe we're crazy, but it seemed like there were more boats there than last year (when we went only to take our working jib back to Mack Sails when Travis recut it after almost 10 years for no charge — we always strongly recommend Mack Sails – our experience is the customer service is absolutely the best).  This year the only new monohull sailboats boats were Hunter/Catalina/Beneteau/Jeanneau and maybe a couple Island Packets.  There were also a couple of catamarans, including a Leopard 44 and a 2009 Tartan 37 which we especially enjoyed seeing since it's close to our Passport 37 in size.
I must confess not understanding the sinks all the manufacturers are putting in these boats.  First they were a good 3″ shallower than my sink AND they were divided, but not equally.  I'm guessing someone thinks there's plenty of room to wash the largest pots & pans aboard in the larger side, but it didn't look to me like it would work well.  I like my oversized, overdeep one compartment sink!
One man on one of the sailboats we visited was busy pulling up all the floorboards and lazarettes and engine compartment openings in the boat.  He swears there's no access at all to the stuffing box.  But it seemed like it had good engine access compared to our Passport.  Maybe the missing stuffing box was the newer dripless sealed type?  Dunno.  He wandered off down the dock huffing & puffing about no stuffing box access on these blankety blank new boats.   🙂  Interesting character!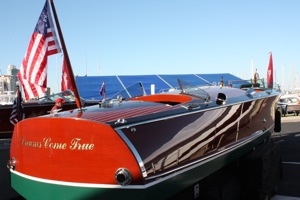 Let's see what else did we notice?  The wooden boat section would have been impossible not to notice.  Pardon me, while I drool!!!
Lots of vendors for powerboat/boatlift/fishing boat stuff.  Several Tampa Bay area marinas, charter operations and of course, a large Moorings booth.   We were looking for the teak company from Sarasota, but didn't see them this year. We were fairly impressed with the Sunbrella pillows — our pillows are fairly much squashed and need constant attention to keep them from smelling stale after a day or two of rain.  But then they're almost 10 years old, so I should be glad they lasted that long.  The new Sunbrella pillows though were $150 each.  Boat show special was $150 for one and the second for $75.  These pillows were really nice until I found out the price.  Unfortunately life on a fixed income does not include $150 pillows.  Se la vie!
We did have a nice visit with the Spectra watermaker people & they demonstrated for David where our potential leak might be and showed him how to remove the unit to inspect it.  Very helpful.
And it's always fun to wander through the Latitudes & Attitudes booth.  They are always fun just to chit chat with.  And I'm always impressed that Bob Bitchin & Jody are in the booth visiting with everyone.   Maybe the other sailing magazines should pay attention.  Seems to me like L&A's subscription rates are rising.  Or maybe it's just because of the great Eric Stone Band free L&A party on Saturday night.
Some new items – at least new to us, we didn't notice them last year.  The ChillingTheMost.com guy impressed us with his demonstrations on keeping your beer ice cold for long enough to drink it while cruising the tropics.  This is definitely a winning item.  We bought a couple, but need to test them and report back before I can recommend them!  🙂
I also bought a straw hat to replace the one I originally bought in Cartagena when I didn't have a sun hat and the sun was sizzling.  The Cartagena hat was full of memories, but finally it disintegrated.  I noticed wandering on the beach at Cayo Costa during our shakedown cruise that I really could have used a sun hat.
So our boat show fix for the year is now complete and we're ready to go — well, almost, as soon as we figure out how to get the anchor chain out of the car, down the dock and onto the boat!    Anyone else go to the boat show?  Please leave a comment and let us know what you thought!
Cheers!  Jan