SOLD, sorry!  Thinking of going cruising?  Want to sail the San Blas Islands in Panama (my ultimate objective when we bought s/v Winterlude!)?  For many cruisers, change is the spice of life and our experience is that cruisers (other than circumnavigating "real" cruisers) enjoy cruising for many years, but ultimately move on.  Because, after all, life is full of too many adventures, and much as I hate to admit it, not all can be enjoyed from a sailboat.   Click here if you want to skip all my narrative about cruising with s/v Bruadair & see all the specs and info on the boat for sale. 
When we were cruising the Northwest and Southwest Caribbean, we had two different "buddy" boats.  The first, s/v Kristiana, a Niagara 35 was sold over a year ago and last winter her crew happily spent 4 months living in Nepal and another 4 months experiencing India — that's long enough to take yoga from local gurus and help a children's home develop a new water conservation plan.
Now our other buddy boat, s/v Bruadair, a Hans Christian 33,  is for sale and already in Bocas Del Toro, Panama – a commuter cruiser's dream.  Bruadair's crew will be off on new adventures, learning to cook Thai food, being involved with the local culture, whether in India or Vietnam, they embrace change.
But this could offer you an unparalleled opportunity to acquire one of the few cruising boats I know that I would consider truly turn-key and ready to explore the far reaches of the South Pacific islands…. or just the local San Blas Islands in Panama.  Don't let the "small" size fool you.  This Hans Christian 33 could keep up with (or outsail) our Passport 37 and definitely has more storage space.  Plus tons of specialty features such as a custom water cachement system in addition to a watermaker – no going thirsty on this boat.  And the owner is an electronics nut, so the electronics feature stuff that we never had aboard Winterlude!
s/v Bruadair is a classic example of a seaworthy, safe, comfortable sailing yacht.  AND this one's already in paradise.  A day away from the legendary San Blas Islands cruising grounds or the Panama Canal to take you to the far reaches of the South Pacific, sv Bruadair has everything going for her…  including being our buddy boat for several years.    Click here for extensive information and photos on s/v Bruadair. 
A few of my photos of Bruadair while we cruised from the Bay Islands to the San Blas Islands together.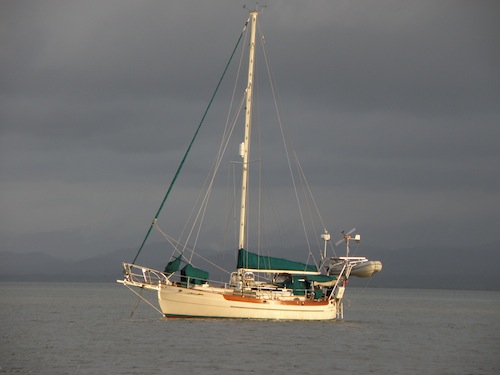 Click here for ALL the specs and interior photos, more exterior photos and more!
Comments, questions?  Please leave a comment and ask.  And PLEASE SHARE THIS with everyone who might possibly be interested.   It's a sad day for us, but exciting at the same time, because we know our paths will intersect again, just a different day and a different adventure!  Cheers!  Jan