Talk about surprises!  Why did I assume, being the Trader Joe's addict that I am, that Trader Joe's would have wonderful canned chicken breast?  Why did I violate my own rules and buy multiple cans without trying one first?   Aaarrrgggg!!!
On the other hand, the canned chicken I got from Aldi is some of the tastiest we've ever had, go figure! Nice chunks of chicken in "water" that tastes a bit like chicken broth.  Conversely when I opened the Trader Joe's can, it looked just like cat food.  BUMMED!  Oh well, the food banks will probably be happy to get a few extra cans of Trader Joe's canned chicken.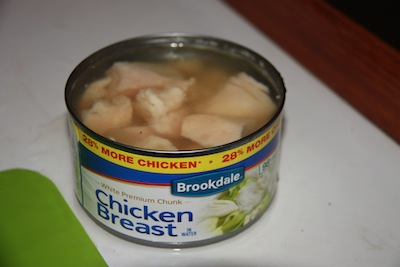 Canned chicken is a staple aboard Winterlude — we like it better than tuna, although we also stock several tuna packets because they take so little space and there are several tuna recipes we like now and then, just not weekly.  So I'm always looking for cans that look and taste like "real chicken".   Aldi's brand, "Brookdale" meets our expectations — as does Great Value, the WalMart brand.  Note that I'm talking about premium chunk chicken breast canned in water.
And at a half a gram of fat, it meets our low/no fat diet goals.  Check the fat content, most brands are 1 gram are under, but some can be more.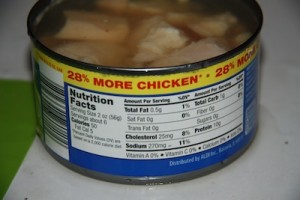 Surprisingly, canned chicken does not have the wild range of sodium content that you see in many other canned foods – tomatoes come to mind.  Aldi's canned chicken, name brand Brookdale, has 270 mgs of sodium — compare to Tyson at 300 mgs, Hormel at 320 mgs, Kirkland (Costco) at 270 mgs, Great Value (WalMart) at 270 mgs (isn't that an interesting coincidence!) and Trader Joe's at 250 mgs.
And canned chicken offers a variety of really tasty recipe ideas — we use it for chicken salad for lunch, but there are 10 recipes using canned chicken in The Boat Galley Cookbook and 23 recipes using canned Tuna that are delicious when you substitute canned chicken. (Note:  you can also get "The Boat Galley Cookbook for your IPad at ITunes, or Nook at Barnes & Noble!)  In addition, I use canned chicken in a variety of recipes that call for chopped chicken breasts — for example the gumbo I made the other night.
One of the biggest tricks using canned chicken is to add it much later.   For example, the gumbo recipe called for me to saute the chicken breasts & sausage or whatever I was using first, then chop into chunks and set aside while I made the roux and sauted the veggies, etc.  I omitted the first step since I was using canned chicken and leftover (i.e. already cooked) smoked chops.  I added both at the very last minute and simply heated them through before serving over rice.  And yes, it was delicious … and made with canned chicken, go figure.  Would it have been better with fresh shrimp and andouille sausage?   Yep, but I didn't have those aboard!
So if you're provisioning to go cruising, don't forget to add canned chicken to your never-ending list.  But buy one first and check the brand because they are NOT created equal!
Which brand canned chicken do you like best?   Please leave a comment and share!   Cheers!  Jan