Keeping a good varnish brush clean between coats of varnish has always been a challenge for me.  I keep a can — or this time a small Folger's container — with turpentine, full to the top of the brush.  Each day after varnishing is done, I swish the brush around in the turpentine and let it sit until the next morning's coat.
If I'm doing more than a couple of coats, I'll get fresh turpentine after a couple days, but if it's just the two maintenance coats, I use the same turpentine.
The next morning I swish it around again, making sure the varnish is out.  Then take the brush out and squeeze as much turpentine out of the bristles as possible, then "brush it dry".  Basically brushing the brush on whatever's handy – an old but clean piece of wood works well – until there's no more turpentine coming out.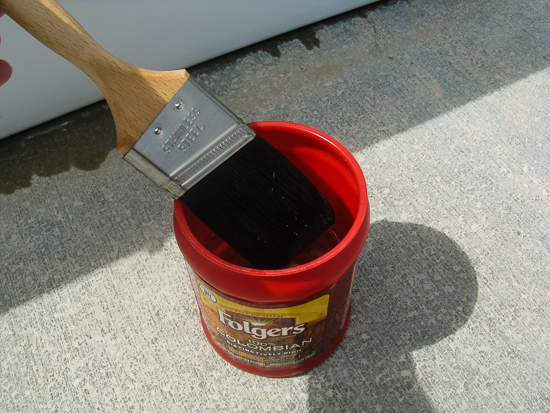 At this point, it's time to mix the Flagship Varnish with a bit of thinner (Interlux 333 in this case – maybe a tablespoon for the inch or inch and a half of varnish in my little working container (another clean small Folger's coffee container this time).  After the thinner is stirred into the varnish, it's time to grab the brush and go to work.
Unlike others, after the two maintenance coats of varnish are complete, I throw the brush away rather than trying to keep it for the next six months until the next coats are due.  I've heard of people washing them out with soapy water and then storing them in a baggie (sometimes in the freezer?) or wrapping them in tin foil for storage.  But I've never had much luck and varnishing is too tricky to allow a variable like an old brush to ruin it.
Anyone do it differently?  Please leave a comment and share!  Cheers!  Jan