Be very very careful while outfitting or upgrading your boat — costs vary widely for the exact same piece of equipment!   For example, we're shopping to replace the gas lift springs that extend our solar panels up and down to maximize sun exposure.     To replace with the exact same lift spring, we need Attwood – here's the specs.  We need 4 total, 2 on each solar panel for up & down.   I started looking around online and here's what I found…..  (Special THANKS to HighTech pools for the graphic life ring dollar in this post!)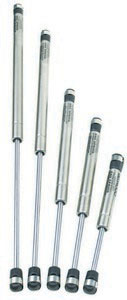 Attwood Stainless Steel Lift Springs — 20″ extended, 12″ compressed, 40 lbs pressure   Model # ST34405 Stainless
IBoats.com     $36.98 each for a total of $160.10 including shipping
BoatStoreUSA   $25.46 for a total of $122.69 including shipping and FL state sales tax (WINNER!!!)
Amazon  $42.35 for a total of $169.40 including tax and shipping
West Marine – we know they carry the identical spring, we saw it in the store in Punta Gorda, FL for $67.99 each, but cannot find it in the catalog to order, in the print catalog all they list is Taylor Made Gas Springs, but in the store the brand was Attwood, go figure….
Upon further investigation, BoatStore USA has an actual store in Stuart Florida, we could drive over and pick them up if we wanted and save the shipping costs.  But since we're swamped in the boatyard, we'll order them.
The differences in pricing absolutely astounded me and I triple checked to make sure they were identical items so I was comparing apples to apples.
The moral to the story is to be SURE and do your homework before buying anything, but especially for a boat!   🙂