Explorations in cruising … wow, should we bring Winterlude up here to Maine?  There are SO many islands and harbors and places to explore.  But there are also SO many rocks and big tides.  Plus rocks and big tide don't seem to go together with lots of FOG!   Hmmmm…
Meanwhile, back at the Aldernest Den … where we're "anchored" for this phase of our east coast exploration, on our first full day in Acadia National Park, we decided to explore the Bass Harbor Lighthouse, then drove over amongst the hoards of people lined up at the park visitor's center at Hull Cove.  Tip #1  Stop at the visitor's center in Trenton on your way over from Ellsworth, do NOT under any circumstances wait to buy your park passes at Hull Cove – the line was out the door, down the winding walk all the way to the bus stop.  YIKES!
We already have the Seniors National Park Pass from last year's adventure to Glacier National Park.  Hint #2 — if you qualify for the senior pass, it'll be the best $10 bucks you ever spent!  We've now amortized it over several visits to Glacier, a couple visits to the Everglades and now Acadia!  So we're down to a buck a visit or so, and it just gets cheaper from here since it's good for a lifetime!
Back to the visitor's center, we watched the movie to get an overall introduction to the park, then stood in line for a few minutes to talk to a park ranger.  Park Ranger programs are always great and free or very nominally priced, something cruisers usually appreciate!  We picked up a list of park ranger programs and circled a couple for another day.  We also picked up a copy of the park bus schedule — propane powered buses paid for by LL Bean and FREE for visitors.  Free is always a welcome word for cruisers … and green is good for the park and the harbors and sailboats anchored nearby.
So what does a cruiser do in Glacier National Park?  We're not big on crowds and "disney-esque" attractions, that's why we chose to cruise the Northwest Caribbean first and stay away from the Eastern Caribbean.    We love the outdoors, birds, wildlife and everything associated with it — that's one of the reasons we're cruisers.   We also like to walk — we're used to walking everywhere, so why not continue the exercise during our commuter "off season"!     After the morning Bass Harbor Lighthouse and visitor's center trips, we chose to walk the Lower Hadlock Pond trail, in hopes of seeing and hearing our first LOON!
One thing I've noticed about Acadia …. it's beautiful and dramatic, don't get me wrong.  But the park is integrated amongst so much "real life" that it seems to interfere.    Several trails have traffic noise that overcomes the wilderness experience – so much that it's even listed in the trail descriptions in the hiking books!    And somehow the noise of a riding lawn mower, interfered with our sense of communing with nature.    Luckily it finally quit so we could hear the loon's calls.
Tip #3 … if you're hungry for lobster, there are more than a myriad of opportunities, but we lucked into Thurman's Lobster Pound in Bernard for our first Acadia dinner.    We can highly recommend eating at Thurston's – but you may want to get there "early" or risk standing in line.  If the line isn't longer than the bottom of the ramp, it won't be too bad, but we got there at 6:30 PM and only had a few in line in front of us.
Hiking – a bit of a rant, sorry!  We both love to hike, but somehow alot of the trails listed on the two indispensable trail guides, one a map and once a guidebook, reference more "difficult" "arduous" and ridiculous climbing adventures, not hikes.  I like to walk along on a little path, I don't care if it's narrow or along the side of a cliff, I just don't want it slippery muddy with footing almost impossible, or worse yet, iron rungs and ladders to help traverse the side of a cliff.  I actually enjoy scrambling over and up rocks, but if it involves being suspended over the side of cliff where I cannot take great photos, it's not an option.   Why in the world would I want to hike where I can't carry my camera?    I'll gladly leave that to the younger, more adventurous and seriously fit commuter cruisers!
Luckily, there were several trails we enjoyed.  Try the Acadia Trail and the Beech Mountain Trails for some rock scrambling and altitude gain, but absolutely amazing views from the summits.
Tip #4 Buy the hiking guide," A Walk In The Park" by Tom St Germaine and also the trail/elevation/carriage roads map called "Acadia National Park Hiking & Biking Trail Map".     We discovered after the fact that the "Walk in the Park" guide generally sends you the easy (easy being a relative term) way up and the steeper way down.   For example, after talking to park rangers, we found that taking the Acadia trail start immediately across the road from the parking area/rest rooms and returning via the fire road was the "easy" direction to do this hike.   Another reason to highly recommend the "Walk in the Park" guide!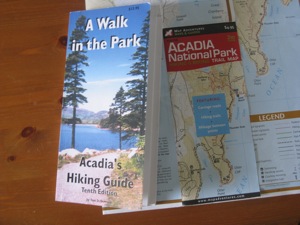 The Ship Harbor & Great Head trails had great views and scenery, Ship Harbor was a good walk in the rain with some history, Wonder Land was a walk to a rocky beach and some good tide pools.  We enjoyed the Schoodic Peninsula on days when cruise ships are in … aaarrrgggg, too many people loving a national park to death!!!
Tip #5 — do not under any circumstances drive to Bar Harbor and expect to find a parking spot after about 7:30 AM in early August!  In fact, due to the fact that I'm allergic to crowds, we avoided Bar Harbor religiously.  Too bad in some ways because there was a micro-brewery we would have liked to try, but after driving around town for a half hour and not finding a parking spot, we decided to move on.
Tip #6 — don't expect to do anything unless you've signed up well in advance on days when cruise ships are in!
We wandered over to Bass Harbor one morning when it was raining just to look around.  In our rain slickers, we wandered the docks looking for someplace to buy fresh fish.   Despite the docks saying they'd sell us fish, there was no one about, so we wandered and took photos.  Soon I realized David had disappeared.  Hmmm…. the wonderful fragrance of fresh bread wafted across the bay….   takes me back to our San Blas/Kuna cruising days — David always disappeared when the smell of fresh bread wafted across the anchorage… I'm thinking there may be a corrollation so I followed the fragrance and sure enough, soon found David ducking out of a doorway with a warm fresh loaf of bread in his hands.   Like Kuna bread, it was devoured on the spot!
Later after wandering the area for a few hours, we found ourselves pulled back to the Seafood Ketch feasted on the most flavorful garlic steamed mussels and clam chowder in bread bowls.   So go to the Seafood Ketch if you want some good food at fair prices.  And if it's nice outside, go early because it'll be packed with folks that want to sit outside on the deck overlooking Bass Harbor — but beware of low tide!  A lot of the boats sitting on the mud!   Oops!
Tip #7.  If you're so inclined, go whale watching!  We took the 8:30 AM Puffin and Whale Watching cruise from Bar Harbor Whale Watch Co. David was skeptical and didn't believe we'd even see a whale, but sure enough … there were several whales.  We liked the boat, the Friendship V because it's jet powered, no propellers to snag either lobster buoys or whales, accidentally.  They had a good naturalist aboard that almost talked too much, but gave a very educational running commentary on the birds, seals and whales that we encountered.   Another tip for whale watching — check out the marine weather several days in advance — weather underground has a an easy link click here.  We picked the day that was 1′ waves and lots of sunshine – sometimes the boats won't go if there's fog or rough seas.
We've decided that despite the beauty of the area, we won't be bringing Winterlude up to cruise Maine for several reasons … #1 is the distance from where Winterlude lives, David's decided it's a bit chilly here for his taste and the water never really warms up, so no snorkeling for me! Other reasons include the conditions – fog, rocks, huge tide swings, crowds, costs, etc.    With the 3 – 6 million lobster pots, we'd almost need to repower to enjoy cruising here – avoiding all those pots has to be a challenge!
But probably the most important reason is our commuter cruiser "schedule" — we race Y Flyers in the summer and cruise during winter months.  If we choose to come north, our cruising would have to include the summer months.  Right now we're not sure we want to rearrange our commuter cruising lifestyle to include summer cruising — there's too much "inland exploring", Y Flyer racing and lake living (i.e. slalom skiing) to miss if we were to live on the boat in the summer.  On the other hand, we're still toying with the idea of spending a month or so on a mooring just off the Capital Yacht Club in Washington DC while Billy's stationed at the Pentagon (Navy).
So who knows where the winds will blow Winterlude in the future!