I'm in the process of consolidating my multiple blogs to become one blog devoted to our part-time cruising lifestyle,   allowing me to write about whatever is going on. Not to worry, we'll still have 3 new posts per week devoted to commuter cruising, so if you're thinking — I don't want to see all this other crap, please don't be offended.  We have a lot of fun and hopefully the combination lifestyles will be interesting.
Now on to Alaska!  I'll be adding some posts to catch up the Alaska adventure, and then moving forward, I'll be writing about whatever we're doing at the moment — which as of mid-October will be back aboard s/v Winterlude!
Saturday dawned clear and beautiful, lucky for us since we really wanted to SEE Mt McKinley!  But the only way to see Denali, all 92 miles of park road is to ride a school bus – unless you get a back country pass and backpack forever, which was not in our "Geezerheiken" routine!
Riding with our "TekPass" from Camp Teklanika, 30 miles into the park, the "rest" of the road is "only" 60 miles.  What no one told us that the roundtrip was 10 hours!  Luckily there are plenty of stops along the way and the day vanished in a flash.
You thought I was kidding about the school bus?  Our first tour director explained that the only way to see wildlife is either to pick a spot and sit all day or ride the bus.  The wilderness is so vast, when we were hiking mostly we saw no wildlife.  But we saw evidence they had been there.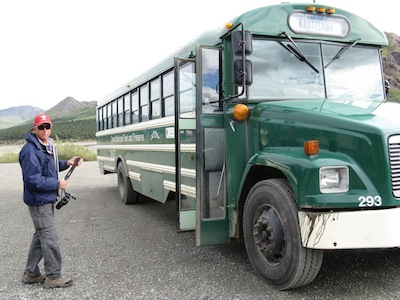 Luckily our first trip – the bus was half empty, so when we spotted wildlife, there weren't 100 tourists, speaking 7 different languages, stampeding to get camera lenses in place, all wrestling windows down and scaring creatures away being too noisy.  We had less positive experiences later in the trip and appreciated this first bus ride even more!
Shortly after the adventure began, we saw a family of grizzly bears.  They were eating berries and we found out that this time of year they're in what's called a "hyperphagic" phase — they are so intensely gorging themselves that they don't pay attention to anything other than eating.  Here in Denali, there are no salmon because the creeks are all filled with silt so the bears eat berries.  As a result, bears here are only half the size of the ones we saw at Anan gorging themselves on salmon.
And then it was Polychrome Pass, some of the most beautiful scenery in the park – and the narrowish, twistiest, scariest road!
And then there were more critters … an arctic fox, a ptarmigan, just before it turns white for the winter – the Alaska State Bird, lots of soaring golden eagles – I'd never seen a golden eagle and the critter that causes the most damage of all the animals, the arctic squirrel and then some HUGE caribou.
The caribou in late August, early fall, are not yet in large herds.  They are all fattening up for the coming winter and working their way to the base of Mt McKinley where they'll form a herd for the coming winter months.  Interesting factoid – caribou are the only member of the deer family where both males and females sport antlers!
Mt McKinley just keeps getting more and more magnificent!  As an aside, I think they should rename it Mt Denali.  Denali (the name of the park) means "the high one" in the native Abathascan language.
Until, a few short minutes later, at Wonder Lake, it disappears into it's own cloud bank….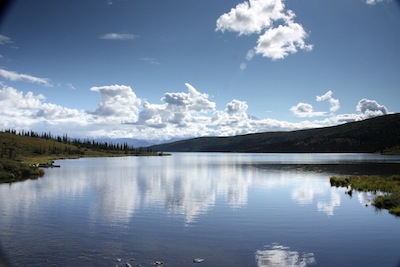 It's over there, beyond those clouds.  The photos you see of Mt McKinley reflected in water are taken right here at Wonder Lake. But clearly I'm not going to get that photo!  Oh well, it's still been a great day.
The bus stops to let us gather berries – blueberries, bearberries and cranberries.  No bears in sight, but we're all a bit wary.  The fresh wild blueberry pancakes we made with our baggies full of blueberries were so delicious that even David, who doesn't like blueberries, enjoyed more than one helping!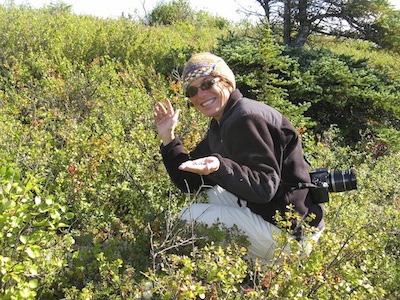 The End of the Road … the park keeps having to replace this sign because the bears apparently think it's food and chew it up.  But for now, it's there and our trip back has just begun.