After enjoying our wine for the past 10 years plus in plastic wine glasses – no glass aboard Winterlude — we have lost our minds.  During the "off season" from cruising, these commuter cruisers enjoy our wine in stemless crystal wine glasses.  We're not wine snobs, but it just tastes better from crystal – not stemmed crystal, mind you, they break too easily!  But when stemless crystal wine glasses became available, we switched.
Tritan Crystal, from Schott Zwiesel, has removed the lead and replaced it with Titanium and Zirconium both big words that apparently make an elegant yet durable stemless wine glass. Enter Fortessa, a worldwide marketer of tableware and voila, the Fontessa Tritan lead free crystal that was on the shelf in front of me at the St Petersburg Boat Show.
 Schott Zwiesel (a brand of Zwiesel Kristallglas, AG) has a 130 year history of innovation and success, including such break through developments as the first machine made stemware and the first lead-free crystal glass. With the introduction of the proprietary Tritan Crystal technique (the result of special compositions such as titanium with a unique tempering process) Zwiesel has once again revolutionized the industry. Rigorous laboratory testing proves the brilliance, dishwasher safety, and break resistance of Tritan.
Personally I don't know any boat with a dishwasher, but we'll forgive them for that oversight.  And I'm sure some of the super-yachts do have dishwashers aboard, so maybe that would be a benefit for them.  🙂
I will say that the only time I'm worried about breaking one of the two test glasses we bought is while washing them.  They're very very slippery with a bit of Joy suds.  I try to hold them low in the sink so if I do accidentally drop one, maybe it'll have a chance to show me it's "durable enough to resist breaks, scratches and chips" properties.  (UPDATE 11.2013:  David broke one of our crystal stemless wine glasses almost 18 months later … and yes, soapsuds had a part in the tragedy. However,
since they're $6 apiece in sets of six these days from Amazon, I'm buying another set
, putting a more aboard and saving the rest for when we accidentally drop them!)
I couldn't resist trying two of these glasses.  They are definitely heavier and more like glass than my "real" crystal glasses from my other life, but I like them better than our plastic alternatives.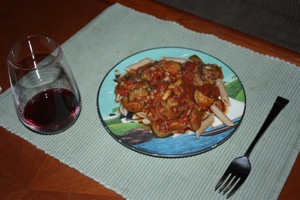 How about on your boat?  What do you enjoy your wine from?  Leave a comment and let us know!  Cheers!  Jan