Because there is some confusion over EPIRBs and the different classes, below is a concise explanation directly from NOAA, responsible for EPIRB registration in the US, followed by more information on 406Hz EPIRBs directly from the US Coast Guard and finally an explanation from West Marine Advisor regarding the differences between GPS functionality and Dual GPS functionality.
But first … we have a bit of experience with EPIRBS … although it wasn't amusing at the time.   Our Seimac EPIRB was on the boat in Burnt Store Marina, Punta Gorda, FL.  We were back in the Midwest celebrating New Year's Eve.     My telephone rang at 2 AM.  Groping for the telephone, I sat straight up in bed when it was the US Coast Guard wanting to confirm that the EPIRB had been activated.   Through my sleep induced fog, I struggled to comprehend.
Although I was in Indiana over a thousand miles from the boat, the Coast Guard insisted I go check on the vessel immediately.  I had just heard from our caretaker at 5 PM that all was well with the boat and happy new year.  We compromised  and I agreed to call the caretaker (who lived over an hour away) at first light.  In the meantime, the EPIRB went off again,  indicating a position in West Virginia!  WHAT?
Needless to say,  at this point the Coast Guard decided it must be a malfunctioning EPIRB.   A week or so later, as soon as we arrived back at the boat, we sent the EPIRB back to the manufacturer who wanted it for their engineers to evaluate and they sent us a brand new one which works to this day, over 10 years later.  It was comforting to know how quickly the Coast Guard responded to my EPIRB!
But enough of the story and on to the NOAA information: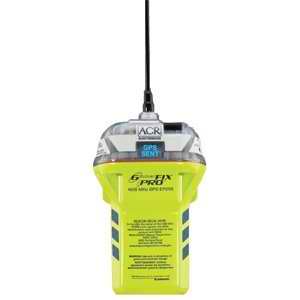 "406 MHz EPIRBs are divided into two categories. Category I EPIRBs are activated either manually or automatically. The automatic activation is triggered when the EPIRB is released from its bracket. Category I EPIRBs are housed in a special bracket equipped with a hydrostatic release. This mechanism releases the EPIRB at a water depth of 3-10 feet. The buoyant EPIRB then floats to the surface and begins transmitting. If you own a Category I EPIRB, it's very important that you mount it outside your vessel's cabin where it will be able to "float free" of the sinking vessel.
Category II EPIRBs are manual activation only units. If you own one of these, it should be stored in the most accessible location on board where it can be quickly accessed in an emergency.
If you have a 406 MHz EPIRB their signal can be instantly detected by geostationary satellites. This means that even a brief inadvertent signal can generate a false alert. To avoid getting a call from the Coast Guard make sure that when you test your EPIRB you follow the manufacturer's recommendations carefully. Or, follow these guidelines for general beacon testing & inspecting procedures.
Also, make certain that you register your EPIRB. If for some reason your beacon does activate inadvertently and it is registered, the call you receive from the Coast Guard will be a friendly one. If it is not registered, it may not be quite so friendly. More importantly, registration will help rescue forces find you faster in an emergency and allow you to make an important contribution to the safety of others by not needlessly occupying SAR resources that may be needed in an actual emergency. If you need to register a 406 MHz EPIRB, you can now register online or you may download a beacon registration form from the registration website and then fax the form to us at:  (301) 817-4565.  For any other registration questions, please call us at:  1-888-212-SAVE (7283).
All Class A, B, and S EPIRBs operate on 121.5 or 243.0 MHz and have been phased out.  Class A, B, and S EPIRBs shall not be manufactured, imported, or sold in the United States on or after February 1, 2003.  Operation of Class A, B and S EPIRBs shall be prohibited after December 31, 2006.
More from the US Coast Guard EPIRB website on how an EPIRB operates:
406 MHz EPIRBs
The 406 MHz EPIRB was designed to operate with satellites. The signal frequency (406 MHz) has been designated internationally for use only for distress. Other communications and interference, such as on 121.5 MHz, is not allowed on this frequency. Its signal allows a satellite local user terminal to accurately locate the EPIRB (much more accurately — 2 to 5 km vice 25 km — than 121.5/243 MHz devices), and identify the vessel (the signal is encoded with the vessel's identity) anywhere in the world (there is no range limitation).
These devices are detectable not only by COSPAS-SARSAT satellites which are polar orbiting, but also by geostationary GOES weather satellites. EPIRBs detected by the GEOSTAR system, consisting of GOES and other geostationary satellites, send rescue authorities an instant alert, but without location information unless the EPIRB is equipped with an integral GPS receiver.  EPIRBs detected by COSPAS-SARSAT (e.g. TIROS N) satellites provide rescue authorities location of distress, but location and sometimes alerting may be delayed as much as an hour or two. Although these EPIRBs also include a low power 121.5 MHz homing signal, homing on the more powerful 406 MHz frequency has proven to be a significant aid to search and rescue aircraft. These are the only  EPIRB types which can be sold in the United States.
A new type of 406 MHz EPIRB, having an integral GPS navigation receiver, became available in 1998.  This EPIRB will send accurate location as well as identification information to rescue authorities immediately upon activation through both geostationary (GEOSAR) and polar orbiting satellites.  These types of EPIRBs are the best you can buy.
The Coast Guard recommends you purchase a 406 MHz EPIRB, preferably one with an integral GPS navigation receiver. A Cat I EPIRB should be purchased if it can be installed properly. An EPIRB can also be rented from multiple providers. It can save your life."
GPS/EPIRB Combinations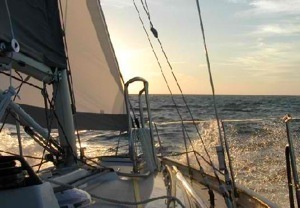 Three types of EPIRBs transmit GPS coordinates along with the rest of the distress message. Some units can interface with an external GPS and if the receiver is turned on will transmit coordinates within seconds of activation. Other EPIRBs contain their own receiver and take longer to acquire their location, but keep transmitting while the EPIRB is operating, without remaining connected to an external GPS with an interface cable.
A third type includes the GlobalFix iPRO, which combines features of both receiver types with Dual GPS Technology. It interfaces with your onboard GPS to ensure that your LAT/LON is stored inside, allowing your precise coordinates to transmit in the first data burst. Then its internal GPS takes over and continues transmitting.
Using the stationary GEOSAR satellites, these transmitters do not need to wait for a LEOSAR to pass overhead and fix a Doppler bearing, and they reduce the time-to-notification to as little as four minutes. Like other GPS receivers, their position accuracy is 10 meters (instead of two nautical miles without GPS).
When we decide to go offshore again, we'll do our research and shopping all over, especially since electronics improve so rapidly, but if we had to buy a new EPIRB right now, here's the one we'd get – for $699 this ACR has dual GPS functionality (explanation above) which for $79 more than the ACR 2844 model adds the immediate lat/long position to the first burst transmission.
ACR Electronics ACR Globalfix™ iPRO 406 MHz GPS EPIRB – Category 2
But until we stop coastal cruising and go offshore cruising again, we'll just stick with our current Seimac EPIRB even with the expired battery until the self-test fails, then it will be decision time.
What EPIRB do you have?  Would you recommend it?  Ever had to use it?  Please leave a comment and share!  THANKS!   Jan