I love my oven, not just for cookies & bread, but diverse meals such as salmon and spaghetti squash … Several boats I know are debating on whether to include a couple burners and an oven when updating their boat galley or to convert the oven space into storage space and go with a couple burners and perhaps an Omnia Stove Top Oven.
There are several factors to consider.  We were lucky in that our vintage 1985 Passport 37 came with a Hillerange three burner stove with an oven.  Since it's always worked, there's no reason to upgrade.  (Note that we've replaced all three burners and the oven pilot light mechanism — but it's a whole lot less expensive than replacing the entire stove!).
If you don't already have an oven, space may be your biggest constraint.   If so, a cooktop will likely fit nicely and be sure to look at the Omnia Stove Top Oven if you have this limitation.  Click here to see a comprehensive review by Carolyn over at TheBoatGalley.com.    The Omnia isn't tiny, so be sure to consider where you'll store it.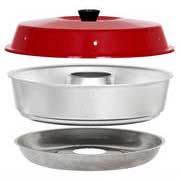 When we started cruising, we were in Annapolis MD bringing the boat to Southwest Florida.  There were several very chilly evenings when we were very happy to have the oven to heat up out living accommodations — we have no "heat", just a space heater that we would never consider leaving on after we go to sleep.   So the heat from the oven heats up our entire "salon" and is often appreciated.
While we were off cruising the "real tropics" — i.e. Belize to Colombia,  the oven was used to bake bread or a batch of cookies for treats or pineapple angel food cake for potlucks, but not as regularly as before.
Now that we've been back in Southwest Florida and even the Bahamas/Exumas last winter, the oven has come in handy for heat many many more times than when we were further south, especially like today with the passage of a cold front and the accompanying strong north winds bringing wind chill far below the actual temperature!  We find that here, we use the oven probably twice as much as while we were cruising the tropics.
Even though I didn't use it as much in the "real" tropics, often choosing to "bake" on our grill, I would never want to be without it.  Just like the microwave (bread storage), when not in use, the boat oven is storage for all our baking sheets, baking pans, cake pans, muffin tins and broiler pan – which came with the boat and I find unusual since our oven doesn't have a broiler… go figure…
Plus on the "off season", the oven is a great lightning proof spot for my favorite boat electronics — the Icom SSB and Pactor III modem — without them I don't have communications … with them, I have e-mail and daily interaction with weather, friends and family.   So the Icom SSB Radio & Pactor III modem get the privilege of living inside the oven during the summer — unhooked and away from any possibility of lightning damage!  We could lose all our electronics but my radio would still work!  Gotta have priorities!
Do you have an oven?  Are you debating on whether to get a cooktop and oven or leaving the oven out?  Do you have a cooktop and use a dutch oven or omnia stovetop oven?  Please leave comments and let commuterCRUISER readers know what you like and dislike about each!   CHEERS!   Jan