It's almost a joke aboard Winterlude … a line from Eileen Quinn's song … "if it ain't broke, don't USE it!"  🙂  As we all know all too well, salt air, saltwater and just being a boat contribute to a harsh operating environment for our homes and their systems.  This year we fixed a variety of things before leaving for our Florida Keys/Exumas Bahamas cruise.  And because we were gone such a short time (March 12 – May 20), most things didn't have an opportunity to break!  Great news!  Here's the list of newly broken items, followed by the list of things that worked perfectly!
Things That Didn't Work … besides the dang crappy weather!  🙂

Depthsounder — we shouldn't have been surprised when our old Autohelm depthsounder went on the fritz just as we pulled into the slip in Bimini to check into the Bahamas.  Circling outside the Blue Water Marina, we were seeing 7 foot depths.  As soon as we pulled into the slip, we were seeing the display go crazy – jumping from 102 feet to less than 5 feet and all over the map.  I hoped it was because we stirred up the bottom coming in which often affects the depthsounder.  The next morning, we tried everything to no avail.  Here's a post detailing our first day in paradise spent diagnosing and trying to fix the depthsounder.  If you don't want to click to read the post, suffice it to say we tried everything we could think of … from electrical or corrosion to cleaning the depthsounder under the hull … but nothing worked.   First Day Cruising Paradise … Bimini Bahamas.  Cruising the Bahamas without a depthsounder didn't seem like a good idea given all the shallow water.  Granted it's clear, but that makes it worse … 20 feet looks like it's only a few feet down, definitely too shallow for our 5 1/2 foot draft!
Luckily, when we bought the new Garmin GPS 541S, it came with a depthsounder…. so far uninstalled.  It's really meant for a powerboat or a fishing boat, but it's aboard and David determined he was going to figure out how to make it work.  Since we don't have the option of drilling a hole while we're in the water and the transponder attaches with a cord, he ran the cord under the floorboards from under the pullman berth where the old depthsounder is located all the way back so the cord comes out to attach to the GPS at the helm.
When we left Bimini, both depthsounders were working, go figure.  BUT they worked randomly over the course of exploring the Exumas – at their whim, all of a sudden (usually when we're trying to get into a shallow anchorage or going in to somewhere like Staniel Cay) the depthsounder would whack out.  The autohelm version would be flashing anything from 102 feet to 10 feet and the Garmin version would say 1.2 feet consistently.  Obviously, we're replacing the autohelm depthsounder and calling Garmin to find out how to properly install the GPS version.
Moral to the story — when older than 10 year old electronics start to fail (remember the wind transponder earlier in the year?), take heed – maybe we should replace all rather than piecemealing and waiting for the next shoe to fall!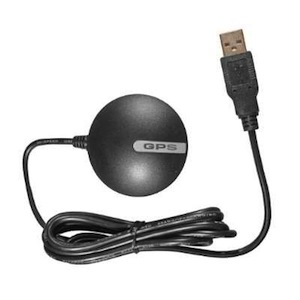 "hockey puck" GPS   We have several independent GPS units so that if one fails, we always have a backup.  There's the original Furuno GPS, over 15 years old that works like a charm, but isn't WAAS capable.  Then there's the Garmin GPS 541S at the helm, backed up by the Garmin 176C, our old GPS in the electronics locker.   But when I decided to upgrade our Nobeltec VNS Passport charts (laptop), it didn't occur to me to upgrade the "hockey puck" GPS that plugs into the USB port.  After sailing from Charlotte Harbor to the Keys, I'd pretty much decided it had decided to go kaput when it had us going backwards, sideways, over land, everywhere except where we should be.  I unhooked it and re-attached the old Furuno WAAS-less GPS and the new Nobeltec Odyssey charts worked fine on my laptop.  This hockey-puck GPS is only a few years old, but then it only cost $69.95 new, so I guess we got our money's worth.  Imagine my delight to find the EXACT same hockey puck GPS that worked for several years on Amazon for $26.99.  Guess which one I just ordered to replace the old one!
Tohatsu Outboard 8 hp — this Tohatsu 8 hp outboard has been one of our most reliable purchases.  We bought it brand new in Annapolis in 2001.   It's just worked, year after year.  The biggest problem we had was our first year as commuter cruisers when we locked it to the rail, returned 6 months later and could NOT get it off.  It literally took 5 days, but we prevailed and we learned how important it is to clean and lube locks!  This year our luck ran out, but we think it's mostly our fault.  First we had a corrosion/steering issue – literally the outboard would not turn to steer.  We worked and worked and lubed and cleaned and re-lubed.  When we left to head to Marco Island, anytime David would steer it would make a horrid squeaky noise heard through the entire anchorage.  Needless to say, we got some amused looks.  But as the trip went on and we continued using it and trying to clean/lube it, the squeak eventually subsided.
Then there was the fuel hose issue.   David thought it needed replaced before we left, but we didn't order it in time … imagine that, we only had 3 months to figure it out, but anyway, we didn't.    It's just old and worn, the rubber is cracking around where we installed an in-line fuel filter in the hose from the tank.   So we're out and about exploring in Big Major Spot with the wind howling from the east and current taking us out to sea when what should happen, but the outboard puttered and quit.   Luckily we were in 12 feet of water and had the anchor which we immediately heaved overboard.    David took the hood off and eventually got the outboard to sputter and sort of run, although it certainly didn't sound like it's normally happy self.  Some good Samaritans took pity on us, jumped in their dinghy and zoomed back to make sure we were OK.  After assuring them that we were, we hoped, we asked that they watch to make sure we putt-putted safely back to Winterlude who was quite a ways away on the far other side of the anchorage.   David took it all apart, re-attached the fuel filter, bled the air out of the outboard and it ran fine the rest of the trip.   Although I must confess to being nervous every time we got ready to go somewhere – we always took the anchor with us even to town after that.  So that'll be a project for this fall.
Anchor Light – The LED anchor light finally gave out after 12 years.  We knew it was iffy and had a replacement, but we forgot we had an LED bulb so we burned more amps than optimal.  Luckily we  but found the LED bulb for the new fixture when we got back to the dock!  So we're all set for this fall.
The new Keurig Coffee Maker –– apparently it doesn't like our inverter electricity, it wouldn't work on the boat, then not on the dock but works perfectly with house electricity …. go figure…   I suspect it has something to do with the fact that our old inverter was from the time that inverters didn't have perfect sine wave output (without spending a fortune) so maybe it didn't like the modified sine wave.  Who knows.  I'll replace it with a normal coffee pot this fall.
Water Heater –– The water heater doesn't really count since it didn't work when we left the dock in Burnt Store Marina, but that turned out to be a significant tactical error.  We didn't figure on needing hot water for showers since the solar shower always warms it up nicely.  The problem was the weather, mid-70's & blowing stink didn't allow the solar water to heat up and as a result we ended up with cool or cold showers.  I started boiling a pan of water and adding it to the shower every evening, but it would have been nice to have the water heater working.  So we'll either replace the element or the entire unit when we return to the boat.
Drum Roll …. and now the Things That Worked!
Actually, most things just worked.  I love it when that happens, but I must admit, it's usually because of significant preventative maintenance earlier!  For instance, we never had a bit of trouble with the electric windlass, but that's because David cleaned all the corrosion on all the connections and took apart the wildcat to clean the corrosion so it freewheeled down easily.   The Honda 2000 worked perfectly, purring along and giving us amps when solar or wind fell short – although on this trip, that wasn't often, I think we used it twice.   Our stove/grill/propane system worked perfectly.  The Adler Barber refrigerator worked perfectly after we had a technician adjust the thermostat earlier in the year.
A few things of notice:
Spectra Watermaker … our Spectra Catalina 300 had developed a leak and we shipped the pump off to have it rebuilt by Spectra.  It was returned and we had a bit of trouble re-installing it (Read Why Is Our Fresh Water Going Overboard?), but finally we sorted it all out and it's all good.  We were hopeful that it would just work, like it has for years and years.  And VOILA!  Free water – we didn't pay for a single gallon of 50 cent water in the Bahamas!
New cockpit enclosure – We've been loving out new cockpit enclosure since we got it.  But actually taking it cruising made us appreciate it  even more.   All the modifications we thought we wanted to make it better turned out perfectly!   The increased shade area, the isenglass & sunshade screens (don't tell them they're not bug screens because as long as the bugs were bug size and not noseeem size, the new shade screens work great) … everything about the enclosure was an unbelievable improvement in our quality of life aboard.   It was expensive and we are glad every day that we splurged.  THANK YOU KEITH at Riverside Covers, Ft Myers.
Solar – except for corrosion, our solar panels just keep on pumping in amps.  We check regularly and anytime we notice one or the other not putting in as many amps, we clean the connections … again.  When we returned, David must have gotten tired of cleaning the same connections over and over because he replaced them with brand new connections!  It remains to be seen if it will make a significant difference!
KISS Wind Generator … after having our KISS wind generator diagnosed with a failed slip ring earlier this year (for that post, click here) … and having it taken out, we have had absolutely no trouble with the wind generator.  And as mentioned above, on this trip, with significant wind almost every weekend, our KISS just kept pumping in amps and I was actually able to play on the computer.  Anyone who knows my amp-ogre husband, knows that we must have had ALOT of amps to facilitate me playing on the computer!   🙂
So our Exumas/Bahamas cruise was a major success, we loved the Exumas – for why, click here.…  Did you have any unexpected gear failures or major triumphs last winter?  Please leave a comment so we all can share!  CHEERS!  J