Day 2 waiting out the compression TROF, darn, stuck at Highbourne Cay!  Today we took the opportunity to walk the crescent beach.  We also walked the bay side of the island and everywhere we looked were the most amazing watercolors.  The wind was blowing the tops off the waves resulting in salt spray that almost looked like fog or at least a mist in the air.  Chris Parker (weatherman) tell us "folks that experienced the wrath of this TROF the past 2 days appreciate why I hate TROF's, they're sly creatures which appear as subtle features in most forecasts, and though I try to anticipate how significant they'll actually be, sometimes I underestimate them."  Interesting because at least here at Highbourne Cay, Chris' 30 knot forecast was spot on!  We talked to several other boats who literally surfed into the marina after spending the first night of the TROF anchored out and they told tales of woe and no sleep with anchor watches all night.   Just reinforces our decision to be wimpy cruisers and sit here in this protected marina until the TROF blows itself out!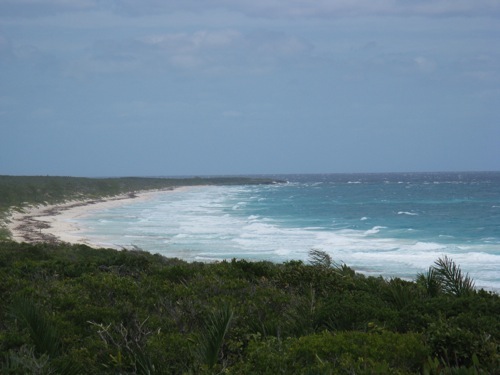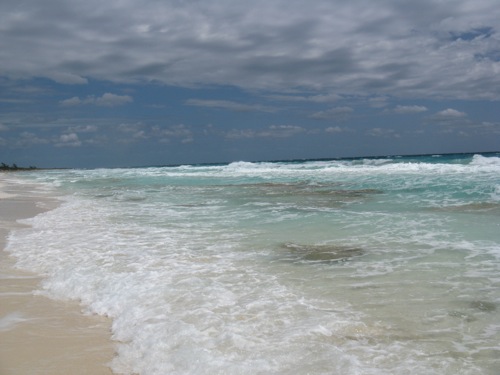 Two shots of the crescent beach we walked on Highbourne Cay, Exuma Sound side.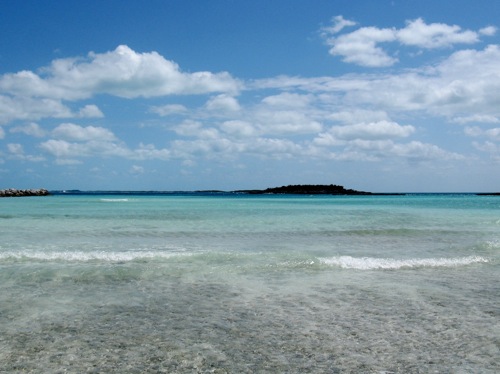 Don't these watercolors just make you want to swim?   It did us!  Unfortunately the snorkeling spot is still too stirred up with all the wind, so that will have to wait until tomorrow.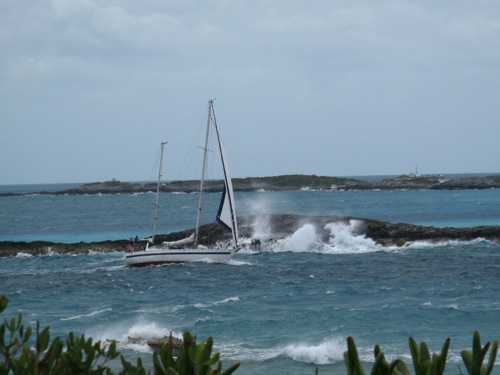 This shot of a sailboat literally surfing into the marina shows the power of Mother Ocean and demonstrates why we're in here & not out there!  By the way, they made it safely inside and are now tied up across the dock from us.  The crew are obviously very experienced sailors!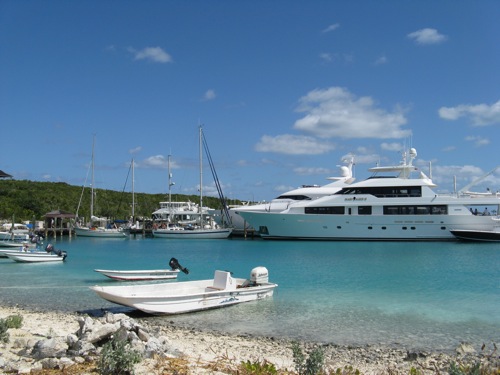 Meanwhile, back at the marina — two new mega-yachts have tied up along the dock — the bow literally overlooking Winterlude's stern.  These two are definitely bigger than the two that left this dock this morning!  Mega yacht Dreamer and Mega yacht Mary Alice II if you want to google them online.  Amazing.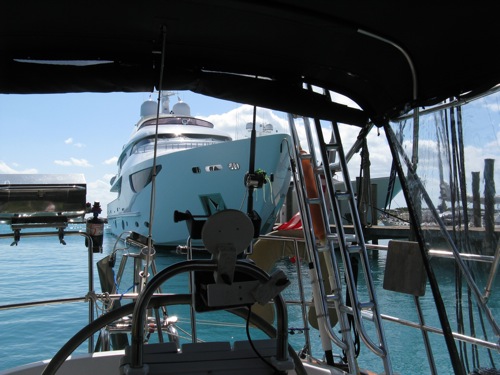 The view from Winterlude's cockpit!   We enjoyed happy hour onboard mv Soujourner, watched another beautiful sunset and topped the day off with fireworks launched from the beach by the outside anchorage.  It was quite a display for April 14 — we were trying to figure out why we were being treated to fireworks and all we could imagine was that it's someone on one of the mega-yachts anchored outside's birthday.  Perhaps the truly rich celebrate their birthdays with a 4th of July worthy fireworks display on the beach?   And so it goes.. Cheers until next time!  Jan