Everyone that owns a boat has a dream, some are dreaming about sailing around the world; others about cruising to the Bahamas, and others have no idea, but for most the boat represents freedom.  Freedom and a disconnect from the everyday reality.   So what prevents people from following their dreams?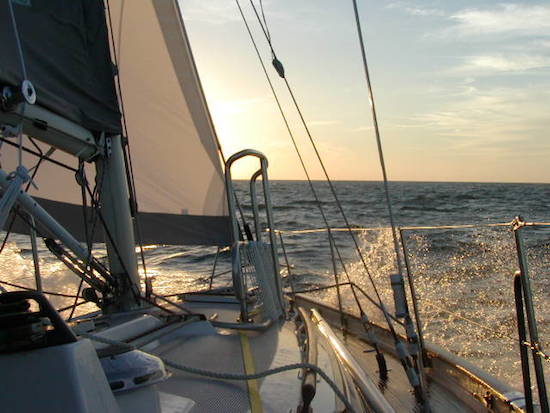 Mostly dreams are a bit scary – a step outside the bounds of normal everyday life.  Otherwise it wouldn't be a dream. My dream was to go cruising.  What almost stopped us?
Finances?  Health?   My garden?  Grandkids?  Elderly Parents?  Other Responsibilities – real or perceived?  Holidays?   None of the above!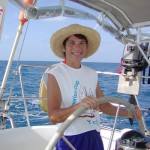 What almost stopped us?
ME!
We bought Winterlude in the spring of 2001 in Annapolis and sailed to Florida's Gulf Coast.  We'd leave the country and go cruising when our youngest son went off to college.  No grandkids yet, our parents were all young and healthy enough not to worry, we both sold our companies and were "free".
October 2004 was the designated month and we'd been working toward it literally for years.  We sailed overnight to Marathon and the plan was to wait there for a weather window to sail to the Dry Tortugas – 70 miles west of Key West – and stage for a multi-day passage to Isla Mujeres, Mexico
After waiting in Marathon for several weeks, the weather forecasting service that we used for this initial passage, said we had a limited window, but we had to leave from the Dry Tortugas in a day – an overnight.   Unfortunately once past Key West – just as it was getting dark, of course – it was rough and miserable, wind blowing stink, big rocky rolly waves, no sleep.
Sailing into the Dry Tortugas anchorage just past daybreak, we struggled to get our anchor to hold.  Sleep eluded us both as we contemplated the passage to Isla Mujeres.  And it was still blowing stink.
So I did what any self-respecting 50 year old female would do … I had a meltdown.  Sitting on the bottom companionway step sobbing.   "Forget sailing to Mexico, the Keys is far enough" …  blah blah blah.
Despite his own misgivings, David knelt in front of me and gave me a BIG HUG.  The next words out of his mouth proved to be life-changing for both of us.
"This is your dream.  It's been your dream since before I knew you (11 years at this point).  If we don't go now, we may never go.  And years from now you'll regret that you never followed your dream.  Tomorrow morning we'll reaccess the situation.  If it's still blowing stink and miserable, we'll sit tight and wait.  If the forecast is right and it lays down overnight…. "
Then came the clincher – the old one design racer's trick to get reluctant crew to race when the conditions are formidable …
"We'll sail out to the starting line and if it's too much, we'll turn around and sail back."
This made me chuckle because it's such a joke among racers.  From that moment on, the pressure was off, we relaxed and enjoyed sv Winterlude's last day in US waters for the next 6 years.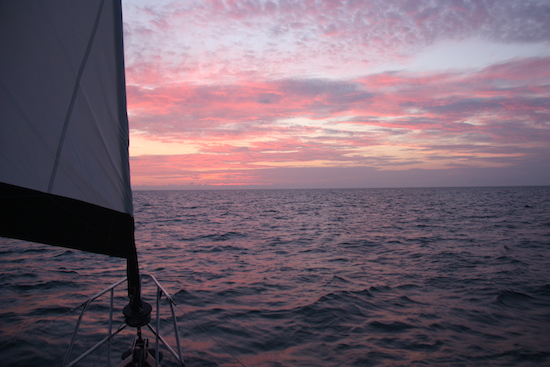 It almost didn't happen.  Even after owning the boat for four years, baby-steps in learning the boat, spending 50 nights a year aboard, practicing overnights, everything almost went out the window.
It's all David's fault.  And I am so grateful.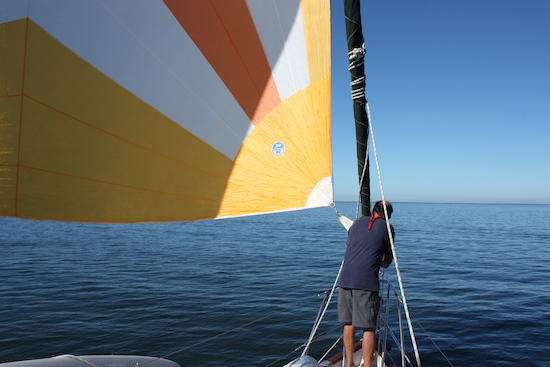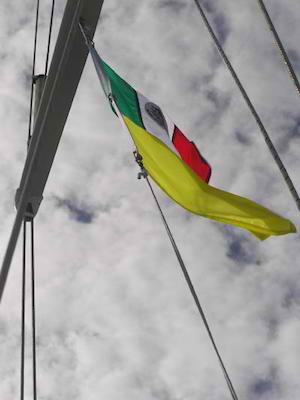 It's so easy to get in the way of our own dreams.  Even convincing ourselves in that moment that we don't really want to do whatever it is.   As Carolyn's Boat Galley post a few weeks ago said "Life's More Interesting When You Say Yes".  I love that line, it's my new motto.