David and I love sailing.  But sailing has vastly different definitions to different people.  Recently there was a discussion of racing on Women Who Sail.  Why anyone would want to race a sailboat — isn't that about the same as watching grass grow?  Maybe.
We are racers for six months a year and cruisers for the other six months.  While cruisers are on the water regularly, when we're CLODs (cruisers living on dirt), racing provides an incentive to be out on the water regularly.   It also forces learning to sail in differing conditions – light air as well as heavy air, plus learn sail trim, tactics and other stuff which can be valuable on a cruising boat.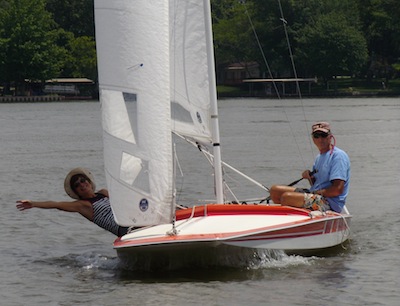 We recently returned from the 2013 Y Flyer National Championships at the Atlanta Yacht Club, where we raced 10 races over 3 days and spent 5 hours plus a day on the water.  A Y Flyer is an 18 foot hard chined racing scow sailboat.  But back to racing vs cruising….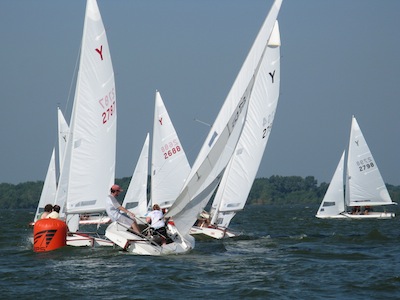 20 years ago, I decided to learn to sail as a single mom with 2 pre-teen kids.  I wanted to find something we could enjoy as a family.    I didn't realize people raced sailboats.  I learned on a laser during adult sailing classes at the Indianapolis Sailing Club (landlocked Indianapolis, Indiana is not exactly a sailing mecca).   I was invited to crew on a sailboat in Sunday races.   The sailing was fun, the racing was not my passion — I'm too competitive and if I can't win, I don't want to compete.  But it provided an easy way to get out on the water and learn.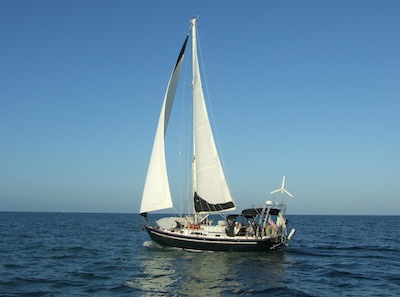 By learning to sail, I was hoping long-term to be able to charter a sailboat in the BVI and enjoy paradise.  I was also fascinated by cruising, but at that time, it was a distant dream, not a goal or objective.
Attending my first out of town regatta, with the sole intention of buying an older, inexpensive boat, I met David, with his passion for sailboat racing. David lived 3 hours from Indianapolis in central Illinois, also not exactly a sailing mecca, but he lived on a small lake and grew up sailing daily.
Unfortunately for my dreams, David had been in the US Coast Guard and after rough seas encountered during his search & rescue experience, he decided that he was NEVER going back to sea.  Period.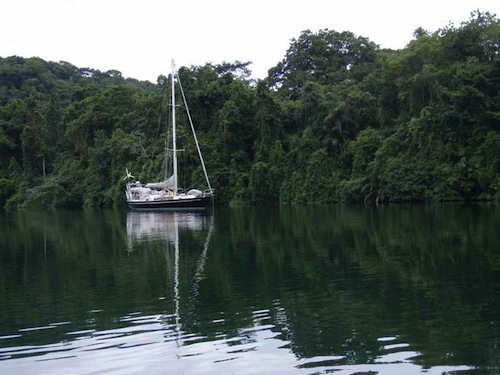 So now we have me, who didn't want to race and David who swore he was never going back to sea after SAR USCG.  Plus we didn't have the money for a cruising sailboat, so all in all, it seemed like a most unlikely dream.
Fast forward 10 years … somehow we'd managed to buy a cruising sailboat that David swears we're never going to race ("I'm not going to race my HOUSE!") and split our time between racing (and skiing/fun at the little central Illinois lake) and cruising.  The lifestyle was a compromise – I would have happily gone cruising full time, after all, I'd already sold my house and stuff.  But David was still never going to sea again.
Until I convinced him to take me "baby-steps".  We then spent six years cruising the Western Caribbean … six months at a time and now we're back in Southwest Florida, cruising the Exumas and last winter the Florida Keys.  Now that we have grandkids and an elderly father, it seems our cruising style, at least for the time being, has changed to more of what I would call a live-aboard.
Yes, we leave the dock for a few months each winter, but we also enjoy being at the dock with other live-aboards and hanging out, day sailing, or sailing out to Cayo Costa State Park or other nearby anchorages for a few days each week.  In the meantime, we have lots of visitors and get to spend time with family and grandkids.
SO, for the time being, I sadly admit we're not cruisers… although I'm not going to change the name of the blog because I still have high hopes for taking off down the Exumas, then hopping to the Virgin Islands and beyond that is anyone's guess.  But not right now.
Cruisers don't have a home base, cruisers leave the dock and wander – like gypsies.  Cruisers have a different mentality about living on the boat, it's their home, and it might live in one anchorage or another for a bit, but when weather threatens, rather than running to a marina, they find a protected anchorage and hang on.  Maybe it could be argued that cruisers could also cruise from marina to marina.  I think the key in my definition. is not having an annual contract with a marina where you expect to return.  Being a gypsy, loving life and the lifestyle.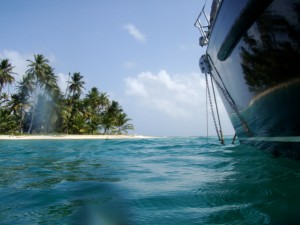 But like everything in life, cruisers change. People change.  Circumstances change.  Being out of touch for months at a time becomes less practical with grandkids and elderly parents.
A cruising friend recently said "all the cruiser friends we started cruising with are dropping like flies".  They're selling boats and transitioning to the next phase of their lives, whatever that might be.  Cruisers are typically full of dreams and things they want to achieve.  They don't always align well with living full-time or even part-time on a sailboat.  So they change, and they're off on their next adventure.   We're choosing not to sell the boat, but to incorporate it into our new (hopefully temporary) lifestyle.
What about you?  If you're in the planning stages, I'm jealous!  Cruising was the best thing we've ever done, the highs are unparalleled and the challenges make us stronger.   Leave a comment and share your thoughts.  We'll still have boat issues and we'll still be commuter …  er ah, maybe commuter live-aboards?  But in the spirit of leaving and going cruising again, the blog stays commuter cruiser!