When it comes to humid, hot tropical weather, our refrigerator had a serious case of the top sweats.    The condensation on top made for a wet soggy countertop.   Since the fridge is by far the biggest AMP consumer on the boat, it's not good to let the cool escape, so we began looking for answers.
A friend suggested laying blue insulation, like you get at Home Depot, on the countertop.  But then I had ugly blue insulation laying there in the galley looking very un-homey.
Despite the fact that our refrigerator compartment has really good insulation (Thanks Boris, the prior owner!), we still occasionally have trouble with the top.  One day when we were expecting guests for sunsetters, I got the idea to cut the blue foam to a size that would fit INSIDE on top rather than outside on top.  The rest of the fridge is also lined in blue insulation just to get it an extra layer of insulation.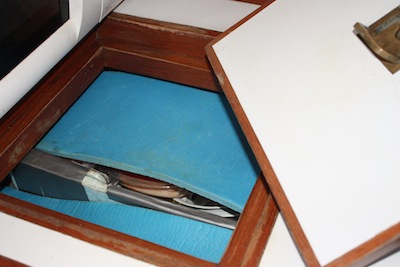 Now I have inside separate "lids" on both the freezer side and the refrigerator side.  When I open the refrigerator, I like to think the extra "lid" helps keep the cool in the side that I'm not accessing.
And it definitely stopped the top sweats, so all is well.
Do you have a different way you stop the fridge from sweating through the top in very humid weather?  Please leave a comment and share your solution!  Mine is definitely downscale, but at least the blue foam is inside and not laying on top these days!   🙂  Cheers!  Jan