The park rangers at Shark Valley, Everglades National Park, assured me that alligators have never harmed a human despite the close interaction.  They claim that gators don't like the taste of humans.  But how do gators know what a human tastes like?  I wasn't inclined to find out after pausing in our 15 mile bike ride to take a photo of this turtle basking in the warm sun.  When in the flash of a splash, the turtles entire world (and mine) changed.  I don't have a hard shell like the turtle!
In the flash of a splash …
Surprise!  Get your head & legs back inside that shell, Mr Turtle!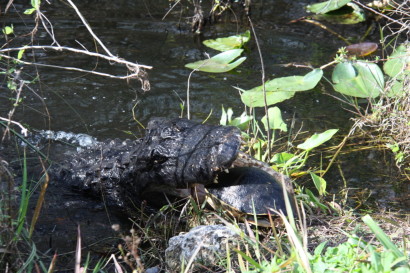 The crunching noise was overwhelming — it sounded like the turtles shell cracked as easy as a me cracking an already cracked stone crab claw (which is just about the best tasty treat I know….).
Keep in mind, I'm not using a long long lens here, just my everyday lens.  As I got off my bike to take a photo of the sunning turtle, David said "don't get too close there could be gators around and they move fast".   NO KIDDING!  So I'm maybe six or eight feet away.   When the gator came out of nowhere & crunched the turtle.  My inclination is to run for my bike and get OUTTA THERE as quickly as possible …  David was yelling — click click click – indicating that I should keep the camera shutter down and see if I could get any photos.  I was only willing to do that so long and then my self-preservation instinct kicked back in & I RAN!
I wasn't sticking around to see what happened, or to see if gators prefer humans when turtle shells are hard to crunch…   Pedaling away, I'm sure I was hyperventilating and my heart didn't stop pounding for miles.
Whew.  The adventures we get ourselves into.  More photos from this amazing day in another post.  BTW, the rangers assured us that even though I was hopeful the turtle escaped, that there was little chance even in his shell of living through this violent gator attack.  Somehow in still photos it doesn't seem as scary as it was!