So what do we do when dueling weather forecasts cause us to postpone plans to sail out to the reef for a few days?  Be flexible!  Unfortunately the anchorages at Boca Grande Keys and the Marquesas Keys are open roadsteads – wonderful places to explore and snorkel, but not comfortable in any wind but east or northeast.
Forecast said 10 from the NE for 3 days — PERFECT.  But yesterday we awoke fogged in and to a radically changed forecast.  A trough parked, not moving until the next cold front comes through on Thursday night (the next one after that is Sunday).
So being lazy sailors in paradise, we opted to stay put for now. Instead we played tourist and with my new years goal of taking a photo a day to improve my photography skills, I'll share highlights of the East Martello Tower and Fort …
Construction began in 1862 on this Civil War Fort and Tower to provide protection for Key West against a Confederate sea assault.  But once the war drew to a close, there was no more use for the fort until 1950 when the Key West Art & Historical Society took over, restored the fort, added an art gallery … and its now famous resident,
Robert the Doll
…
Strange bedfellows for an art exhibit in a civil war era fort!  However the fort is thought to be haunted by ghosts past and the infamous Robert the Doll, for more on Robert's story, click here.
Outside in the courtyard, iguanas bask in the sun in their flaming orange mating colors, keeping watch over a Civil War era fort turned haunted art museum.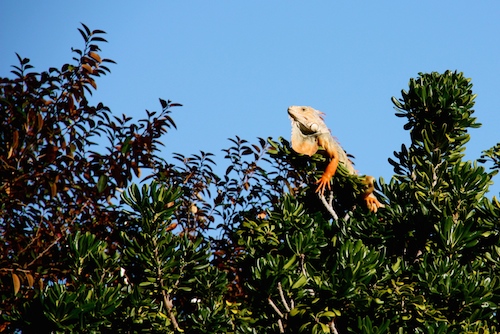 Meanwhile, it's another gorgeous day in paradise …  hopefully the sun will break through the fog and we'll take our walk and … who knows what else the day may bring….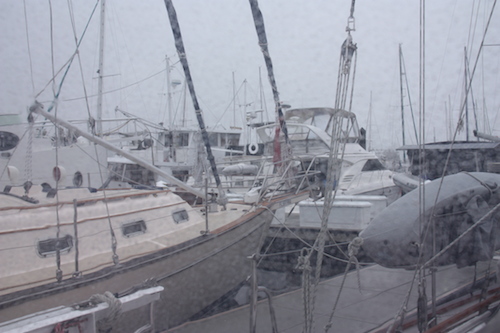 Cheers!  Enjoy your day, whatever it may bring!   Jan