This is a Winterlude Update I wrote back in April 2011 celebrating our 10th anniversary owning Winterlude!  Enjoy!!!
Friday, April 1, 2011 … Time flies when you're having fun & when we bought Winterlude, we said we'd keep cruising as long as it was fun.  10 years plus already, this post sums up some of the adventure.
Counting up what I've got to show, for all these years afloat…
a dog eared passport, a weathered face, a tired old boat…
a yarn or two that might be true and a couple of battle scars…
days of sparkling waters, nights of falling stars….
I've got seashells, I've got souvenirs, I've got songs I've penned…
I've got photographs, I've got memories, but mostly I've got friends…
Eileen Quinn, "Friends" from "Not to Be Used for Navigation" – get it at ITunes
Apprehensive anticipation … taking Winterlude's helm for the first time, sailing up the Chesapeake to Annapolis in winds gusting to 20 knots with waves crashing over the bow. As my hands grasped the wheel, I quickly revised my opinion of sailing cruising boats. Winterlude felt solid, heeled slightly, spray coming over the bow, little to no weather helm, just light and responsive. Was this how sailing a big boat was supposed to feel? The spray in your face, the sun dancing on the water as the wind propels the boat forward at almost hull speed … 6.2 knots. Wow. We sailed Winterlude up to Annapolis, a 2 day sail and closed the deal.
Since closing in Annapolis, Winterlude has taken us over 8,500 miles from Annapolis to Southwest Florida along Mexico's Yucatan Coast, exploring offshore atolls as well as inshore reefs in Belize, the magical Rio Dulce River canyon in Guatemala and the Bay Islands of Honduras. From the Bay Islands we made the passage eastward to the Vivorillos Cayes before rounding the corner of Honduras and Nicaragua to sail south to Providencia and San Andreas, Columbia (go figure, off the Nicaraguan coast) and Panama. Later we sailed to Cartagena, Columbia and explored the Columbian coastline islands as well as Sapzurro on the Columbian/Panamanian border. Retracing our steps, we absorbed the culture and snorkeled the brilliantly clear waters of the "People Who Would Not Kneel", the Kuna in the San Blas Islands of Panama, Slowly we worked our way back, enjoying our favorite anchorages all over again before arriving back in Southwest Florida in May 2010.
Six years of commuter cruising the Western Caribbean yielded a lot of experiences, some of which have been recounted in my cruising logs. Most of the best and most magical experiences can never really be put into words or captured in photos. The magic of a giant sea turtle swimming along the boat in the crystal clear waters of Belize, porpoises playing with our bow wake in countless sails, clumsy pelicans turning into ballerinas for our front row seats during our own private performance of "The Pelican Ballet" – giving synchronized soaring and diving for fish an entirely different perspective.
The saying goes "sailing is moments of magical ecstasy punctuated by interludes of sheer terror" … how else would David have gotten me to agree to marry him during our 72 hour passage from the Florida Keys/Dry Tortugas to Isla Mujeres, Mexico? Maybe crossing the gulf stream twice with its own weather pattern which seemed to feature nothing but thunderstorms, high winds, lightning and big waves might have contributed? David wasted no time and when we flew home for Christmas 2004, he enforced my coerced agreement by planning a wedding for January 2 2005! Now several years later, the adventure continues.
Eileen Quinn's song "Friends" – featured at the top of this tribute for Winterlude's 10th Anniversary, says it best … I've got seashells, I've got souvenirs, I've got twice monthly updates I've written … I've got photographs, I've got memories, but MOSTLY, I've got friends.
Recalling our first meeting with our friends, Doug & Rayene on s/v Kristiana … we were anchored in the Bluefield Range, Belize … busy drifting through the anchorage with the manatees in our kayaks, paddling back upwind and drifting with the wind through several manatees playing and splashing … when another boat came into the anchorage we'd previously had to ourselves. They anchored a respectful distance away and we paddled back to Winterlude. The next thing we knew, our dinghy was attached to the back of s/v Kristiana as Doug, with Rayene's expert eyeball navigation, piloted s/v Kristiana out to anchor directly behind the reef (about 2 miles through extensive coral patches). We all got in to enjoy the best snorkeling we had ever experienced and our first exposure to someone spearfishing. Doug got a hogfish and a grouper during that snorkel trip. When we said we had no idea what a hogfish tasted like or why Doug & Rayene were so excited to eat one, they promptly invited us to dinner that evening. That was the beginning of a great friendship that has allowed us the privilege of cruising with Doug & Rayene all the way to Cartagena and the San Blas Islands, plus not to mention land adventures to Machu Picchu in Peru and last summer's introduction to their US home state of Montana. One of Doug's favorite sayings during whatever daytrip adventure we were having is "Disney would charge you over $100 a person to do this" – but the reality is that most of our adventures could not be re-created even by Disney's magic!
Over coffee this morning, David and I reminisced about our favorite highlights over the past ten years.
The 72 hour crossing to Isla Mujeres off the coast of Cancun, Mexico provided a sense of accomplishment and we reveled in the clearest prettiest water colors we'd sailed.
The magic of our first experience sailing into Lighthouse Reef Atoll off the coast of Belize… still one of the best watercolors and underwater color and variety that we've experienced anywhere in our travels. We enjoyed snorkeling the Blue Hole and after the trauma of coming in, loved being anchored literally in the middle of a swimming pool off Half Moon Key.
Sliding up and down the mud mountain in the San Blas Islands to renew our immigration papers in Panama – there was no land access to the rest of Panama from the islands and the wind was too intense to risk the lee coast sail back to Colon.
Snorkeling with Rayene off the wall in Esnadup, San Blas when all of a sudden from behind and below came two dark gray lightning fast shapes … it happened so fast both of us surfaced at the same time saying "did you see THAT??" Two dolphins gracefully swam beneath us.
Living amongst the culture in Kuna Yala … everything from the excitement of being invited into the "Congresso Hut" to speak to the village leadership to negotiating to buy molas to the hundreds of Kuna wooden dugouts sail past us at sunset at Anachucana and we can't forget the day we ended up with 4 Kuna children, the smallest just a baby in our dinghy headed back to Maquina … their mom's waved goodbye from two dugouts and David's face was priceless…. "what am I supposed to do with these kids?" They didn't speak Spanish and we don't speak Kuna! Luckly when we reached the dock, the children were greeted by the village… in Kuna culture the entire village takes care of the family.
For David snorkeling meant the excitement of the hunt (he bought a spear gun the next chance he had after seeing Doug spearfishing) … he hasn't gotten as good as some of our friends where I could tell him that morning that I'd like Grouper, or Schoolmaster or Hogfish for dinner and he'd come back with my order… but I'm not picky and fresh fish is amazing!
For me, snorkeling meant my camera in an underwater case and the chance to make a new (to me) fish identification. After hours and hours of snorkeling, all the sergeant majors and blue tangs begin to fade and searching for something new adds a fun dimension to hours of snorkeling. ID'ing the photos later with our fish ID books is fun too!
One of my favorite snorkeling sites we dubbed the "Waterslide". The blues of the water were the bluest. You'd get in the water where you beached your dinghy, just off a beach wall that plunged looking like a lunar landscape. Swim up along the mangroves to stay out of the intense current sweeping through the little pass between tiny sand islands. Then shove off into the middle main current and let it sweep you through the pass, watching while eagle rays and sea turtles swam 20 feet down underneath you. Then do it again, and again, and again….
Anchoring in Gringo Bay after the towering jungle canyon walls of the Rio Dulce River in Guatemala, we relaxed under the purple mountain majesty of the Mico Mountains rising behind Jennifer's house. Jennifer is a great artist and combined three photos I took of "her bay" into the beautiful painting that adorns the main wall in our salon.
Other adventures such as the Rio Mandinga trip where everyone had to get out of the village chief's large cayuco and help clear the logjam so the cayuco could get through … followed about 15 minutes upriver by the biggest salt water crocs any of us had ever seen! YIKES!
Last winter's adventure sailing back from the Shelter Bay Marina by the Panama Canal all the way back to Southwest Florida encompassed 155 consecutive nights at anchor without approaching a dock – anchoring is much easier than docking, and usually leads to more fun adventures as well!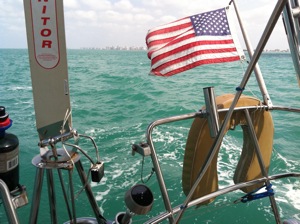 Our return to Southwest Florida this year for a minor refit on Winterlude has been a success, although we haven't gotten to spend as much time cruising and away from the dock as I would have liked, a month in the Keys and exploring the 10,000 Islands area of the SW Florida Everglades was about the extent. But we did achieve our objective to explore the Little Shark River area … and we added another location, Indian Key, unknown to us that turned out to be fabulous, altho' the current was amazing.
Who knows what adventures the next 10 years will bring? About the ony thing I can promise is that we said we'd keep doing this as long as it's fun … and apart from the time we had the boat for sale after a week long sail from Providencia to Port Royal, Roatan, we're still having fun…. well, most of the time.
For now, Winterlude is celebrating her 10 year anniversary in Key West – held hostage for weather – but it's definitely not the worst place in the world to be held hostage by weather! 3 cold fronts in 4 days … maybe we'll get a window to sail back to Charlotte Harbor over the weekend!
HAPPY 10 YEAR ANNIVERSARY WINTERLUDE! THANKS FOR KEEPING US SAFE! WE LOVE YOU!!!!
Cheers! Jan & David
.