Another recipe adapted from the Mennonite "More-With-Less" cookbook, this one a free form "recipe" called Garden Stew.  It's not really a "recipe" per se, it's just a concept that's different every time – absolutely perfect for cruisers since you never know what fresh veggies you'll find at the market.
The original concept calls for one pound of ground beef or turkey, but I used 2 Morningstar sausage patties and a previously grilled shredded chicken breast.   The Morningstar sausage patties, mashed with a spoon to be just crumbles,  added a great extra bit of flavor.
Other than that, the idea is to add whatever veggies you have on hand — I had ten veggies that needed to be used before we left the boat for a week.  Here was our Garden Stew that night….
"Saute" in veggie stock:
diced onion & at least two teaspoons of minced garlic
Then add fresh ground black pepper and any other spices you want – I added 2 teaspoons of Gourmet Garden Italian Spices (in a tube) and add more veggie stock if necessary to soften the veggies.
Shredded Cabbage
Diced Carrots
Diced Zucchini
Diced Yellow Squash
2 Handfuls of "Broccoli Slaw"
Diced 1/2 Red Spicy Banana Pepper — use whatever spicy pepper you like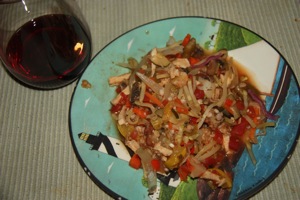 The last 15 minutes add:
Okra (we used a can, but fresh will work too)
Can of Diced Tomatoes
Handful of Sliced Fresh Mushrooms
Season with garlic powder, cumin or a dash of hot sauce if you like spicy, anything you want to throw in.
We ate it over leftover brown rice and it was so delicious we each had multiple servings.  This would be great topped with grated cheese or fresh parmesan, but we didn't have any shredded fat free cheese, so no garnish.  It would also be good with chopped green onion as a topping.  Ummm… a fresh loaf of multigrain italian bread would be really tasty.
We had plenty for leftovers — we mixed the rest of the brown rice and garden stew together for lunch … and another dinner, which worked out great after we were working on the boat until after dark.
Do you have a favorite Garden Stew recipe to share, please leave a comment.  THX!  Jan