WOW!  The pair of American Bald Eagles at the south end of Cayo Costa have not one but TWO baby eagles in the nest!  Lest you think I'm mistaken, here's another photo of the happy family!  Clearly these two do not have bright white heads – you can tell even though my camera lens isn't enough to show a real close up.
Great day anchored at Pelican Bay today.  David wanted to take the dinghy south to what's known locally as "The Tunnel of Love" – we're not sure why, it's so shallow you can't even get a dinghy through at high tide this year – although kayakers seem to fare better.  A long time ago, the Calusa Indians dredged a canal from the bay side to the ocean side, presumably for commerce and their fishermen.  Nowadays, it's a locally known, but there's an even better stick just a bit further south to tie your dinghy to.   Then it's an easy 1/4 mile stroll on a path across the island to the beach.
Just for fun, I'll do a photo post of our adventures today.  If you're curious – I can still post to the blog because our normal source of internet is the Verizon 3G USB connection.  It comes & goes this far out, but it's still just good enough.  I'm sure soon I won't have this luxury and will have to stop posting all together or post whenever I happen to have a connection.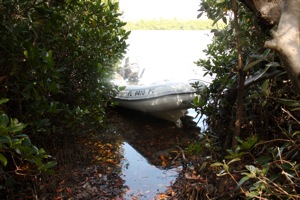 One last thought … the trail south of The Tunnel of Love is quite a distance from the anchorage across very very shallow waters.  It's easily a couple of miles and out of sight of the anchorage.  One consideration when choosing a dinghy and outboard if you're going cruising outside the US — there are alot of areas where you'll want to take your dinghy exploring for quite a distance.  It's safer and you'll find yourself willing to explore larger areas if you have a larger, more reliable dinghy and adequate outboard.  We're not advocating huge.   Our dinghy is a bit over 9′, an aluminum RIB with a Tohatsu 8 hp outboard.  It's big enough to get us anywhere we've wanted to explore so far.  We may be a bit slower than our friends with the 15 hp outboards, but we make it all the same!   Just a thought…..
Cheers!  Enjoy cruising!