Me, me ME!!!  The adventure starts TODAY!   Ever since we decided that this was the year to cross Alaska off our bucket list, we've been reading, researching and enjoying the planning phases of this adventure.   And today at 6 PM, we get on the m/v Columbia, one of the Alaska Ferries bound from Bellingham, Washington up the Inside Passage.
If you'd like to follow our Alaska Live blog, click here.  Or look for the Alaska Live link in the sidebar under What's Happening Today?
Inevitably, when someone learns we're going to Alaska this summer, the first question is… "oh, are you taking a cruise?"   Well, yes and no.  We're taking the ferry. The Alaska Ferry, aka the Alaska Marine Highway System. Here's the link, go visit & start imagining your OWN Alaska ferry adventure!
I'd love to take a cruise, but the small cruise lines like the National Geographic small ship photography cruise that I've lusted after for years is still outside our budget.  We could take a big ship cruise, but we're confident the ferry will allow us to see more of the "real" Alaska …
Plus, except for special circumstances,  we're allergic to organized tour groups.  For the price we'd spend on 10 days on a big ship cruise and a land extension, we can stay almost a month.  The key is time.  We have time… time to research and determine of the overwhelming myriad of things to see and do, what's key for us… and time to wander the streets when we arrive and figure out what we might not know about that might be even more special.  And spend less money over the entire several weeks than we would on the cruise I've been lusting over.   So that's that.
The rest of the itiniary is carefully crafted to maximize experiences and minimize the dollars.  We're not staying in youth hostels or anything like that.  But we are traveling for several weeks with only one backpack each, plus my camera equipment and David's hiking daypack.  Not so easy on a trip where we can expect anything from mid-70's during the day to low 50's at night … or less … and August has the highest rainfall of any month in Alaska.  How in the world did we pick to go then?
Our friends have a friend … isn't that the best way after all???   Anyway, a couple from our hometown in nowhere Illinois drove to Alaska and stayed all summer many years ago.  Since then, he's signed up as a volunteer at Denali National Park every summer since.  These days he's a tour bus guide and he told us we HAD to be there for August 25 … Christmas in Denali.  Who knows what that is, but we'll be there.
All my research says that late August is a wonderful time in Alaska — fall, but still warm, by their standards.  So we should see colors changing, have daylight 20 of 24 hours and who knows what else lies ahead.  In the meantime, we'll board the Alaska Ferry — and enjoy the first three days of our Alaska adventure!
If you're interested, here are the links I used to set up this phase of our trip.  People ask what do we possibly do with our time when we're not on Winterlude?  There's a big chunk spent researching all the possibilities for our next adventures.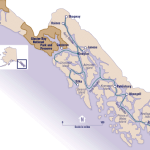 Alaska Marine Highway System — AKA the Alaska Ferry —  "From the southern terminus in Bellingham, Washington the Marine Highway stretches more than 3,500 miles to Dutch Harbor with stops in Prince Rupert, BC, throughout the Inside Passage, across the Gulf of Alaska to Prince William Sound and along the Aleutian Chain. The Alaska Marine Highway is the perfect way to experience the communities that populate Alaska's diverse and scenic coastline."
Ketchikan, Alaska — the southernmost City in Alaska.  Home to totem poles and salmon — Ketchikan is known as the "Salmon Capitol of the World" — hopefully we'll be sampling some of their fame for ourselves!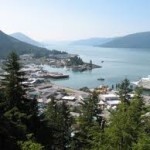 In the heart of the Inside Passage, after 3 days aboard, we'll end our ferry adventure in Wrangell, Alaska. where we'll "walk amongst Petroglyphs and imagine the people who carved them thousands of years ago.  Hike up to Rainbow falls and stop and pick the abundant wild blueberries, huckleberries and salmon berries. Visit Anan Wildlife Observatory, the only place where you can see Brown and Black Bear fish for Salmon side by side."
Rooney's Roost Bed & Breakfast where we'll spend 2 nights exploring Wrangell & the surrounding area.
Anan Bear Observatory with Breakaway Adventures.  Operated by the US Forest Service,  "Anan Creek, located 30 miles southeast of Wrangell, supports one of the largest pink salmon runs in Southeast Alaska. A wide variety of fish-eating animals are attracted to the seasonal abundance. Here, visitors may see black and brown bears, bald eagles, and sea lions. Anan is accessible only by floatplane or boat. It features a 1/2 mile long boardwalk and observation platform "
After the Alaska Ferry Inside Passage, we'll catch a plane to Anchorage, where we'll continue on the next phase of our trip.  More info soon!   Anyone been on the inside passage Alaska Ferry route we're taking?  Anything we should absolutely not miss as we wander around Ketchikan, Wrangell or even just around the mv Columbia?   Please leave a comment and share!   Cheers!  Jan