I am such a sucker for the foiling GC32 catamarans – but there are  other boats … here 15 photos show a bit of the excitement that was Key West Race Week 2015!
And they're off!  Key West Race Week 2015 underway on Monday, January 19.  Mini Maxi's share the line with two of the GC32 foiling catamarans.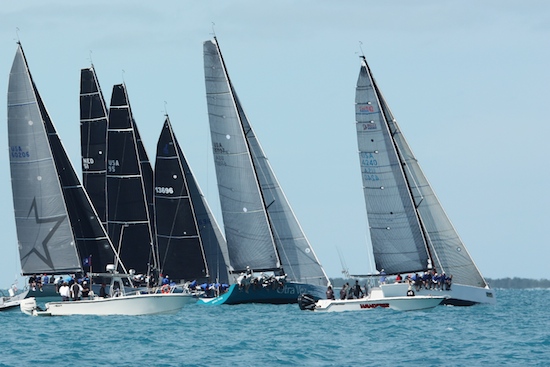 Bella Mente, (below) KW Race Week Mini Maxi champion is 72 feet long from Minneapolis, MN.  Mini Maxi's are the largest boats competing in KW Race Week and below Belle Mente jibes downwind.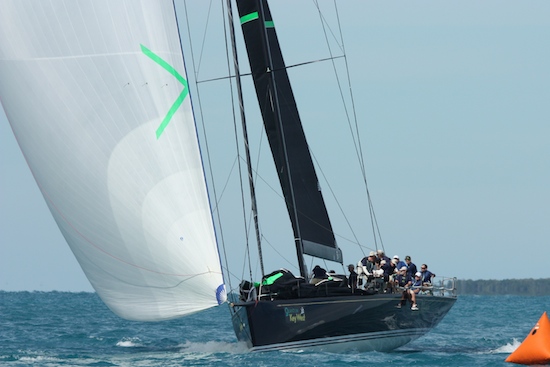 Tonnerre IV, 51 feet from the Netherlands won the highly competitive IRC-2 class.  Below Tonnerre jibes downwind.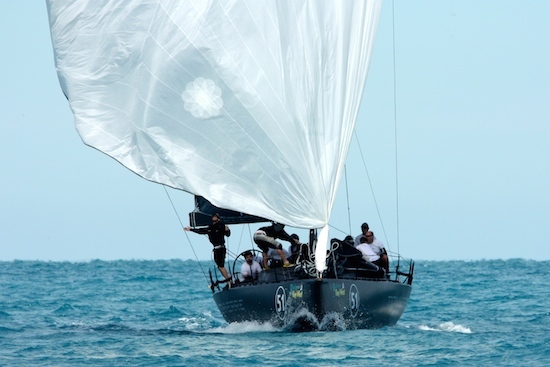 Below Armin Strom, the Swiss GC32 barely edges out Mini Maxi Bella Mente at the finish of the first race.  Armin Strom, under Flavio Marazzi won the GC32 championship with 19 points, barely edging out ZooLou, the French GC32 with 20 points.  ARGO, the US GC-32 competed strongly all week until the 30 mph gusty winds during Friday's racing caused them not to compete in the final race of the series.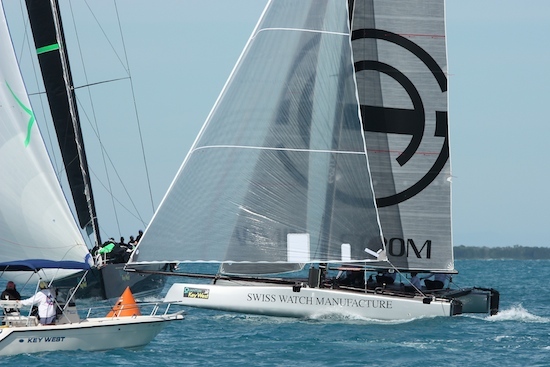 The French GC32, ZooLou foiling downwind, Race 1.  ZooLou end the series a scant 1 point behind the first place Armin Strom.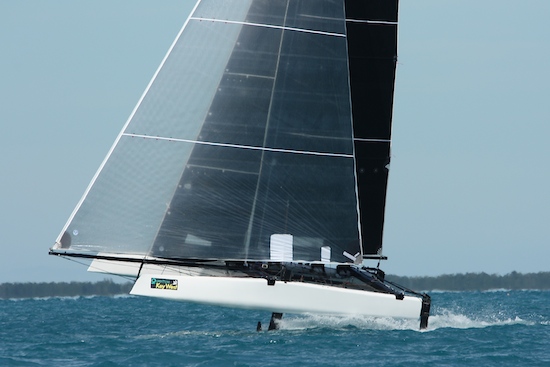 Two of the amazing GC32s foiling downwind toward the leeward gate.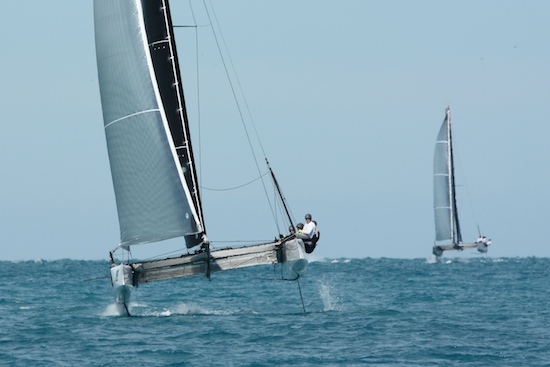 ARGO, USA 128 GC32 foiling crosses in front of Mini Maxi 60272, Shockwave, 72 feet from Framingham, MA.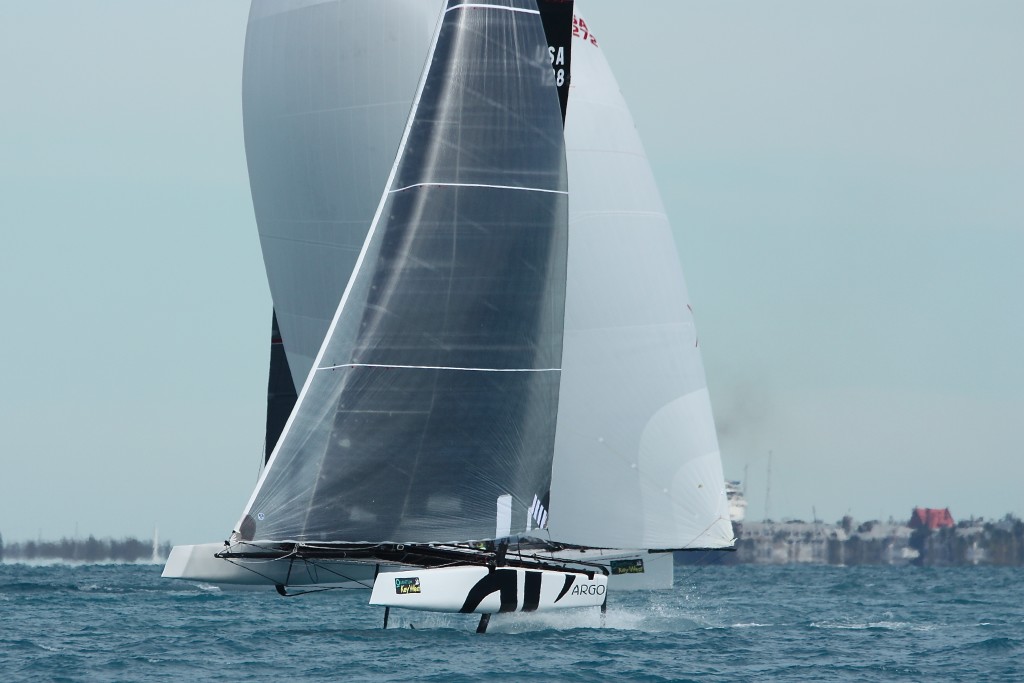 Mini Maxi "Shockwave" heads toward the leeward gate.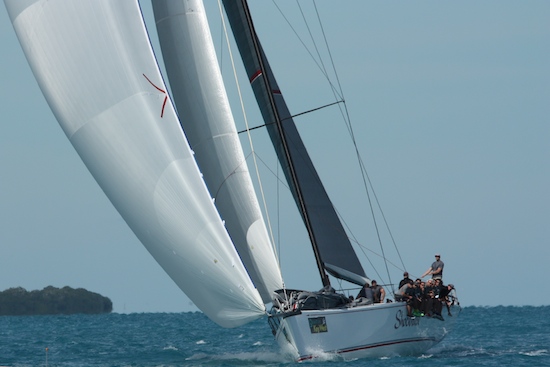 The fun and excitement wasn't limited to the big boats.  54 J/70's were competing for the 2015 Key West Race Week title.  They're launched either by ramping in or by hoist as seen here – with the Disney cruise ship coming into port in the background.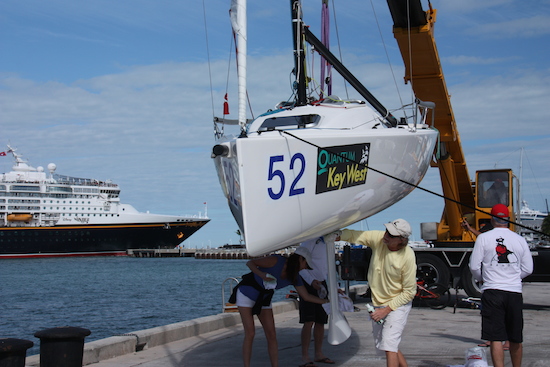 The Melges 24 fleet made a comeback and here's IRL829 (#68) – all the way from Dublin, Ireland warming up before KW Race Week's first race Monday.  Embarr finished in 1st place in the 12 boat Melges 24 division.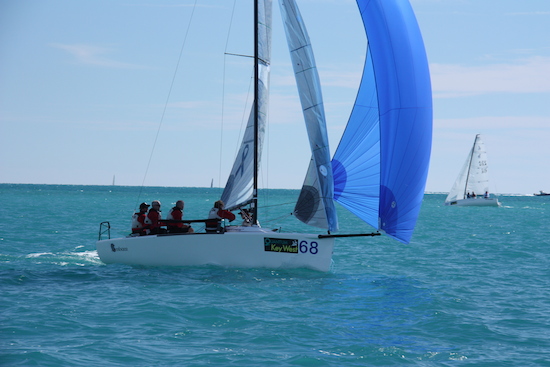 IRL 829 (#68) rounds the leeward gate in first place on the first downwind leg of the 2nd race and then goes to win the race.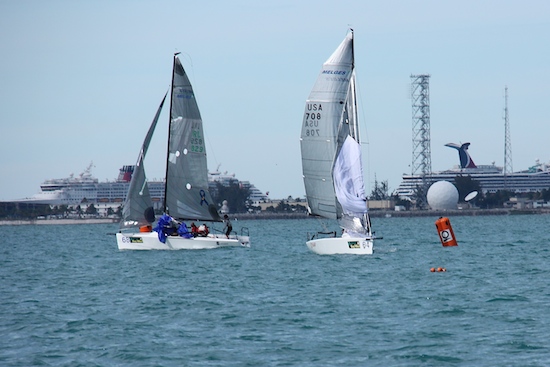 The J/70 fleet made a pretty sight with all their colorful spinnakers. The biggest story in the J/70 class is the youngest skipper to EVER compete in the grueling event.   12 year old Gannon Troutman raced to a 5th place overall finish after 10 races, including Friday's windy conditions, gusting to 28 according to the race officials.  The former Opti champion competing at KW Race Week for the first time beat 49 other Y/70s.  Think we should make note of this name for future USA America's Cup competitions?   🙂
One last photo of the excitement the G32 foiling catamarans bring to the sport – this photo was almost a mile away up the weather leg, so it may not be as sharp as some of the others, but it's clear that these boats are unforgettable to watch!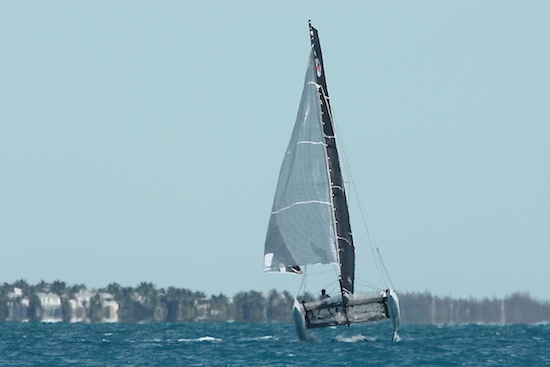 Unfortunately I only had the opportunity to go watch the racing the first day, so that's it for the photos.  Maybe next year if we're still here we'll be more diligent about getting out to watch.  We didn't realize it would be this much fun!  🙂  Cheers!  Jan