Kudos to Forespar customer service.  And I do mean customer service.  It seems to be our year for good luck with customer service … first West Marine and now Forespar.  I love it when companies stand behind what they sell.
As many boats, our whisker pole is attached to the mast.  Did you know that if you have a whisker pole stored on the mast, you have to be extra careful or you'll bend the pin on the attachment end of the pole?  We didn't know.
After looking online to buy replacement parts, David called Forespar in hopes he could purchase just a replacement for the bent pin and not have to spend a thousand bucks for a new whisker pole.  The support representative asked a bunch of questions and asked David if he could e-mail a photo of the bent pin and the end fitting.  Here's the contact info:
Forespar
Phone: 949.858.8820

We emailed this photo with a tape measure showing the pin size along with contact information for David.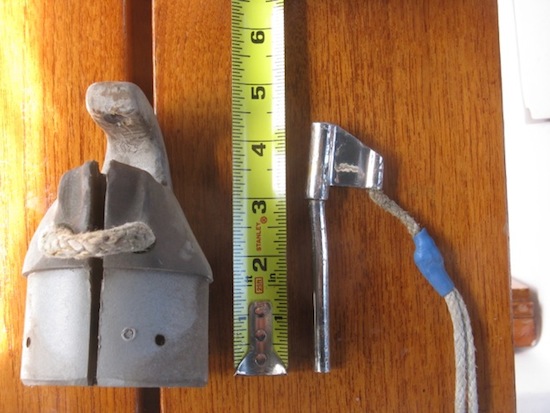 A week after sending the e-mail, a brand new pin and spring arrived in the mail!  Needless to say we were thrilled!  We were more than happy to pay for the bent pin, but Forespar went one better.  And that whisker pole is 15 years old.
Sometimes I'm just amazed.  If you're considering any product which Forespar manufacturers, we cannot recommend them enough!
THANKS FORESPAR!   Cheers!  Jan