IT'S ANNAPOLIS BOAT SHOW TIME!  "The Boat Galley Cookbook" traveled to the Annapolis Boat Show 2012 to see Lin & Larry Pardey  with cookbook authors, Carolyn Shearlock and Jan Irons.
Where has YOUR "Boat Galley Cookbook" been cruising?   We know the book is being sold in more than 90 countries, worldwide!  We'd love to see where your book has been!  Please be sure to submit a photo – Click Here to Submit A Photo and easily upload a photo of your "Boat Galley Cookbook" – be sure to add a caption telling us where the book is, who took the photo and a caption you'd like to add.  🙂  It can be you and your cookbook in your galley, a photo of the book with a gorgeous anchorage in the background … maybe at sunset?  …. or your Boat Galley Cookbook learning to cook Thai cruising Thailand …   use your imagination and have FUN!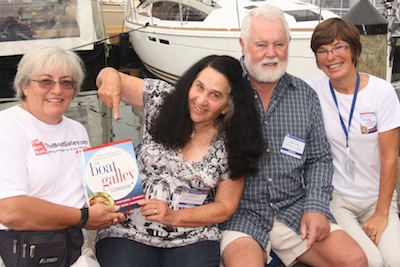 We can't wait to see where our cookbook has traveled!  Please add a photo and share!
Cheers!
Jan & Carolyn