On the first anniversary of the publication of The Boat Galley Cookbook, we are happy to have such highly regarded cruisers as Lin Pardey and Beth Leonard reviewing the book.  Here's my original post from just before the book actually published:  (And don't forget, you can get it on Amazon, Barnes & Noble or ITunes in print or other formats.)
Before "The Boat Galley Cookbook" finally went to the printer, we asked well-known cruising authors, Lin Pardey and Beth Leonard to take a look at the final manuscript and let us know what they thought.
Needless to say, we waited, holding our breath for their comments.
"The Boat Galley Cookbook answers almost every question I have ever been asked about cooking afloat. Small galley or large galley, you'll find loads of good ideas and interesting recipes to make life afloat easier and tastier too." 

–Lin Pardey, voyager and author

"Cooking on a boat is different, and not just because your kitchen won't stay still. You also have to contend with a lot less space and water, unusual or absent ingredients, limited cooking equipment, and a lack of conveniences from Mr. Coffee to Cuisinart. Shearlock and Irons share everything you need to know to make great meals in a cramped galley and to have fun doing it. Their recipes cover the gamut from nibbles to accompany cocktails in the cockpit to one-pot meals to keep the crew going in a gale. But their advice goes well beyond recipes to include setting up the galley, equipment suggestions, storage ideas, and tips for cooking at sea. If you're getting ready to trade your kitchen for a galley, you'll want to take The Boat Galley Cookbook along."

–Beth Leonard, author of The Voyager's Handbook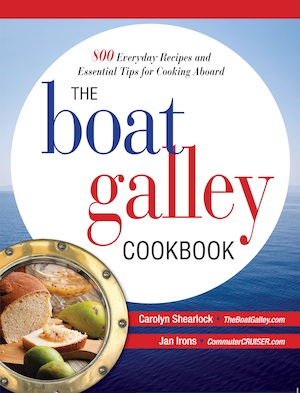 Lin Pardey shared the PDF sampler on her Facebook Page saying:  "I got to read the whole manuscript. This sample (ed. PDF Sneak Peek)  is biased toward recipes, there is far more to the book than this. I think the recipes are very helpful, but even more important are the many general ideas about cooking afloat – starting with the oven stone for hot spot problems."
Get your FREE Sneak Peek downloadable 28-page PDF sample of The Boat Galley Cookbook!  33 recipes and more. 
Or get your own copy, here!   Amazon or Barnes and Noble.