Lin Pardey's latest book, "Bull Canyon" is more than an entertaining story of the time Lin & Larry spent in Bull Canyon, California, building their current boat, Taleisin.    Lin caused me to smile and even laugh out loud at some of the antics and goings-on from their boat-building canyon days, but also weaves some invaluable insights into the intimate personal challenges the cruising lifestyle creates.   In the beginning, the canyon lifestyle wasn't so  different from cruising … no piped in electricity, phone service or amenities that we all take for granted until we move aboard a boat … or have to pay the bill.   🙂
One of the things I liked best about the book was the rare opportunity to glimpse inside "real" cruiser's minds on topics like family and friends, money, missing holidays, retirement and savings, guilt, parents and more.   But the quote that sticks in my mind after having finished the book is one where Lin is describing long stormy offshore passages where she  & Larry would pass the time dreaming up all kinds of fun stuff for their futures – including Taleisin …  here's what she said reflecting back on their passage conversations (from Chapter 10, Interlude  "Bull Canyon"):
"Visualization became the pop-psychology term for the scheming Larry and I often induged in.  As I looked up the harbor to see sails on dozens of boats we recognized, I recalled the dozens of times when our dreams turned to schemes that eventually did work out almost as we had planned"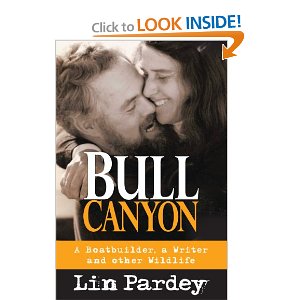 I find it fascinating that Lin is describing almost exactly the way Winterlude & our commuter cruising lifestyle happened.  Living in a landlocked suburban cookie-cutter neighborhood full of 3 bedroom ranch style homes in every neutral color of vinyl siding available, David & I would take long walks letting our minds wander.   We were lucky in that we raced Y Flyers, one design scow sailboats, most weekends, but the kids were getting close to being in college and our conversations always revolved around "what then"?    Life as empty-nesters to us represented our chance to do something totally different — we laughed as we schemed up all sorts of wild ideas.  But we kept coming back to the idea of trying life aboard a cruising boat.  Not full time and "purist" – i.e. engineless, as Lin & Larry, but still what some thought — and told us — was a crazy lifestyle.
We adopted the "visualization" and dreams to schemes mentality that Lin offhandedly mentions in the book.  And years later, we still live six months a year aboard our sailboat.
We still deal with alot of the same issues Lin weaves into her new book, "Bull Canyon" — especially how to spend enough time with family – especially grandkids – who are scattered across the country.  If we leave and actually go cruising these days, we'll miss our two newest grandkids 1st birthdays in December – as we've unfortunately always missed our oldest granddaughter's birthday in March.
It's refreshing to know that other cruisers – especially ones as famous and as widely traveled as Lin & Larry – grapple with the same issues.   And also interesting to hear what works for them.
Get the book, read it – laugh along with Lin & Larry, enjoy their off the grid lifestyle while building their current boat, Taleisin — and at the same time see inside some of the world's most famous cruisers minds, gain insight into how they deal with the same issues we all deal with as cruisers — whether full time or six months a year.
Have you read "Bull Canyon"?   What did you think?  Leave a comment and share!  Cheers!  Jan