If you go to the Miami Boat Show, prepare to be tortured!  All the cool new stuff that s/v Winterlude lacks is on display in all its bright shiny glory.  What would you do to your boat if money was no object?  Here's my Top 10 List!
1.  MACK Sails revolutionary new roller furling cruising SPINNAKER!  ATN made our cruising spinnaker easier with the ATN sock, but MACK has changed the game totally – maybe it isn't new, but it's the first time we've seen it… on the boat in the next slip as well as at the boat show.  The best part is MACK can take our totally fine North cruising spinnaker and fit it to the roller furling system.  You put the rolled up spinnaker up on it's furler before you go sailing and leave it up while you're out so that anytime conditions are favorable for a spinnaker, just unfurl it and go.  When the wind pipes up 10 minutes later and you don't want the light air spinnaker up anymore, just roll it in.  We'd use our spinnaker a gazillion times as much if we had this innovation.  Unfortunately I blew it and didn't take a photo.
2.  Fake teak decks — a few years ago fake teak decks looked like cork – U.G.L.Y.!   But at this boat show, there were several vendors with "simulated" teak that actually looks pretty good.  Since our original 30 year old teak decks don't leak … yet … we're hesitant to undertake this project, but this sample looks much better, the texture feels similar to our teak and supposedly the temperature is the same (yes, it's hotter than white fiberglass nonskid, but I like the footing better). If only money were no object….
3.  New Awlgrip hull sides … always on my list and talking to all the newer paint vendors didn't change my mind.  The only obstacle is money … so if money's no object, why not!  Heck, might as well Awlgrip the topsides while we're at it.  🙂
4. All the rage at this year's boat show seems to be those "high performance" high dollar coolers.  Every other booth had a vendor with a new take on the "Yeti" craze.  Since we might be in the market, we checked them all out.  But check out the Dometic innovation for cupholders — this one has it's own built in refrigeration!  Keeps your drink colder than when you pulled it out of the fridge (or super cooler).  What will they think of next.  David informed me that s/v Winterlude doesn't have the room OR the amps (Mr Amp Ogre again) to enjoy this luxury.
5.  Frigoboat has a nifty refrigeration system that's not new, but a friend installed it and swears by it.  Of course, that's a lot of extra dough to save a few amps.  But saving amps made Mr Amp Ogre's eyes light up, so if money were no object, we could add a second condenser and system to our second refrigerator compartment.   How cool – literally!
6.  New Garmin electronics — why not, everything is so cool … we could enjoy an entire new system, starting with a chartplotter at the helm with weather and AIS overlays!
7.  New Icom FLOATING and waterproof handheld VHF … to replace the waterproof one that David threw overboard a couple years ago — it was waterproof alright, but it sure didn't float.  Fishies might still be making VHF transmissions from the bottom of the Little Shark River!  Not to worry, we have a spare older Icom handheld, but the black rubber came off it's antenna leaving an exposed metal coil – it still works.  But if we're not worrying about a budget, we'd get a new floating, waterproof Icom handheld VHF complete with internal GPS and DSC emergency capability — at just under $300, it's a steal, right?
8.  New ACR Epirb – our old ProFind has been wonderful, but it's 15 years old and although the battery still tests fine, if we leave US waters again, a new Epirb would be a good idea.  A new ACR Epirb would cost less than buying a new battery for our old GPS-less Epirb.
9. Raritan Replacement Hoses for the Head!  Raritan has just introduced supposedly the be all and end all sanitation hose – the perfect hose that never clogs and is easy to install — around 90 degree corners no less.  And it's available at Defender… best prices than most boating vendors and great great service!
10.  What can be less exciting than sanitation hose?  Saving 50% on all our boat zincs?  Maybe!  BoatZincs.com has our MaxProp zincs and all our other zincs for half price.  Hmmmm…. may have to check this out.
Speaking of less exciting … if you go to the Miami Boat Show … the traffic is HORRENDOUS!  There are three main venues in separate areas of town, so free shuttle busses transport you between the main convention center displays, Strictly Sail and the powerboat displays.  BUT, we literally spent over an hour on the shuttle bus getting to and from the convention center to Strictly Sail…. argh!  Not a huge problem if you'll be there multiple days, but we only had one day.
Speaking of horrendous traffic … it took us over an hour to weave our way through the downtown streets to arrive a few blocks later at the show – parking was a nightmare – and friends who were being smart and parked at one of the outer lots and rode the commuter busses spent 1 1/2 hours getting back to their car.  So prepare to sit in traffic for hours if you want to attend the show!
But there's more fun stuff … here are a few more pics of random fun …  how about a new dinghy with wheels so you can just drive up the boatramp when you get to town…
Or maybe a hovercraft would make a better new dinghy?  Orange seems to be the in color this year!
New boat?  Check out the "go fast" versions…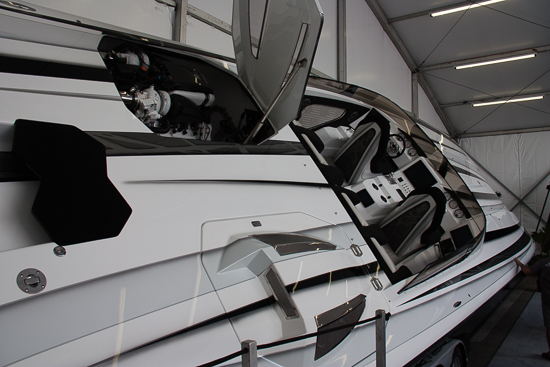 Or maybe Miss Geico?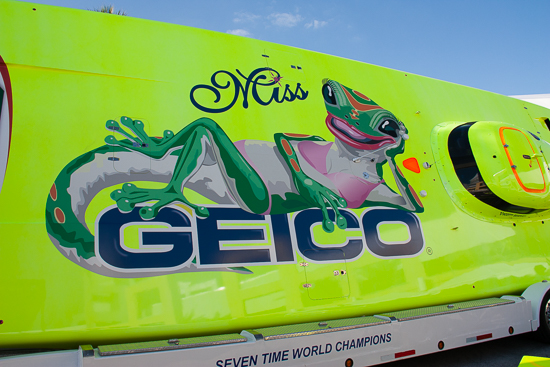 How about buying your own TravelLift?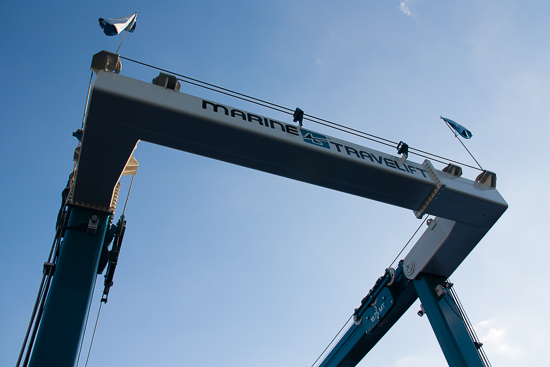 Whatever you do, enjoy the show!