Several cruisers I know in south Florida, the Keys and beyond have trouble keeping bread mold-free for longer than a few days.  The reality is, if you enjoy bakery type fresh bread, the only way to "keep" it aboard is to make it yourself every few days … or if you're close to provisioning, plan on only buying what you can eat in 2-3 days.
But I discovered, by accident, a little secret.  We like Arnold Brand Sandwich thins for our lunch sandwiches – 1 gram of fat and a smaller portion of bread than regular bread. We've  noticed that they seem to keep mold-free longer than any other type of bread aboard, besides our bagels.
Recently I stocked up for a few weeks at Publix at a buy one, get one free sale.  Imagine my surprise to note that the buy one get one free sticker references Bimbo Bakeries USA.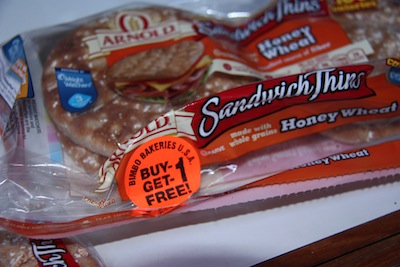 While we were cruising the Western Caribbean, we always bought Bimbo bread while provisioning because it was the only bread that would last for longer than a few days mold-free.
Now, all of a  sudden, it appears that there's a correlation between the only bread I've found that stays mold free aboard for longer than a few days and the Bimbo bread we used to buy in the Caribbean.    So no wonder I can stock up for 2-3 weeks with Arnold Sandwich Thins and not worry about them getting moldy!  They must be chock full of the same preservatives as the Bimbo bread in the Caribbean!
Then while in the Keys, we found buy one get one free Thomas bagels… and lo & behold the SAME bright orange sticker with Bimbo Bakeries USA.    And the bagels last for a long time as well.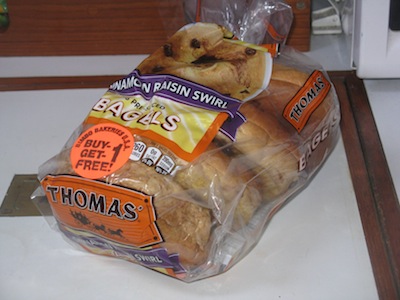 So, if you're provisioning and looking for bread that will last a few weeks instead of 2-3 days, try the Arnold Sandwich Thins and Thomas Bagels.  Useful information if you're headed to the Bahamas where everything is SO expensive.  You can buy the yummy fresh warm bread as a treat, but also provision bread aboard for those times when you're anchored in paradise with nothing around and you don't want to make your own!
Anyone else find bread that lasts longer than two or three days?  What brands do you prefer?  Please leave a comment and share the information!   THANKS!  Jan