It's a fact.  It's always 10-15 degrees cooler in the shade!  When we redid our cockpit enclosure, one of the primary objectives was MORE SHADE!  Cruising the tropics, the sun is hot and shady spots aboard were prized.  The new bimini added an extra foot or so of canvas on each side and several inches in the back, so now we have more shade!
When we outfitted the boat, we realized the importance of even more shade than the cockpit enclosure and some rain protection as well.   Searching the possibilities, we used 5 main criteria: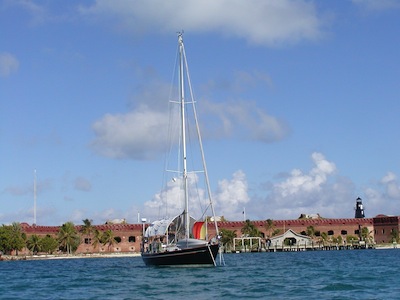 1.  Additional Shade – preferably for the entire deck, not just the cockpit area.
2.  Something that set up and collapsed easily and quickly.  If it took lots of time to set up, we wouldn't use it.
3.  Something that stored easily and took up a minimum of space in storage.
4. Something we could walk under, standing straight, not stooped, to make it easier on our backs and also to get around the deck.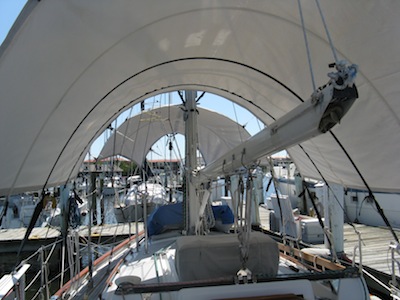 5.  Something that would help with rain — allowing us to keep hatches open unless the rain is blowing.
6.  Something that we could leave up for six months while we're away and it would help shelter the deck from the sun's intense UV rays.
A sixth criteria, one that we didn't get, was something that had a built in rain/waterfill system to collect fresh water during torrential rains in the tropics.
Our solution was Shadetree Boat Awnings. With their collapsible tent poles, the awnings make the boat resemble a wild west Conestoga wagon, but the extra 10-15 degrees cooler is more than worth looking like a covered wagon.  They also allow us to stand straight, the lightweight fabric stores relatively compactly and they even help with rain, although subsequently we realize that most rain squalls come with at least some wind, so the Shadetree awnings are too high to allow keeping the hatches wide open.  We've since compensated with a canvas hatch protector for the main hatch.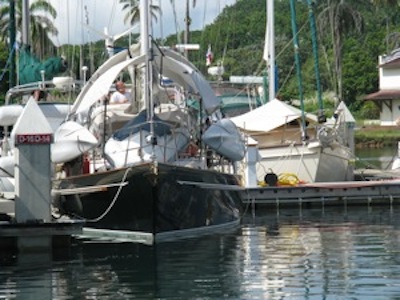 We get questions about our "covered wagon" boat awnings — here are the main questions and our answers:
1.  Doesn't it blow down in a sudden squall?  No.  We've been on the boat with squalls up to 40 knots and the flexible tent poles bend, but we've never had it blow off or rip or tear.
2.  Does it keep out the rain?  Not if there's any wind with the squall.  After the fact, we realize that the shade is more important than keeping out the rain, we deal with rain other ways.
3.  Can you leave it on when you leave the boat?  Yes.  We left it on the boat for six months at a time in the Rio Dulce, Guatemala; Bocas Del Toro, Panama; and Shelter Bay Marina, Panama.  Squalls were common with winds and we never had any damage to the Shadetree with the exception of the very front tent pole's tendency to break.  We've replaced it three times in almost 15 years.  But there was no damage to the fabric of the Shadetree.
4.  Can you leave it up in a squall?  Yes, although if there are serious storms forecast while we're aboard, we'll take it down.  Likewise, when we're in hurricane territory, we leave instructions for our caretaker to take it down if there's a hurricane watch.
5.  Is it sturdy?  In the almost 15 years we've owned our Shadetree awnings, we've had them restitched and the velcro that fits around our backstay replaced once in the Rio Dulce.  Two years ago, we ordered all new fastener mechanisms — the stitching finally rotted and the plastic snap buckles were UV aging.  We've replaced the bow front tent pole 3 times, and one other pole once, but the others are original.
Do you have a different alternative for shade aboard?  Please leave a comment and share!  Thanks!  Jan