I love meeting cruising people in out of the way places. I always learn something new, some of which we use aboard Winterlude!
I don't even know how this topic came up during happy hour, but Terri on Tortoise from Marathon, told us about a dish drying she loves that she found at Publix, of all places.  It's made by Schroeder & Tremayne & we found one the next time we visited Publix – after our 10,000 Island adventure.  In Publix it was $4.99.  I can't find exactly the same thing on Amazon, but it is similar to this.   You wouldn't think a dish drying mat would be a big deal, but I can assure you a good one makes your life easier and less smelly and a bad one can be a daily frustration!
As you all may know, we used a chamois for years aboard Winterlude as a dish drying mat.  Originally we found synthetic ones that were flexible even when dry.  But lately we've been having trouble finding the ones that remain flexible even when dry, so we've been using one that works great … when it's not all dry & in a big crunch!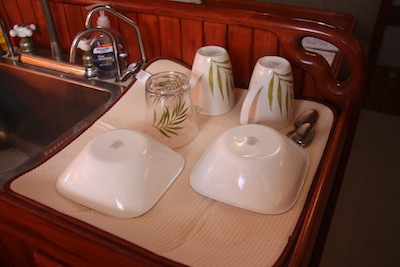 So when Terri mentioned how much she loved this dish drying mat from Publix, I had to have one.
The big disadvantage to a chamois is that it isn't machine washable, it eventually gets moldy and smelly no matter how much we try to keep it clean. This new Dish Drainer Mat is machine washable and dryable.
It also drys quickly after I use it and the counter underneath doesn't get wet because it absorbs all the water — supposedly 4 times it's weight in water.  It folds and stores easily and looks nice.  Plus the size fits perfectly in the area dry dishes.
So we're trying something new.   After a week, we love it.  I'll keep you updated!  If you find one & try it, let us know what you think … leave  a comment.  Got a better idea for your boat?  Leave a comment and share!   Cheers!  Jan