I found my Dad's 1955 Ford Fairlane in Cuba!  Except he claims it can't be his '55 Fairlane because it was rear-ended and the bumper was smashed so he traded for a 1960 Ford.  Apparently he doesn't know about Cuban innovation when it comes to old cars!
The Cuban people are innovative by necessity and the old cars are amazing!  Most of them are vintage mid-1950's, passed down generation to generation within families.  Some of them are referred to as "Cuban-American" because they've replaced the original engine with a diesel.
Here's the inside of my Dad's Fairlane.  Preserved pretty well!
Some of them are totally restored and provide tourists with pricey $25/hour tours – but riding down the Malecon with the wind blowing in your hair with one of the restored convertibles would be a thrill.
I didn't realize that Chrysler made a 3 row vehicle back in the day!
The rest of the car…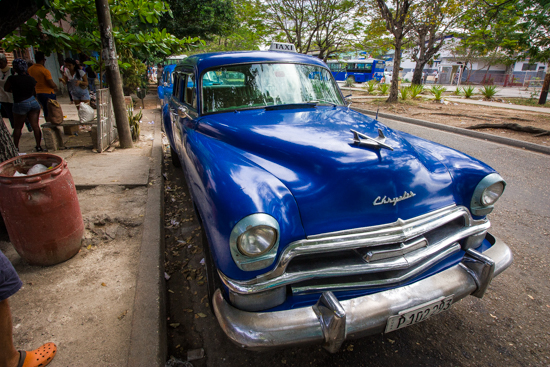 Traffic in downtown Havana doesn't mean a couple old cars interspersed with mostly newer vehicles … no, it's old car after old car.  So cool!
They even drag race old cars for fun on a beautiful Sunday afternoon…
Judging from the crowd, these events are very popular!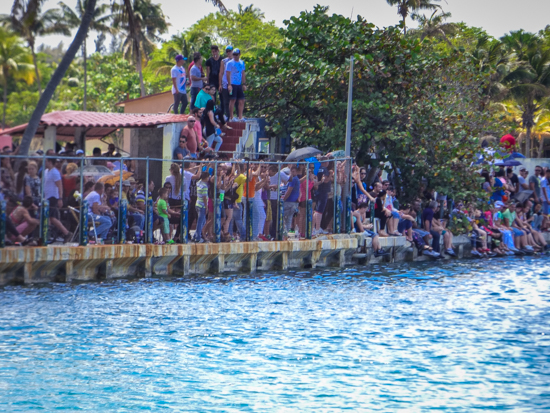 Want a tour from Marina Hemingway … old car owners are more than willing to pick you up at your front door … for a price!
David even found his old Chevy Corvair … but of course, his was dark navy blue and 1964…. 5 speed spider, to be specific.
Our first "maquina" or "collectivo" old car experience.  For more on maquina/collectivos, read my Transportation Without Breaking the Bank post.
David got to sit in the front seat and he noticed that none of the gauges worked … not the gas gauge, or the speedometer or anything!
More old car photos.  David just couldn't help himself.  I won't show all 1001 photos that he took … or the other 500 that I took!
Perfectly restored old cars waiting at all the major tourist draws – this was at Capitolito – the Cuban Capitol Building, modeled after the US Capitol building, interestingly enough.
Anyone know what this car is?  We don't.  If you know, please leave a comment in the comments section below and identify it for us.  🙂
I really wanted a ride in a motorcycle sidecar, but somehow we just never got around to it.
Streets were filled with all manner of transportation, from horse drawn carts to vintage cars to tour busses!  Driving would be challenging to say the least!
David's favorite color is orange and we have LOTS of photos of vintage orange cars!  Here are two of the coolest….
Orange, orange, orange… this time in front of the main tile event in Jamientos where Cuban artist Jose Fuster covered his entire suburb in tile mosaics (only a short walk from Marina Hemingway and well worth a couple hours visit).
The Marina Hemingway Car Show had many varieties of vintage cars … a Studebaker here…
Fins to the left … Fins to the right … Fins, Fins, Fins!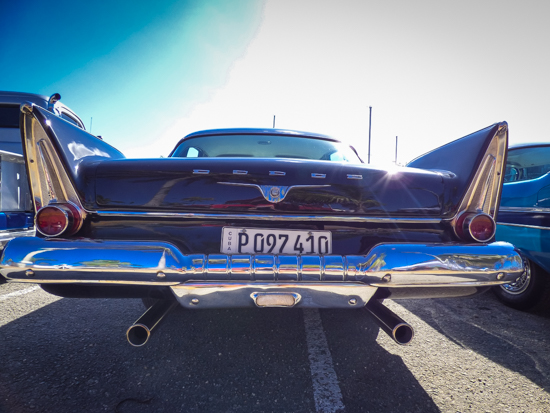 That's enough vintage fun for now!  I hope you enjoyed the Vintage Car Show!   Cheers!  Jan