Without a doubt, the most important, handholds on our boat are the stainless steel grab bars on the outside of the dodger!  It's been windy and bouncy here in the harbor for the past four days and watching folks on boats around us getting out & in their cockpits without the benefit of the grab bars is a bit scarey.  The boat lurches one way unexpectedly and people are left grabbing for anything that is hopefully substantial enough to hold their weight!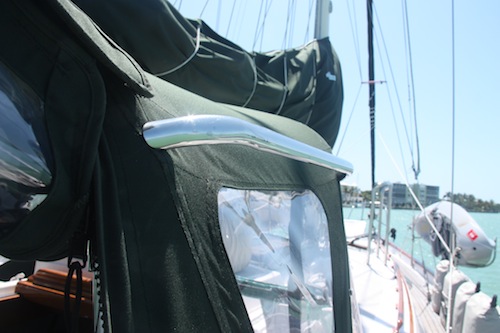 We actually kept the stainless grab bars from our original dodger and cockpit enclosure and had them incorporated into our new dodger and enclosure.  They unbolt from the inside of the stainless dodger frame so they're easily removable when we take the canvas off when we leave the boat for the summer.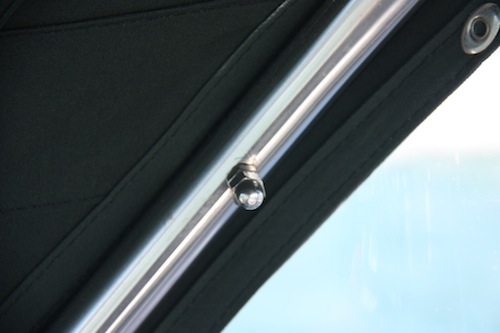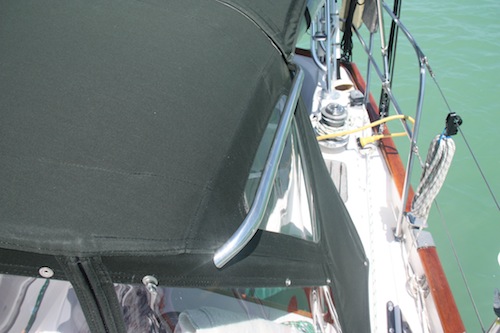 These strategically placed grab bars allow us to move safely and easily between the cockpit and side decks.  They also allow me a convenient grab hold when climbing out of the dinghy aboard.  We use these grab bars all the time, so if you're debating whether to spend the money to add stainless steel grab bars to the outside of your dodger, we highly recommend the addition – you will never regret it!
Anyone have recommendations on dodger grab bars that aren't custom fabricated?  Ours were made when the original dodger stainless was added, but any canvas shop should be able to make some to your dodger dimensions.   Others input is encouraged, please leave a comment & share!  THANKS!   Jan