Many cruisers are concerned about having good relationships with their grandkids despite being off cruising for months at a time.  Even if you're not off cruising, when families live in different parts of the country, it's not easy to see each other as much as you'd like.
We discovered by accident how much our grandkids loved personalized board books, mostly because the older kids complained that they didn't have new books lately.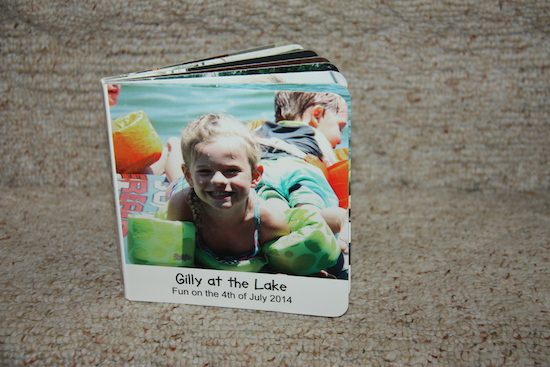 When our two oldest grandkids were toddlers, we made "board books" full of photos of us interacting with the kids.  I wanted books that were durable enough that young ones couldn't hurt them.  At least one of the originals has even been chewed on – they make great teethers? –  but they don't tear and they don't fade.  Each book is 5.625″ x 5.625″ and has 16 photos of the child and family interacting with us and other members of our family – great grandparents, uncles & aunts, cousins and family friends.
Originally while searching for somewhere I could make my own book that was easy to do and affordable, I discovered that there simply aren't many places online to make a "board book".    In my opinion (and my grandkids agree), Pint Size Productions is the best (and easiest).    I use the Simple Photo Book I, although there are many others choices – I wanted a simple cardboard book that I could put captions beneath photos.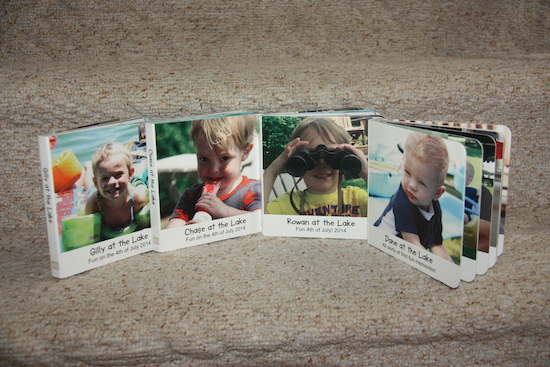 Since most of the family was at the lake for the 4th of July weekend, I made new books for all four of the grandkids – maybe the oldest is too old at 5, but I wrote her captions with learning to read in mind – and all kids love to see their pictures in a book.
Making your own books is easy.   First select 16 photos that you want to use and jot down captions, just so when you're assembling the books online, you don't have to think of what you want to say.     If you have giant file sizes, you'll need to resize the photos so they're not larger than 1-2 MB.  You'll get the chance to crop them when actually assembling the books.    Now go to Pint Size Productions and create a login and password – do this so you can save the book and come back to it later, I never completely finish a book in one session.    Click on the book you want to create and it'll give you a screen where you start assembling your book.  You have to click "Update" before you'll actually see the photos and text you upload in the spread for the book.  When you're done, you review the book spread by spread, make sure it's what you want – or edit it – click update and then add to cart.  Voila, in about 2 weeks your finished books will arrive in the mail.  How easy is that!
Note:  I have no affiliation with Pint Size Productions – there's not an affiliate program – I'm just a satisfied customer.  So many friends have said "WHERE did you get those cool books?" that I wanted to pass along the information.
Enjoy your grandkids!  Personally, I can't wait until they're old enough to spend time with us on the boat!  Cheers!  Jan