There are only two ways to deal with aluminum on boats, in our experience — we're not talking about aluminum hulls, just various stuff aboard that happens to be aluminum.  Either have it powder coated, or leave it bare.   Invariably when aluminum is painted, like our AB RIB dinghy bottom or our Hotwire Solar Panel Brackets, after a few years in the harsh tropics/salt air environment, the paint begins flaking off in large snowflake pieces, as well as tiny white flecks that get everywhere.    Very annoying.
It's interesting to note that the exact same model 9′ AB Ultralight Aluminum bottom RIB now comes with no paint, just four rubber non-skid panels in the bottom and bare aluminum — much much better!    I think our RIB originally looked nicer with the aluminum painted white, but it didn't take long for it to deteriorate and now it's a mess.   So much so that we think we're going to have it powerwashed (just the bottom aluminum) to see if we can't get most of the white paint to flake off and then we'll leave it bare … or maybe get some rubber non-skid strips and put in the bottom to match the new version.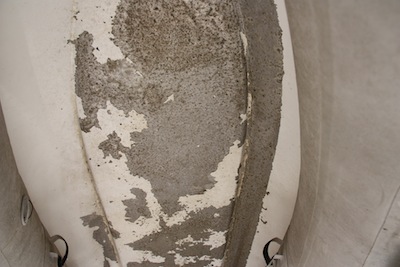 See how crappy the inside painted aluminum bottom looks?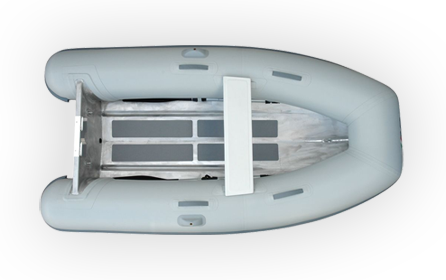 Here's the new updated version with bare aluminum and four rubber non-skid strips in the bottom. Obviously we weren't the only ones with the complaint about the white bottom paint flaking!    Which brings us to the Solar Panel Brackets
The other annoying aluminum project was our WONDERFUL, but 11 years old, solar panel  brackets that allow our solar panels to wing out overboard and be adjusted to match the angle of the sun.  It's only an up & down adjustment, not a four way which would be amazing, but still they are a great addition to the boat.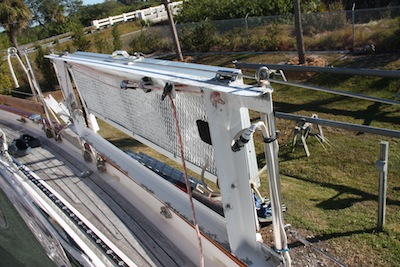 Here's the same bracket folded up and out of the way.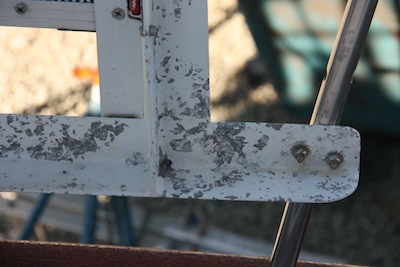 And here's what they look like close up.  We removed the solar panel stanchion brackets entirely, found a local powder coater (by googling online – interesting, others in the boatyard didn't know there was one in town) and dropped them off.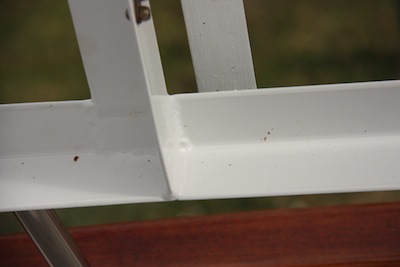 Powder coating is a much different process than painting.  First they'll be sandblasted, then powder coated. We first experimented with it on our Y Flyer one design racing scow trailer which was always a mess – it seemed much more durable than the usual paint job — the trailer is now 5 years old and we haven't had to sand or touch up anywhere.  Then we had the  mast and boom powdercoated just for fun.  They've both been much more durable than we anticipated.    So now we have these solar panel brackets.  We could sand and paint them, but we'd end up with the same problem.   Here's what the finished bracket looks like.  A HUGE improvement that's difficult to see in the far away photos, but we immediately notice NO large white paint snowflakes all over the deck!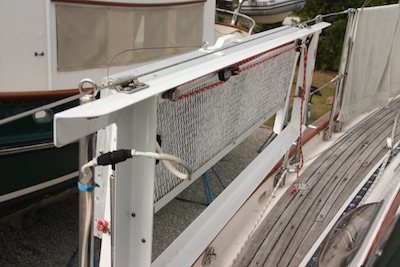 According to Wikipedia:  "Powder coating is a type of coating that is applied as a free-flowing, dry powder. The main difference between a conventional liquid paint and a powder coating is that the powder coating does not require a solvent to keep the binder and filler parts in a liquid suspension form. The coating is typically applied electrostatically and is then cured under heat to allow it to flow and form a "skin". The powder may be a thermoplastic or a thermoset polymer. It is usually used to create a hard finish that is tougher than conventional paint. Powder coating is mainly used for coating of metals, such as household appliances, aluminium extrusions, and automobile and bicycle parts."
It took about a week and cost $150 for the two solar brackets, but we think it was money well spent.  And the new brackets look great… now if we could just solve the dinghy bottom problem as easily … maybe we'll ask the yard if we can borrow the powerwasher, turn the pressure back and try to not harm the hypalon tubes in the process!  We'll let you know!
Anyone have more tips for coatings that stay on aluminum?   Please leave any tips and comments & share!  Cheers!   Jan