Before we started sailing, I had a list a mile long of everything I had to jam aboard that had to last for at least six months because I was absolutely SURE I would never see any of these things again…  ZipLoc baggies, toilet paper, paper towel, all our favorite snacks, good coffee, listerally the list went on forever.  Before we left our marina, I had the boat jammed to overflowing.  Then when we were in Marathon, stuck for weather for a couple of weeks, I "resupplied" because, after all, we were using up all those valuable provisions!  YIKES, I worried we might not make it!
In retrospect, I'm not sure why I was so concerned… maybe it was because all the books, written mostly by folks alot more adventurous than us going far away places where we likely will never venture, told us we'd have to pack dozens of eggs aboard, fruit all sorts of provisions.  I had my shower layered with stuff so full you couldn't walk through to get to the head.  But I must admit, trying to figure out the jigsaw puzzle to fit everything in it's space was lots of fun in the anticipation of our first offshore/out of the U.S. adventures.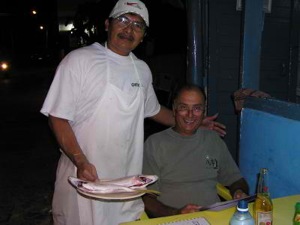 Then we arrived in Isla Mujeres, MX and two things happened.  First, we rediscovered how much we love Mexican food … especially when fresh fish tacos and beer cost much less to eat out than to fix aboard!  And we didn't worry about gaining weight because we left the dinghy at Marina Paraiso, which is a very interesting mile walk from town … each way!
Second, we discovered there was a WalMart within a ferry ride to mainland Cancun.  This was both good and bad — so much for my dreams of adventuring in exotic far away lands — but our microwave blew up on the inconsistent Mexican shore power during our first two days in the marina (we left the boat in Marina Paraiso and flew back for the holidays the first year).  This was another misconception I had about cruising.  For some reason, I thought I'd need a microwave.  These days I know it's just a bread box, but I had to learn that the hard way.
Without a microwave how would I ever prepare meals without making it so hot in our living space below that we'd not be able to stay down there, let alone sleep?   The next morning we were off to WalMart in Cancun on the ferry.   This was a great adventure and part of the adventure was WalMart — something I had not considered before we left to "go cruising".  Ironic that we left the land of overconsumption and ended up at WalMart.
WalMart in Cancun was way smaller than my hometown version and keep in mind, I live where most people would consider "the middle of nowhere" – we don't even have 911 yet and WalMart is a half hour one way jaunt.  The Mexican version was smaller still but it did have small microwaves!  We picked out our newest addition to the galley – a sparkling new Panasonic small enough to fit the tiny space allocated aboard.  Silly me, I assumed that because everything in the U.S. has printed instructions in multiple languages that it would be the same in other countries.  Not so!  All the instructions and labels on my new Panasonic microwave were in SPANISH!  Luckily over the years, I've learned how to use the microwave, in spanish.
Meanwhile David decided while we were there, we should pick up an extra smoke detector, one of ours lives in the engine compartment, unfortunately a bit close to the dorade vent that had taken some wave splashes during the passage to Isla.  It was then we discovered that and WalMart in Mexico had a non-existent home improvement area!  Maybe one side of one aisle and almost nothing on the shelves?  What?  You cannot buy a smoke detector in WalMart in Cancun?
Luckily we didn't need anything else, after all, with all the crap that I had piled on the boat, where would we put it anyway?
Provisioning Options Not To Miss in Isla Mujeres
Isla Mujeres is a wonderful place to stock up on anything you might need.  There was the big supermercado as well as numerous smaller tiendas (shops) and specialty tiendas.   One really valuable discovery was the Mexican Navy store – their version of a base PX, but it was open to the public as well. The prices varied, some were better than other stores, some higher, but in general alcohol was less expensive at the Navy shop.  It doesn't look very inviting, but we last visited in 2010, it was open to the public.
Anytime we have to restock Coke or a case of beer, we always seek out the local distributors since they are generally more cost effective.  In general, wherever we were in the NW or SW Caribbean, soft drinks and beer were usually sold individually.  How strange to see shelves of soft drinks, in individual cans all lined up!  Seeking out the Coke or beer distributor, we could buy a case.  It generally was a big adventure finding and communicating with the distributors, but getting the case back to the boat could pose logistical challenges.   A case of Coke is generally too heavy to be lugging around for miles while walking.  We were finally able to track down a taxi and get back to the marina.  Taxis are everywhere on Isla, usually the road is packed solid with them and motorscooters, except for when you're in the middle of nowhere at a Coke distributor and want to hail one.
Buying fish from the local fishermen was fun too — although it was difficult to figure out exactly when to go to the fishermen's co-op – this place seemed closed more than open.  Often it was easier to just ask whenever we saw a fisherman with fish.
Isla Mujeres is a perfect place to top off your provisions and there are some brands and items that are fun and interesting to add to your selection of stores.  Produce can be challenging … often the fresh produce seems tattered and bruised by US standards, if it's available.  Eggs are still available refrigerated as is milk, but you can also buy the tetra cartons and unrefrigerated eggs.   Isla is definitely not a down island cultural experience yet!  But it was fun.  I don't recall anything we wanted that we couldn't find with a bit of searching.
One unlikely place to buy provisions was the bullfight – fortunately or unfortunately for anyone reading this, Isla has since torn down the bullfight ring.  But that's OK because I just couldn't see standing in line for blocks to buy "fresh" meat from the bull slaughtered earlier in the day.  After the cruiser on the boat next to us assured us they don't hurt the bull, it's all tradition, dancing and color.  Yeah right, as we walk up the ring and see the stand outside selling large hanging cuts of meat … mainly covered in flies.  Not thinkin' I'd be buying anything there!
Keep in mind, provisioning is an adventure.  You will never find everything you're looking for in one place.  It's going to take a little searching and more time than you had planned.  But provisioning quickly grew to be one of our favorite adventures – a chance to interact with locals and enjoy the cultural experience.  Be flexible and buy what you can when you can.  Do not think that just because a store or tienda has something one day that it will carry the same item the next day!
And above all ENJOY!