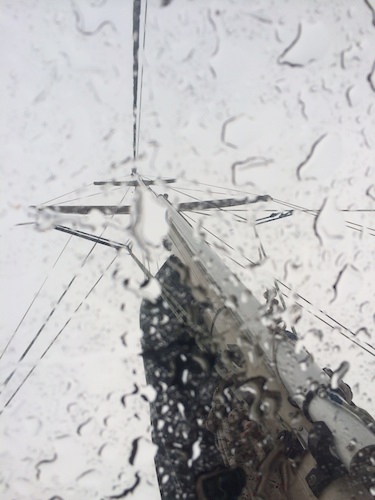 Rain, rain go away … go help somewhere with a drought — California perhaps?
We're back from Disney with the grandkids and hoping to go somewhere … anywhere … sail away.  But Mother Nature has other ideas.
"A STRONG COLD FRONT EXITS SOUTH FLORIDA THIS EVENING AS HIGH PRESSURE BUILDS INTO THE GULF OF MEXICO OVERNIGHT. THIS HIGH MOVES EAST ALONG THE GULF COAST TO THE ATLANTIC BY THE END OF THE WEEK. A COLD FRONT MOVES ACROSS THE WATERS SATURDAY NIGHT… FOLLOWED BY HIGH PRESSURE BUILDING BACK IN. GUSTY WINDS AND BUILDING SEAS CONTINUE AS THE FRONT DEPARTS AND THE HIGH SETTLES IN."
The delay gives David a chance to feel better from his wicked bout with bronchitis.  And it's never boring here in the marina anyway.  This afternoon a golf cart drove off into the water while watching the manatees down on "A" Dock.  Always something happening!