But when we got an RV satellite dish for the travel trailer, we decided to try it in the marina …. here's what happened!
Despite everyone telling us there is NO WAY a portable satellite dish will work on a moving floating dock, much less a tied to the dock moving floating boat, we gave it a try.    And guess what!  It works!
Here's our learning curve if anyone else is interested ….
We ignored the manual set-up dishes because we're not high tech, in fact we're both relatively technically challenged, so we want plug & play … in other words, something that just works.
For our sports addiction, we need local channels as well as the Big 10 channel and ESPN.  We talked to DISH (we really liked the Pay As You Go Plan), but DISH told us we could not get local channels (the channels that carry lots of sports).  In the end we spent a bit more for a DirecTV capable automatic dish and adding a receiver to our home DirecTV account.
If DISH works for you,  DISH tech support says that they have no more difficulties with the less expensive Tailgater ($449 bundled with a DISH Receiver) than the more expensive Winegard Pathway X1 ($541 bundled with a DISH Receiver so if you're considering DISH Pay to Go or already have DISH at home, either of these might be a good option.
Pros for DISH Tailgater/Winegard Pathway X1
Less expensive initial hardware investment.
High Definition and Standard Definition available for DISH.
Ability to use the DISH Pay As You Go Service – you sign up, no contract, no reconnection fees, you just pay for the months you use – only downside is you have to use an entire month, no 2 weeks or weekends
DISH Pay As You Go for us would be about $40 less expensive per month than DirecTV.
DISH offers a mid-level plan that includes the Big 10 channel and lots of sports channels.
Automatic connection – people that have either the Tailgater or the Pathway X1 say they experience few problems unless there isn't a clear view of the southern sky, which would be a problem for any satellite dish
Cons for Tailgater/Winegard Pathway X1

Local channel dilemma.  Since we don't have DISH at home, I was told that we would get local channels only within 150 miles of our billing address.  Since we plan on camping cross country, this doesn't do us much good.  🙁
So when it gets down to the finals in NCAA The Big Dance, or any major bowl games or almost any major sporting event that will be on a network, we'd be out of luck.  🙁  Not worth it to us.
So we kept looking.  It seems like several people on the Lance Owners Forum (our trailer is a Lance 1685) have the Winegard G2 Carryout ($541 at Amazon with NO receiver included – receivers compatible with the G2 — according to DirecTV are H24 and smaller numbers & run around $99 from DirecTV – the popular H25 receiver is not compatible with the G2)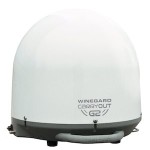 Pros for Winegard Carryout G2

The ability to use with either DISH or DirecTV (or Bell/Canadian satellite) – right now we don't consider this important, but since we didn't find a dedicated DirecTV sat dish (in this price range) like there is for DISH, we didn't really have a choice.  NOTE:  The G2 supports HD for DISH, but NOT DirecTV – DirecTV is standard definition ONLY.
Because we have DirecTV at home, we "add a receiver" for $6 a month and continue our home programming package – including the Big 10 Network, of course.
The G2 has the ability to support 2 TV's with 2 different receivers and different programming.  We could care less, but it's a nice feature for larger RV's.
Local networks most of wherever we go.  This issue needs a bit of explanation – as DirecTV explained it to me:  we'll get local networks where we are IF the local affiliates are on either satellite #101 or #119 (the DirecTV satellites accessed by the G2) – we checked several places where we planned to be and they were using one or the other satellite for local networks.
But of course, it's not this simple….  as it turns out, the FCC gets involved and legally we're not allowed to get local channels wherever we go (DirecTV's explanation when we hooked it up) UNLESS, we'll be there 30 days or longer and change our "location address".    To change our location address, all we have to do is call.  This works fine for our winter marina base.  As long as we're staying 30 days – so we can move all over the Keys and still be in the Miami TV area.
But we don't plan to stay in any one place for 30 days or longer when we're camping.  There is an alternative.  DirecTV sent me an affidavit saying that we won't be using our local channels at home while we're traveling.  Not sure how this will work as it's as yet untested.
Cons for Winegard Carryout G2

More expensive!   Amazon's Winegard G2 Carryout price is $541.   The price fluctuates but $541 with free shipping is the least I've seen it.
No High Definition, only standard definition supported by DirecTV, although the G2 dish supports high definition from DISH.  But our TV is 24″ so we cannot imagine it will make a huge difference for us.
2 power connections needed – the Tailgater and Pathway X1 each draw power from the receiver and are connected via HDMI cable; the G2 has a separate 12V power cable that must be connected for it to lock onto a satellite.  On the boat, we just plug it into a regular 12V receptacle and it just works!
Our trailer, the Lance 1685 doesn't currently have a 12V exterior plug-in.  They're easy enough to add and we may choose to do so, but in the meantime, we purchased a 110v to 12V converter.  BE CAREFUL if you choose to go this route – the dish requires 5.8 amps from the power source and not all converters put out 5.8 amps – check the specs.  Winegard recommended their own or the Sunforce Adapter.   We chose the Sunforce.
David spent about an hour on the phone with DirecTV tech support getting it set up originally.  They told him there was no way to get any local channels, but being my stubborn insistent self, I requested to speak with RV Tech Support (there's not a separate number, but if you ask specifically, they'll eventually get you to the right person).  He was the one who informed me of the local channel situation, e-mailed me the affidavit and since we're planning to base here for over 30 days, set us up with local Miami networks.
All set, but now we have to defrost the fridge and patch a leak in the dinghy….   🙂  Yes, we already know, it's the height of indulgence and cruisers don't watch TV.  But it's forecast to blow stink for a few days, rendering snorkeling and open anchorage anchoring not fun … so….    Cheers!  Jan