The age old dilemma … how to put state registration numbers on a dinghy!    We're tried it a couple different ways and both worked… sort of…
But the best solution we've found is to simply go cruising and leave US waters!  Then you don't need registration numbers on your dinghy!  Of course, when you return, you'll have to go to the trouble of getting it re-registered, unless you're like us and ordered a new dinghy shipped to Roatan, Bay Islands, Honduras.
Unfortunately, upon returning, we had to re-address the registration numbers on the inflatable dilemma.  The first challenge was how to sufficiently clean the tubes.  Keep in mind, our AB aluminum RIB had been deliberately neglected for the past 4 years – it's never a good thing in the Northwest Caribbean to have a dinghy that looks new.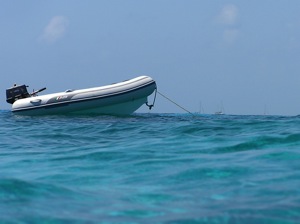 The first dinghy we owned was a Caribe 8'3″ roll up model that we purchased used after it had been stolen in Miami.  The tubes were patched and not in A-1 condition.     I scrubbed it with several cleaners that I most likely should not have used, but the hypalon still refused to give up the accumulated grime – it was cleaner, but definitely not clean.  Then we painstakingly taped stencils to both sides of the bow and hand painted the required Florida registration numbers.    The paint adhered OK to the tubes and after it dried it looked great … well at least until the first time we deflated it and rolled it to store below.   Unluckily for this dinghy and it's registration numbers, it was deflated and re-inflated regularly because that was our only choice at the time to stow it for passages.   The painted numbers kept getting fainter and fainter, but when we sold it in 2006 – 5 years after we painted the numbers on the bow, they were still legible, not probably legal, but we were in the Bay Islands, Honduras where no one cared if our dinghy had state registration numbers or not.    I think they probably could have been easily renewed by another coat of paint every 2-3 years had we stayed in the US.
Fast forward to the "new" dinghy, the AB aluminum RIB.   We purchased it in 2006 and had it shipped to Roatan – that's another story in itself!  When we returned to the US, it had never been registered with any state.  We had no problem registering it in Florida and then we were confronted again with the state registration number dilemma.   This time, we decided to take a shortcut and see what happened.  We bought the 3″ black vinyl stick on letters/numbers.  Then washed the hypalon (btw, manufacturers recommend that you use plain ole soap and water to clean hypalon, never spray any kind of greasy solution or solvent on the tubes, according to the AB website), it was still not clean, but it was cleaner!  🙂  After drying thoroughly in the sun, we applied the stick on numbers to the tube.    Our hope was that since this dinghy doesn't get deflated on a regular basis, maybe the stick on numbers would stay in place for a few years.
So far after one year, the numbers are still firmly in place.  We'll reserve judgement for longer term until they've been in place longer!
Do you affix your dinghy registration numbers better?  Maybe leave us a comment so that when the stick on variety falls off, we can try something better?   THX!   Jan