We just got a new bluetooth speaker that we love!  Our 30 year old boat has an antiquated Jensen CD stereo with scratchy (at best) speakers and no speakers in the cockpit. We've been drooling over the Bose Soundlink III bluetooth speaker for two years, but haven't gotten around to springing for almost $300.  We heard my daughter's Scosche BoomBottle H20, rugged waterproof wireless speaker, while on the way down and loved it.  We loved it even more when we discovered the price on Amazon.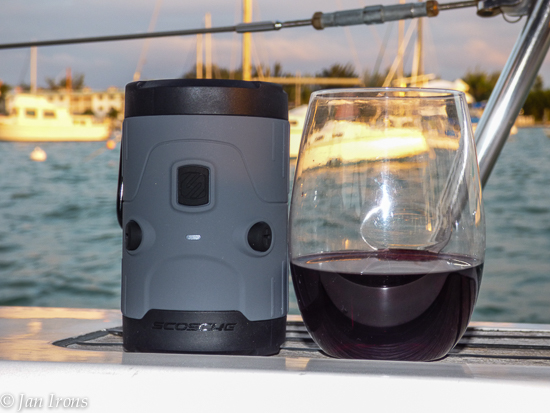 The Scosche BoomBottle H20 packs remarkable wireless audio into a rugged waterproof compact "bottle" design.
Pros:  Decent sound, small, light, charges easily via the USB port on my computer, can be controlled either by my bluetooth phone or IPad.  The battery lasts for up to 11 hours on a charge, it's waterproof and it floats! It also has "shock absorbing" ends so it can ride in the water bracket on a bicycle.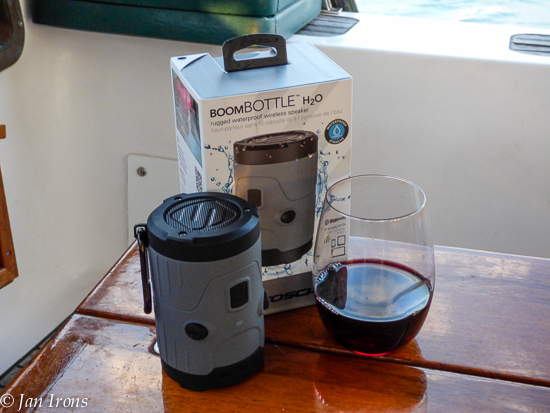 Cons:  Sound is not as good as the Bose Soundlink III, but it's around $200 less.  We're not music connoisseurs, so we just want to hear the Zac Brown Band with their toes in the sand.  🙂  Two other minor cons:  First, it's not as loud with the wind generator cranking in amps as it could be, but I'm not sure any portable speaker could overcome that.  Second, there's no "OFF" switch per se on the speaker.  There's an "ON" switch, but once it's paired with your bluetooth device, the only way to turn it off is to disconnect from bluetooth.  Minor but inconvenient.
We've enjoying our tunes these days in the cockpit and on the beach.  Nice.   🙂  Anyone have a different bluetooth speaker that you love (other than the Bose Soundlink III)?  Please leave a comment and share!  Cheers!  Jan